Videotutor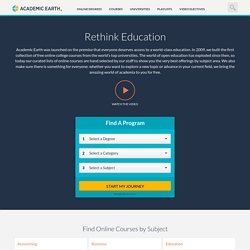 Academic Earth believes everyone deserves access to a world-class education, which is why we continue to offer a comprehensive collection of free online college courses from the world's top universities. And now, we take learning outside the classroom with our original series of thought-provoking videos, designed to spark your intellectual curiosity and start a conversation. Watch, learn, share, debate. After all, only through questioning the world around us, can we come to better understand it.
videolecture.net
TechDays.ru
В модуле рассматриваются новые возможности и усовершенствования Hyper-V в Windows Server 2012 R2. В частности, затрагиваются такие вопросы и технологии как: виртуальные машины нового поколения, изменение размеров VHDX-дисков в режиме online, расширенные списки управления доступом в Hyper-V Extensible Switch, контроль операций ввода-вывода виртуальных жестких дисков, поддержка Linux в качестве гостевых ОС, клонирование ВМ, гостевая кластеризация на основе Shared VHDX, RDP поверх VMBus, автоматическая активация и др.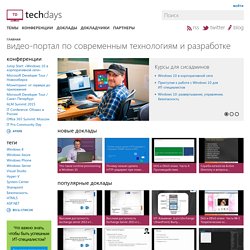 oxford internet institute | webcast | home
Here you will find webcasts of the Internet pioneers, scholars and regulators who have spoken at the Oxford Internet Institute, covering areas such as: social media, internet regulation, safety and security online, e-government and democracy, civil society, open access, e-learning, citizen journalism, and the future of the Internet itself. You can browse all webcasts, search, or browse by category. To view the embedded webcasts you will need Adobe Flash Player and Javascript enabled in your browser, but we also offer downloadable formats such as MP4, for which we recommend QuickTime 7 or VLC Player.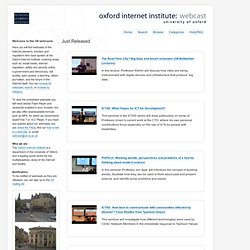 Physics | 8.03 Physics III: Vibrations and Waves, Fall 2004 | Video Lectures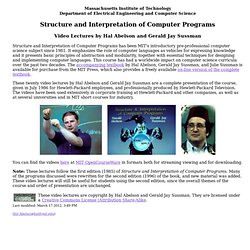 Massachusetts Institute of Technology Department of Electrical Engineering and Computer Science Video Lectures by Hal Abelson and Gerald Jay Sussman Structure and Interpretation of Computer Programs has been MIT's introductory pre-professional computer science subject since 1981.
Математические этюды
Сесть в кресло, налить чайку, поставить ноутбук на колени и сделать звук погромче — теперь учиться можно и так. Видеолекции как альтернативная форма обучения радуют возможностью никуда не спешить, не напрягать слух и не отвлекаться на навязчивое бормотание соседей. Избавляя от недостатков лекций реальных, видеолекции сохраняют их неоспоримый и главный плюс — живое повествование. А все возможные варианты иллюстраций делают процесс еще более приятным. Рассказывают обо всем на свете: от поведения животных в брачный период до компьютерного программирования. Все, что нужно для просмотра лекции какого-нибудь оксфордского светилы, это быстрый интернет.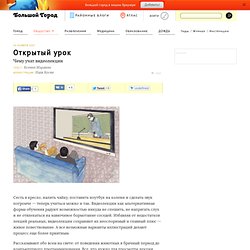 Большой город