KM
Open Access Countries and Organisations - africa. OpenDOAR - Countries and Organisations Africa | Asia | Australasia | Caribbean | Central America | Europe | North America | Oceania | South America | [Unspecified] Click on a name to see the corresponding OpenDOAR summaries, or on a URL to visit the relevant website.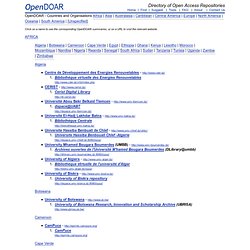 Algeria | Botswana | Cameroon | Cape Verde | Egypt | Ethiopia | Ghana | Kenya | Lesotho | Morocco | Mozambique | Namibia | Nigeria | Rwanda | Senegal | South Africa | Sudan | Tanzania | Tunisia | Uganda | Zambia | Zimbabwe Algeria Botswana Cameroon Cape Verde Egypt Ethiopia Addis Ababa University - AAU-ETD (Addis Ababa University Libraries Electronic Thesis and Dissertations Database) Ghana Kenya Lesotho Morocco Mozambique Namibia Nigeria Rwanda Senegal South Africa Sudan Tanzania Tunisia Uganda Zambia Zimbabwe.
Gestió del coneixement » Noves professions per a l'individu connectat. En aquest post revisarem els elements socials i tecnològics que influeixen en el canvi de les competències i habilitats professionals adients a la societat web, les noves funcions i fins i tot els perfils professionals de futur.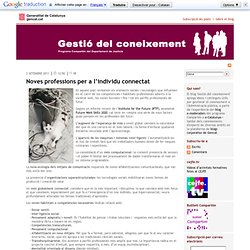 Segons un informe recent de l'Institute for the Future (IFTF), anomenat Future Work Skills 2020, cal tenir en compte una sèrie de nous factors quan pensem en les professions del futur: L'augment de l'esperança de vida a nivell global canviarà la naturalesa del que és una carrera en el món laboral i la forma d'enfocar qualsevol iniciativa vinculada amb l'aprenentatge. L'aparició de les màquines i sistemes intel·ligents: l'automatització en el lloc de treball farà que els treballadors humans deixin de fer tasques rutinàries i repetitives. Maîtrise / maître d'oeuvre / maître d'ouvrage. Organisation apprenante. Un article de Wikipédia, l'encyclopédie libre.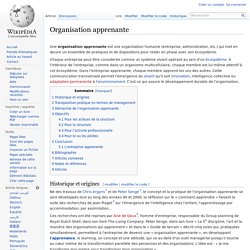 Origines et historique du concept[modifier | modifier le code] L'Organisation apprenante désigne, selon les travaux de Chris Argyris et de Peter Senge, l'ensemble des pratiques et des dispositions que met en oeuvre l'entreprise pour rester en phase avec son écosystème. Configuration management. Top level Configuration Management Activity model Configuration management (CM) is a systems engineering process for establishing and maintaining consistency of a product's performance, functional and physical attributes with its requirements, design and operational information throughout its life.[1][2] The CM process is widely used by military engineering organizations to manage complex systems, such as weapon systems, vehicles, and information systems.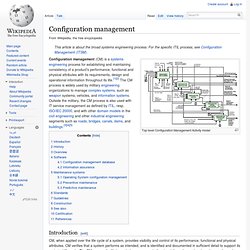 Outside the military, the CM process is also used with IT service management as defined by ITIL, resp. ISO/IEC 20000, and with other domain models in the civil engineering and other industrial engineering segments such as roads, bridges, canals, dams, and buildings.[3][4][5] Introduction[edit] CM, when applied over the life cycle of a system, provides visibility and control of its performance, functional and physical attributes. Metalearning and Other Ghastly Sounding Words. Metalearning in teamsWikipedia makes a distinction when metalearning is used in the context of performances of teams and relationships: on first reading, you're a genius!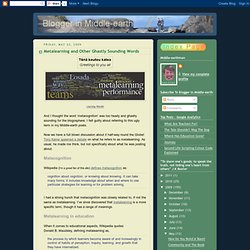 Having spent half an hour at least, thinking and researching the meanings behind these words and phrases, I found they took me back to a topic I've revisited several times on this blog in the last year. Critical systems thinking. Critical systems thinking is a systems thinking framework, that wants to bring unity to the diversity of different systems approaches and advises managers how best to use them.[1] Critical Systems Thinking according to Bammer (2003) "aims to combine systems thinking and participatory methods to address the challenges of problems characterised by large scale, complexity, uncertainty, impermanence, and imperfection.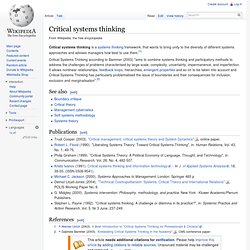 It allows nonlinear relationships, feedback loops, hierarchies, emergent properties and so on to be taken into account and Critical Systems Thinking has particularly problematised the issue of boundaries and their consequences for inclusion, exclusion and marginalisation".[2] See also[edit] Publications[edit] Quels indicateurs pour la gestion des talents ? Publié le 03/11/2010 Attention, cet article a été publié le 03/11/2010.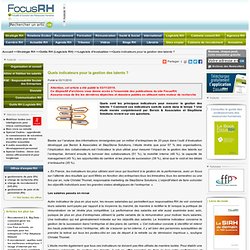 Ce dispositif d'archives vous donne accès à l'ensemble des publications du site FocusRH. Joseph Schumpeter. Joseph Alois Schumpeter (German: [ˈʃʊmpeːtɐ]; 8 February 1883 – 8 January 1950)[1] was an Austrian American economist and political scientist.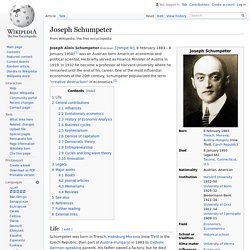 He briefly served as Finance Minister of Austria in 1919. One of the most influential economists of the 20th century, Schumpeter popularized the term "creative destruction" in economics.[2] Knowledge intensive business services. Knowledge Intensive Business Services (commonly known as KIBS) are services and business operations heavily reliant on professional knowledge.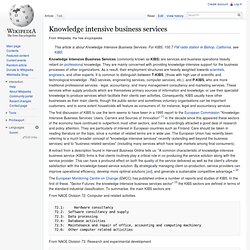 They are mainly concerned with providing knowledge-intensive support for the business processes of other organizations. As a result, their employment structures are heavily weighted towards scientists, engineers, and other experts. It is common to distinguish between T-KIBS, (those with high use of scientific and technological knowledge - R&D services, engineering services, computer services, etc.), and P-KIBS, who are more traditional professional services - legal, accountancy, and many management consultancy and marketing services. These services either supply products which are themselves primary sources of information and knowledge, or use their specialist knowledge to produce services which facilitate their clients own activities. Strategic information system. Strategic information systems are information systems that are developed in response to corporate business initiative.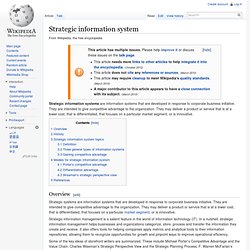 They are intended to give competitive advantage to the organization. They may deliver a product or service that is at a lower cost, that is differentiated, that focuses on a particular market segment, or is innovative. Overview[edit] Strategic systems are information systems that are developed in response to corporate business initiative.
Gestion électronique des documents. Un article de Wikipédia, l'encyclopédie libre. Pour les articles homonymes, voir GED. La gestion électronique des documents (GED ou EDM[1] pour Electronic Document Management en anglais) désigne un procédé informatisé visant à organiser et gérer des informations et des documents électroniques au sein d'une organisation. Business process reengineering. Business Process Reengineering Cycle Business process re-engineering is a business management strategy, originally pioneered in the early 1990s, focusing on the analysis and design of workflows and business processes within an organization. BPR aimed to help organizations fundamentally rethink how they do their work in order to dramatically improve customer service, cut operational costs, and become world-class competitors.[1] In the mid-1990s, as many as 60% of the Fortune 500 companies claimed to either have initiated reengineering efforts, or to have plans to do so.[2] BPR seeks to help companies radically restructure their organizations by focusing on the ground-up design of their business processes.
According to Davenport (1990) a business process is a set of logically related tasks performed to achieve a defined business outcome. PolicyPitch. IJCSN Journal is an International Journal of Computer Science and Network (IJCSN) is an open source online peer reviewed computer science journal launched by D-LAR Labs (Digital Library of Academic Research) publisher that publishes Review/Research articles which contribute new theoretical results in all areas of Computer Science, Communication Network and Information Technologies. International Journal of Computer Science and Network. Founding[edit] IJCSN Journal was founded in 2011 by Digital Library of Academic Research, an Indian Digital Library. Subject Areas[edit] Knowledge policy. Policies are the paradigms of government and all bureaucracies.
Policies provide a context of rules and methods to guide how large organizations meet their responsibilities. Organizational knowledge policies describe the institutional aspects of knowledge creation, management, and use within the context of an organization's mandate or business model. eRulemaking. Electronic rulemaking (also known as eRulemaking and e-rulemaking) is the use of digital technologies by government agencies in the rulemaking and decision making processes. An interdisciplinary electronic rulemaking research community has formed as a result of National Science Foundation funding under the auspices of the Digital Government Program. Groups such as the Cornell E-Rulemaking Initiative (CeRI) have been focused on researching how technologies such as Web 2.0 can help foster greater public participation in the political process, specifically, in Federal Agencies' rulemaking.
Background[edit] In the United States, Electronic rulemaking (also known as eRulemaking and e-rulemaking) can be understood as a subset of a larger Federal eGovernment initiative. Semantic Interoperability Centre Europe. E-Government. Transformational Government. National innovation system. Knowledge economy. Framework for pmgt.Pdf. The Nature of Entrepreneurial Opportunities: Understanding the Process Using the 4I Organizational Learning Framework - Dutta - 2005 - Entrepreneurship Theory and Practice. Machine à vecteurs de support. Apprentissage supervisé. Algorithmic learning theory. Genetic algorithm. Genetic optimization method. Principaux projets et réalisations en intelligence artificielle. Applying machine learning or bio-inspired learning techniques to communication networks: Firestation. Authoring system. Knowledge manager. Competency management system. International Centre for Decision Sciences & Forecasting (CDSF)
ALIVE » Augmented Learning Lecture. Gestion des connaissances. Machine learning. Seven Aspects of Strategy Formation.
Agents de recherche
---