Blogs
Google changes SEO forever with it's Disavow Link Tool – What you Need to Do Right Now… Welcome.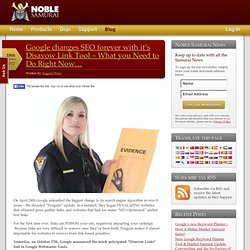 It looks like this is your first visit to our blog! Subscribe to Noble Samurai News and get updates every time we publish a blog article. Register for a free trial of our Market Samurai Keyword Research and SEO software Get my free trial! Quels Médias Sociaux Pour Quels Objectifs Marketing ? – Infographie. Aujourd'hui c'est sur Mashable US que nous retrouvons une infographie réalisée par COM.com sur le choix le plus adapté d'un ou de plusieurs médias sociaux en fonction des objectifs marketing suivants : la communication avec les clients, l'exposition de la marque, le trafic vers votre site Internet et le référencement.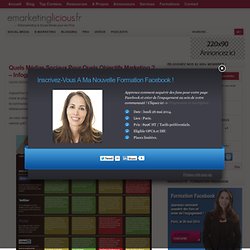 Je vous laisse sans plus tarder découvrir les résultats en image (Cliquez sur l'image pour télécharger la version pdf) : Source : Mashable & CMO.com. Blog Social Media & E-marketing, Médias Sociaux, Référencement, Blog Marketing. Christopher S. Penn's Awaken Your Superhero. New Marketing Research: 3 profitable traffic sources most marketers are ignoring.
If you've been reading this blog for just about any amount of time, you already know that landing page optimization is an effective way to increase the ROI of your website traffic.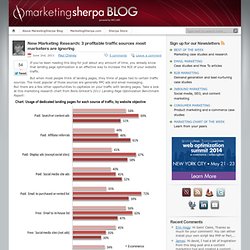 But when most people think of landing pages, they think of pages tied to certain traffic sources. The most popular of those sources are generally PPC ads and email messaging. But there are a few other opportunities to capitalize on your traffic with landing pages. High-quality sites algorithm goes global, incorporates user feedback. Over a month ago we introduced an algorithmic improvement designed to help people find more high-quality sites in search.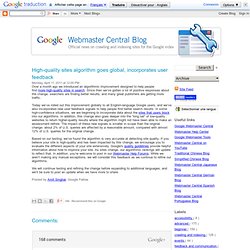 Since then we've gotten a lot of positive responses about the change: searchers are finding better results, and many great publishers are getting more traffic. Today we've rolled out this improvement globally to all English-language Google users, and we've also incorporated new user feedback signals to help people find better search results. In some high-confidence situations, we are beginning to incorporate data about the sites that users block into our algorithms. In addition, this change also goes deeper into the "long tail" of low-quality websites to return higher-quality results where the algorithm might not have been able to make an assessment before. The impact of these new signals is smaller in scope than the original change: about 2% of U.S. queries are affected by a reasonable amount, compared with almost 12% of U.S. queries for the original change.
Blogs vs websites. Introducing Executive View for iPhone – The eMarketer Blog. Thursday, April 7, 2011 Today eMarketer introduced Executive View for iPhone, a new app available exclusively to clients and designed to help them keep up with digital marketing, media and commerce trends—anytime, anywhere.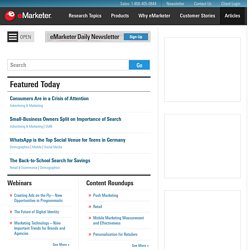 Executive View provides essential digital marketing insights on social media, online video, location-based services, ecommerce, internet advertising and more to all the people at eMarketer subscriber companies who need to stay up to date, but who don't need the advanced functionality of eMarketer Total Access . Here's what a few of our clients have to say: Silktide blog | Get more from your website.
Comment se créer un revenu passif avec l'affiliation. Si vous avez toujours rêvé d'avoir un revenu passif et de gagner de l'argent avec l'affiliation, alors lisez très attentivement cet article, car il vous dévoilera : Les 4 étapes à suivre pour gagner de l'argent en tant qu'affilié Comment automatiser l'ensemble du processus et ne plus avoir à travailler Comment obtenir l'aide de professionnels pour à peine 17 centimes de l'heure C'est parti :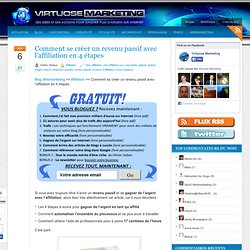 A la seconde "S", combien sommes-nous de personne connectée sur les médias sociaux ? Microsoft's Bing uses Google search results—and denies it. This example opened our eyes, and over the next few months we noticed that URLs from Google search results would later appear in Bing with increasing frequency for all kinds of queries: popular queries, rare or unusual queries and misspelled queries.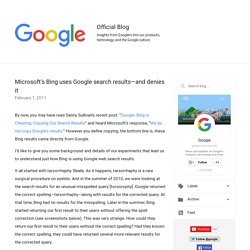 Even search results that we would consider mistakes of our algorithms started showing up on Bing. We couldn't shake the feeling that something was going on, and our suspicions became much stronger in late October 2010 when we noticed a significant increase in how often Google's top search result appeared at the top of Bing's ranking for a variety of queries. This statistical pattern was too striking to ignore. To test our hypothesis, we needed an experiment to determine whether Microsoft was really using Google's search results in Bing's ranking.
---