Writing Tips
The 10 Types of Writers' Block (and How to Overcome Them) I'm not sure if what I have now is writer's block, a vacation from writing, or giving up on writing.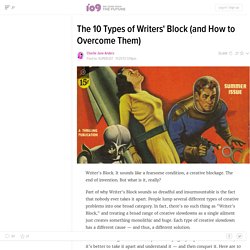 I went through 1-5 on this list a year ago and many times up to that point. And then I just haven't been able to get back to it, in part because the story as it stands is so fundamentally flawed that I need to rethink it... and I already have many times. But until I figure it out, I can't imagine being able to write anything else. And I start to question why I should bother. New Fiction Exercises, Brian Kiteley. Brian Kiteley Sample Fiction Exercises from The 4 A.M.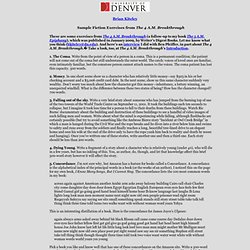 Breakthrough. MpdsleS0ii1r0acyio1_500.jpg (JPEG Image, 284 × 750 pixels) - Scaled (79%) Set up Your Story in the First Paragraphs. By Jodie Renner, editor, author, speaker I receive several first chapters (and synopses) every week as submissions for possible editing, and I always read the first page.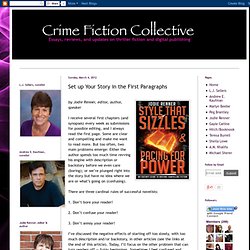 Some are clear and compelling and make me want to read more. But too often, two main problems emerge: Either the author spends too much time revving his engine with description or backstory before we even care (boring); or we're plunged right into the story but have no idea where we are or what's going on (confusing). Read Great Books to Inspire Your Own Writing. This is a recurring column I'm calling "7 Things I've Learned So Far," where writers (this installment written by Jane Higgins, author of the acclaimed YA debut, THE BRIDGE) at any stage of their career can talk about writing advice and instruction as well as how they possibly got their book agent — by sharing seven things they've learned along their writing journey that they wish they knew at the beginning.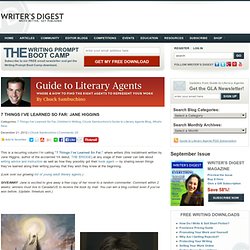 (Look over our growing list of young adult literary agents.) GIVEAWAY: Jane is excited to give away a free copy of her novel to a random commenter. Comment within 2 weeks; winners must live in Canada/US to receive the book by mail. Problem With Procrastination? Try Doing Nothing. Just about anyone who has ever put off a troublesome task is familiar with one of my Secrets of Adulthood: Working is one of the most dangerous forms of procrastination.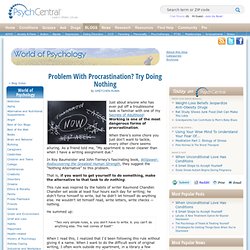 When there's some chore you just don't want to tackle, every other chore seems alluring. As a friend told me, "My apartment is never cleaner than when I have a writing assignment due." In Roy Baumeister and John Tierney's fascinating book, Willpower: Rediscovering the Greatest Human Strength, they suggest the "Nothing Alternative" to this problem. NCW--Anton Chekhov on Writing. My own experience is that once a story has been written, one has to cross out the beginning and the end.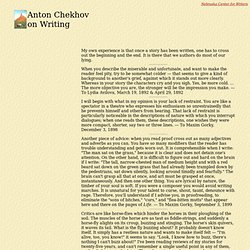 It is there that we authors do most of our lying. When you describe the miserable and unfortunate, and want to make the reader feel pity, try to be somewhat colder — that seems to give a kind of background to another's grief, against which it stands out more clearly. Self publishing costs nothing. A number of people have asked me "How much does self-publishing cost?"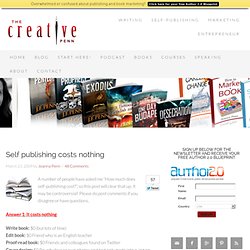 , so this post will clear that up. It may be controversial! Please do post comments if you disagree or have questions. Answer 1: It costs nothing Write book: $0 (but lots of time)Edit book: $0 Friend who is an English teacherProof-read book: $0 Friends and colleagues found on TwitterCover design: $0 Royalty free or own photos and text only made into a .jpg on Microsoft PublisherTypeset book: $0 done by self on Microsoft WordPublish book: Published as an Ebook on Smashwords for free and up for sale for US$4.99. Nonfiction Narrative and the Yellow Test. Draft is a series about the art and craft of writing.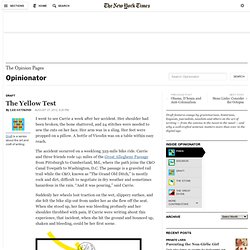 I went to see Carrie a week after her accident. Her shoulder had been broken, the bone shattered, and 24 stitches were needed to sew the cuts on her face. Her arm was in a sling. K.M. Weiland | Author of Historical and Speculative Fiction. English Idioms Beginning With 'A' - Page 1. Daily Writing Tips. 30 Indispensable Writing Tips From Famous Authors.
Colson Whitehead's Rules for Writing. Rule No. 1: Show and Tell.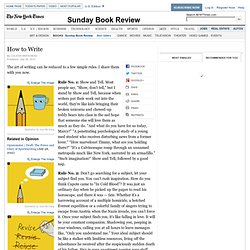 Most people say, "Show, don't tell," but I stand by Show and Tell, because when writers put their work out into the world, they're like kids bringing their broken unicorns and chewed-up teddy bears into class in the sad hope that someone else will love them as much as they do. "And what do you have for us today, Marcy?" "A penetrating psychological study of a young med student who receives disturbing news from a former lover." How to Write a Great Novel: Junot Diaz, Anne Rice, Margaret Atwood and Other Authors Tell. Writers Groups. Thinking of joining a writers group?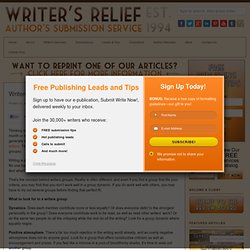 A writers group is an informal gathering of writers who meet once a month or more to share their poems, short stories, novels, or essays. They share advice and criticism, and generally support one another through the process of writing and submitting their work to literary agents and editors. These groups are also a great source of writing-related news and industry leads (especially online groups). 7 Simple Ways Writers Can Pay It Forward » All About Writing. Using Dialogue Tags and Punctuation Properly. Dialogue can be tough, but for a lot of writers, tagging and punctuating it correctly is even harder. Here are some of the most common errors I see, and how to correct them.
Dialogue Tags You should use a dialogue tag anytime it's not completely clear who is speaking. A dialogue tag lets the reader know who's speaking. What Is Considered Previously Published Writing? Theory of Narrative Causality. "The truth about stories is that's all we are. " — Tom King, novelist Things happen because the plot says they should.All fictional realities have this underlying principle to one degree or another. It is the reason Plot Technology and Plot Armor work. It's why The Good Guys Always Win in the end, even though many individuals may try and fail and die gruesomely before the protagonist comes along.
Westbow Press Blog. Welcome to the WestBow Press Blog. We invite you to share your thoughts with us as we continue to provide writing tips, encouragement and book marketing ideas. With an extensive list of publishing industry professionals, published writers, marketing experts and Hollywood consultants who regularly contribute their tips and hints for Christian authors, our blog can help you whether you're a writer just beginning your first book or a seasoned author looking for fresh marketing strategies. Jodi Baker, Marketing Specialist. Canada Writes - Louise Penny Master Class: 18 things I wish I'd known before starting my first book. How To Write Fiction Based On Real Life. Writing fiction from real-life experiences isn't as easy as it sounds. Fiction writers—writers of short stories and novels—must know when to use real-life details and when those details don't work well in prose. Putting your real life in writing can be inspiring, but it can be dangerous too.
Creating Fiction From Personal Experiences: The Obsessed Writer's Guide To Crawling Your Way Back To Sanity « Courage 2 Create. Editor's note: this is a guest post by Kathleen Pooler of Memoir Writer's Journey. "There's nothing to writing. All you do is sit down at a typewriter and open a vein." - Red Smith I'm a memoir writer and a retired nurse practitioner. I've also been consumed by my writing for the past three years. I've taken writing classes, attended numerous writing conferences, workshops, webinars and I've also worked non-stop on building my author platform through blogging, tweeting, Facebooking, Goodreading, Google+ing and LinkedIn-ing. Canada Writes - Shyam Selvadurai vs. Robert Hough: Write what you know/Write what you don't. Courage 2 Create. 20 Ways to Kill Your Writer's Block Forever. Why reading aloud makes a book so much better.
Ten Obvious Truths About Fiction. Prompts, lessons, and resources for writing classrooms. Assemble a Quality Portfolio | Pan-European MFA - Creative Writing. 6 Writing Tips From John Steinbeck - Maria Popova - Entertainment. Set up Your Story in the First Paragraphs. Creative Writing Prompts. How to Write a Novel Using the Snowflake Method. How to Stop Procrastinating and Start Writing. Writers, Agents & Editors Network Blog: Henry Miller's 11 Writing Commandments. The Writer: Advice and inspiration for today's writer. 25 Things Writers Should Stop Doing. Writing Quickly: A Secret Strategy. Tips And Tricks For Writing Fast (And Professionally!)
(25) The Guardian on Facebook. Haruki Murakami: Talent Is Nothing Without Focus and Endurance. William Shunn : Manuscript Format : Short Story - StumbleUpon. Pro Writing Tips » Grammar and writing tips. Top 10 Tips : Starting and Finishing the 1st Draft - Rasmus Rasmussen dot com. Writing tips. Writing tips | Time to Write. 25 Things Writers Should Start Doing.
---