Useful online resources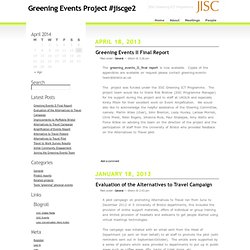 A pilot campaign on promoting Alternatives to Travel ran from June to December 2012 in 5 University of Bristol departments, this included the provision of online support materials, offers of individual or group training and limited provision of headsets and webcams to get people started using virtual meetings technologies. The campaign was initiated with an email sent from the Head of Department (or sent on their behalf) to all staff to promote the pilot (with reminders sent out in September/October). The emails were supported by a series of posters which were provided to departments to put up in public areas such as coffee areas, lifts, backs of toilet doors, etc. The uptake of training and requests for equipment was disappointingly low; there were ten formal training sessions undertaken during the six month pilot across the 5 departments.
Greening Events Project #jiscge2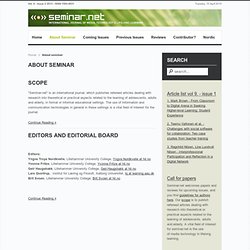 About seminar
Monitor 2011 - The digital state of the Norwegian school Lillian Gran Department of Education and Social WorkLillehammer University CollegeEmail: lillian.gran@hil.noThis email address is being protected from spambots. You need JavaScript enabled to view it. Review of the national digital survey
Details Created on Monday, 30 September 2013 22:34 The release of the 2.05RC1 is a first step for the feature freeze on 2.05 which will happen on October, 8th.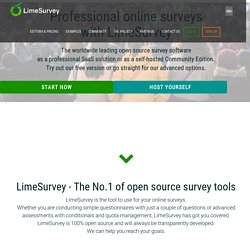 Format Factory - Free media file format converter
Xerte - Moodle Saviour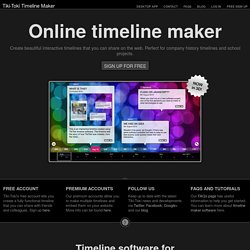 Why use Tiki-Toki? There are loads of timeline makers out there.What's so special about Tiki-Toki? Nothing to download Tiki-Toki works in your browser. Sign up for our freeaccount and you can start creating a timeline now Stunning 3d timelines No other online timeline makerallows you to view your timelines in 3d Include images and videos Tiki-Toki provides integration withYouTube and Vimeo for videos Share timelines with anyone Each timeline you create has its own unique urlthat you can send to friends or colleagues Colours and categories Tiki-Toki allows you to create different categoriesfor stories (events) and colour code them Group edit* Get your friends or colleaguesto contribute to your timelines Embed timelines on your site* Timelines created using Tiki-Toki can beembedded on your own website or blog *Active premium accounts only What can I do with Tiki-Toki?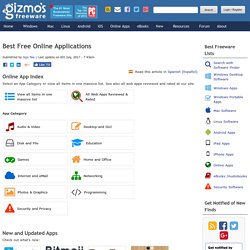 Online applications (also known as web applications or webware) are getting more popular, particularly when broadband Internet access has become more common and readily available to more users. With online applications and services, you do not need to download and install them into your computer for using them—you just need to open up a browser and access them online. Not only that you can save harddisk space as they do not need to be installed, but also you can work with files that are saved online from any computer anywhere, without the need to carry a storage device even a USB stick around with you. Besides, you don't have to worry about different operating systems as these applications and services are cross-platform, running in your browser as a client. Neither do you need to keep updating your software versions, as you will get any new software updates and bug fixes automatically whenever you access them.