Writing resources
15-minute writing exercise closes the gender gap in university-level physics | Not Exactly Rocket Science. Think about the things that are important to you.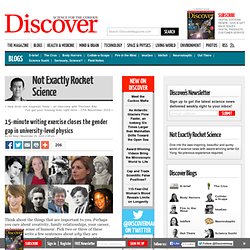 Perhaps you care about creativity, family relationships, your career, or having a sense of humour. Pick two or three of these values and write a few sentences about why they are important to you. You have fifteen minutes. It could change your life. This simple writing exercise may not seem like anything ground-breaking, but its effects speak for themselves.
Creativity. Mesostomatic: you too can have nothing to say, and say it. Adam Parrish · Poetic form. Classes and objects. Poetic forms "A poem is a small (or large) machine made of words." — William Carlos Williams A poetic form is halfway between a set of constraints and a set of instructions.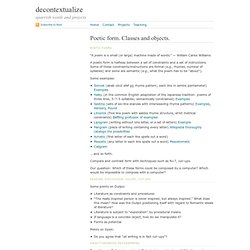 Some of these constraints/instructions are formal (e.g., rhymes, number of syllables) and some are semantic (e.g., what the poem has to be "about"). Agenda. Wk10 Oct 29 Nonlinear Documentary / Vantage Point / Details [OK, Bye Bye, Rebecca Baron; Bleeding Through: Layers of Los Angeles Norman Klein and Labyrinth Project; The Dawn At My Back: Memoir of a Texas Upbringing, Carol Parrot Blue Labyrinth Project; Memory Loops; symphonyofacity.org; Sans Soleil, Chris Marker, Taxi Takes on Terror… ] • Present/discuss project 2.
Glum Councillors. Writing & the Teacher - HumBox. This resource contains a set of activities that use 'Imaginative writing' in various ways as a tool for thinking and learning.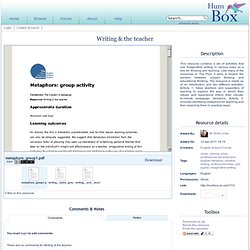 Like many of the resources in The Pool, it aims to breach the barriers between subject thinking and educational thinking. The resource is made up of an introduction and two different activities: Activity 1: helps teachers and supporters of learning to explore the way in which their values and experience inform their minute-to-minute pedagogic decisions. Activity 2: involves identifying metaphors for teaching and then exploring them in practical ways. Save The Words. Item matches "creative writing" - HumBox. There are three types of activities, appropriate for English lecturers working in groups or as individuals, in this resource.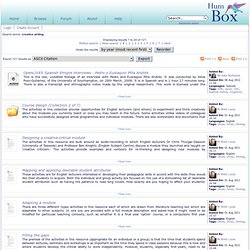 Their topics are employability, transition from A level, and getting the 'delicate balance' right between literature, language and Creative Writing when designing an English programme for today's students. These activities rely in part on an interview with Professor Marion Wynne-Davies (University of Surrey). Home Page. FutureMe.org: e-mail your future self.
Are you ready to play Five Card flickr? Ransom note generator. I Write Like. Creative Writing Games - Writing Your Way Out of Writer's Block. It's funny how there are so many games out there to be found, but when you're in that writer's block mode, you just can't seem to find or think of any of them.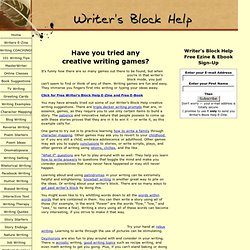 Writing games are fun and easy. They immerse you fingers first into writing or typing your ideas away. PIZZAZ, Creative Writing & Storytelling, Opp-Beckman. Collaborative Fiction: Writing and Gaming Online. By Ali Hale I've been thinking recently about the ways in which writing and gaming are mingled online, after a Daily Writing Tips reader wrote in to introduce us to a site which he and his brother have recently launched, called "Vote Pages".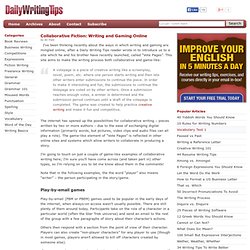 This site aims to make the writing process both collaborative and game-like: A votepage is a piece of creative writing like a screenplay, novel, poem, etc. where one person starts writing and then lets other writers enter submissions to continue the piece. In order to make it interesting and fun, the submissions to continue the Votepage are voted on by other writers. Word Games - Creative Writing Forums. Networks: The "Mentor Text of the Year" Network. We're very excited to be announcing our MTotY theme and mentor text titles for the upcoming school year.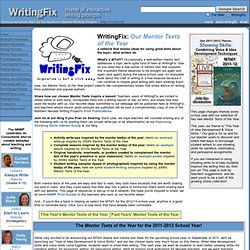 In September of 2011, we'll be launching our "Year of Idea Development & Voice Skills," and our two chosen texts very much focus on this theme. When idea development skills and voice skills come together, students learn to show their writing. This next year, we want all students to learn better showing skills--for narrative writing, for expository writing, for persuasive writing. We'll be hosting local workshops for Nevada teachers, and we want teachers outside of Nevada to participate with us!
If you would like to work on these ideas too, please know that we're going to be publishing ideas all year long at WritingFix, and if you send us inspirations based on our theme of the year, you might earn a copy of the NNWP's newest print guide: The "Show Me Your Story" Guide. 100 Awesome Online Tools to Teach Yourself Any Instrument (For Free) : Online University Lowdown: Rankings, Reviews, of the Best Online Universities. Go beyond the garage band or stagnant piano lessons with these incredible ways to learn every instrument from the guitar to keyboard to drums to brass and even a few lesser known instruments.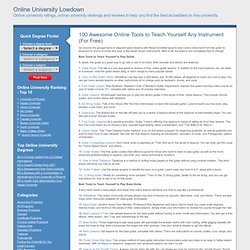 Best of all, the lessons are completely free of charge! Best Tools to Teach Yourself to Play Guitar. The Malcolm Gladwell Book Generator. How novels came to terms with the internet. Back in the early 1990s, David Foster Wallace wrote an essay urging young American novelists to find a way to come to terms with the role of television in contemporary life.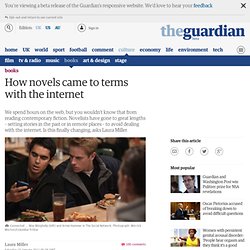 He believed they were going about it the wrong way, but at least they were trying, which was more than he could say for the generation of older writers he complained about in the same piece ("E Unibus Pluram: Television and US Fiction"). One of these, an unnamed "gray eminence" who ran a graduate workshop that Wallace attended in the 1980s, scolded his students for including "trendy mass-popular-media" references in their work. Season of Inspiration [9-week online writing course] Invalid quantity. Please enter a quantity of 1 or more. The quantity you chose exceeds the quantity available. Please enter your name. Please enter an email address. Day after this happened [on my road but not me!] my insurance. Telescopic Text → Write.
---