Writing Exercises
Three Poetry Writing Exercises. Stretch your writing muscles with these poetry writing exercises.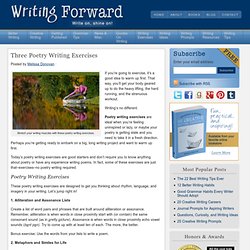 If you're going to exercise, it's a good idea to warm up first. That way, you'll get your body geared up to do the heavy lifting, the hard running, and the strenuous workout. Writing Prompts That Don't Suck. Thirteen Writing Prompts.
Write a scene showing a man and a woman arguing over the man's friendship with a former girlfriend.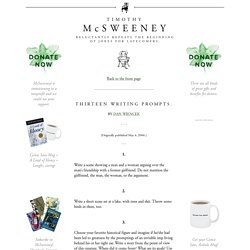 Do not mention the girlfriend, the man, the woman, or the argument. Write a short scene set at a lake, with trees and shit. Throw some birds in there, too. Creative Writing Prompts. [description]Get daily creative writing prompts for your short story, fiction or nonfiction novel, essay and more at WritersDigest.com.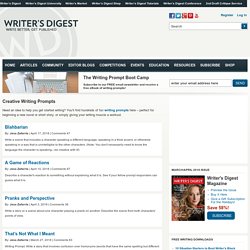 [/description] [keywords]writing prompts, creative writing prompts, expository writing prompts, writing prompt[/keywords] Need an idea to help you get started writing? Margo Roby: Wordgathering. PROMPTed #25 Ego Is Not A Dirty Word | Write Anything. 28 Jul 2012 by Adam Byatt in Uncategorized | Comments Off PROMPTed is a weekly collection of writing prompts to inspire your writing week.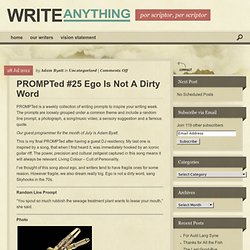 The prompts are loosely grouped under a common theme and include a random line prompt, a photograph, a song/music video, a sensory suggestion and a famous quote. Our guest programmer for the month of July is Adam Byatt. This is my final PROMPTed after having a guest DJ residency. My last one is inspired by a song, that when I first heard it, was immediately hooked by an iconic guitar riff. Writing prompts. Writing Prompts – Creative Copy Challenge — Curing Writer's Block One Fun Challenge at a Time.
The Wilful Sunflower: Inspiration: Story starters.
Newspaper Blackout. "Random Photo Story" Chuck is the author of the published novels: Blackbirds, Mockingbird, Under the Empyrean Sky, Blue Blazes, Double Dead, Bait Dog, Dinocalypse Now, Beyond Dinocalypse and Gods & Monsters: Unclean Spirits.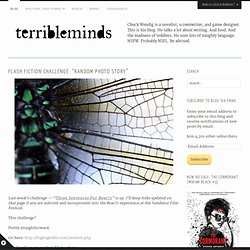 He also the author of the soon-to-be-published novels: The Cormorant, Blightborn (Heartland Book #2), Heartland Book #3, Dinocalypse Forever, Frack You, and The Hellsblood Bride. Also coming soon is his compilation book of writing advice from this very blog: The Kick-Ass Writer, coming from Writers Digest. He, along with writing partner Lance Weiler, is an alum of the Sundance Film Festival Screenwriter's Lab (2010). Their short film, Pandemic, showed at the Sundance Film Festival 2011, and their feature film HiM is in development with producers Ted Hope and Anne Carey.
Together they co-wrote the digital transmedia drama Collapsus, which was nominated for an International Digital Emmy and a Games 4 Change award. Reading Writing Personal Discovery with Annie Miracle. Fifteen Minutes Of Fiction: Write Fiction Online. Forums: Reader Challenges / 50 Word Fright. If you use Gmail, your installments and notifications may be going to the newly introduced promotions tab.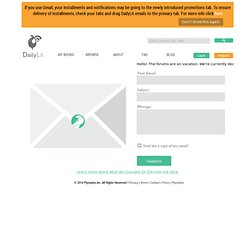 To ensure delivery of installments, check your tabs and drag DailyLit emails to the primary tab. For more info click here. Write or Die by Dr Wicked. Writing Exercies. Online Stopwatch.
---