Writers tools
Writing. Thinkmap visualization software facilitates communication, learning, and discovery. About WordNet - WordNet - About WordNet. Questionnaires for Writing Character Profiles - Creative Writing Help. Enter your e-mail to get the e-book for FREE.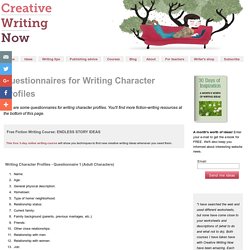 We'll also keep you informed about interesting website news. "I have searched the web and used different worksheets, but none have come close to your worksheets and descriptions of (what to do and what not to do). Both courses I have taken have with Creative Writing Now have been amazing. Each time I have learned something new. Free OCR.
Visual Thesaurus - An online thesaurus and dictionary o. Welcome to the Visual Thesaurus, an interactive tool that allows you to discover the connections between words in a visually captivating display.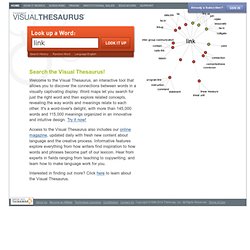 Word maps let you search for just the right word and then explore related concepts, revealing the way words and meanings relate to each other. It's a word-lover's delight, with more than 145,000 words and 115,000 meanings organized in an innovative and intuitive design. Try it now! Access to the Visual Thesaurus also includes our online magazine, updated daily with fresh new content about language and the creative process.
Informative features explore everything from how writers find inspiration to how words and phrases become part of our lexicon. Rhyming Dictionary for Poetry and Songwriting. Synonym Finder » Find synonyms, antonyms & definition for (almost) any word.
---