Millennials
Census Data Show Americans Are Still Stuck at Home - Up Front Blog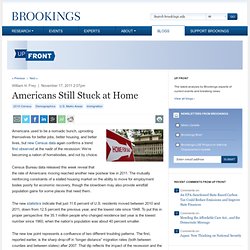 Americans used to be a nomadic bunch, uprooting themselves for better jobs, better housing, and better lives, but new Census data again confirms a trend first observed at the nadir of the recession: We're becoming a nation of homebodies, and not by choice. Census Bureau data released this week reveal that the rate of Americans moving reached another new postwar low in 2011. The mutually reinforcing constraints of a stalled housing market on the ability to move for employment bodes poorly for economic recovery, though the slowdown may also provide windfall population gains for some places that need them. The new statistics indicate that just 11.6 percent of U.S. residents moved between 2010 and 2011, down from 12.5 percent the previous year, and the lowest rate since 1948. To put this in proper perspective: the 35.1 million people who changed residence last year is the lowest number since 1960, when the nation's population was about 40 percent smaller.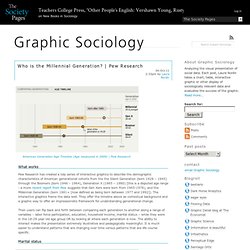 Who is the Millennial Generation? | Pew Research » Graphic Sociology
What works Pew Research has created a tidy series of interactive graphics to describe the demographic characteristics of American generational cohorts from the the Silent Generation (born 1928 – 1945) through the Boomers (born 1946 – 1964), Generation X (1965 – 1980) [this is a disputed age range - a more recent report from Pew suggests that Gen Xers were born from 1965-1976), and the Millennial Generation (born 1981+ [now defined as being born between 1977 and 1992]). The interactive graphics frame the data well. They offer the timeline above as contextual background and a graphic way to offer an impressionistic framework for understanding generational change. Then users can flip back and forth between comparing each generation to another along a range of variables – labor force participation, education, household income, marital status – while they were in the 18-29 year old age group OR by looking at where each generation is now.
The 9/11 Generation
SOURCE: AP/Chao Soi Cheong Smoke pours off one of the towers of the World Trade Center as flames explode from the second one as it is struck by a plane Tuesday, September 11, 2001. By Eleni Towns | September 8, 2011 My first day of high school was September 11, 2001. In an all-school assembly, a teacher stood to break the news and explain the significance of the attacks.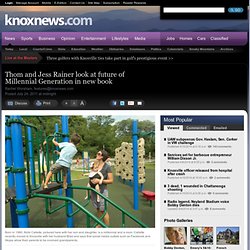 The Bridger Generation. Generation Y. Generation XX. Echo Boom.
Thom and Jess Rainer look at future of Millennial Generation in new book
Throughout January and February, 11 communities across Michigan will host Show Me the Money Day events, part of a statewide effort coordinated by CEDAM. Local events provide Michigan residents access to free financial workshops and financial resource fairs and offer food and prize drawings for participants. Show Me the Money Day events kick off tax season by promoting free tax assistance, low-cost financial products, and opportunities to build assets, such as buying a home or earning a college degree. Please visit ShowMeTheMoneyDay.org to learn more!
Adults Only « CEDAM blog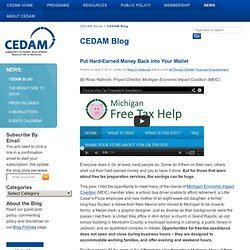 Suppose we could bet states as if they were horses engaged in a decade-long economic race. How would you place your bets? Well, one way to evaluate a state's prospects might be to look at the number of millennials aged 25 to 34 that were there in 2010. This age group is critical to a state's future because they represent the next wave of new families, new home buyers and big spenders. Over the next 10 years, they will move into the 35 to 44 age cohort and increase their average household spending by 23%, a jump of more than $10,000 per household, according to the Bureau of Labor Statistics. So one way to pick states with high economic prospects is to look at how many 25- to 34-year-olds each has numerically and in relation to a national average, and how fast that cohort is growing.
Top 10 States for Economic Growth, Based on Millennial Pop. | Ad Age Stat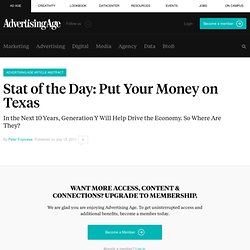 MCF "Think Michigan" Study
Truth, Justice and the Millennial Way
Anna Maria Virzi | May 25, 2011 | 2 Comments inShare112 Brands must behave in socially useful ways if they want to earn the respect of the millennial generation, contends McCann Worldgroup. That includes helping young people broadcast, share, make new connections, manage their connections, and narrate their lives in the "social economy." "The values that young people seek in their friends applies to brands," said Laura Simpson, McCann's global IQ director.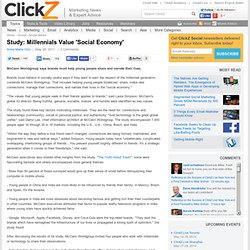 Study: Millennials Value 'Social Economy'
Generations Keynote Speakers, Experts, Authors, Managing Baby Boomers, Gen Xers and Millennials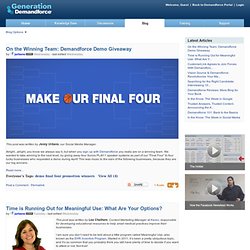 This post was written by Liz Frisch, our Trade Show Coordinator. Here at Demandforce, we exhibit at over 300 trade shows and industry events each year. Last month we packed our warmest clothes and flew back east to the Greater New York Dental Meeting.
Who Are the Millennials?
Millennial Makeover || The Buzz
This is part of a Pew Research Center series of reports exploring the behaviors, values and opinions of the teens and twenty-somethings that make up the Millennial Generation Executive Summary Generations, like people, have personalities, and Millennials — the American teens and twenty-somethings who are making the passage into adulthood at the start of a new millennium — have begun to forge theirs: confident, self-expressive, liberal, upbeat and open to change.