Various articles about Wikileaks' founder : Julian Assange
Get flash to fully experience Pearltrees
A confidential document photographed by Britain's Press Association news agency lays out Scotland Yard's simple strategy for dealing with Julian Assange should he ever try to leave Ecuador's Embassy in London. Skip to next paragraph A document is held by an unidentified British police officer, which outlines that 'Assange to be arrested under all circumstances,' if he comes out of the Embassy of Ecuador, in central London, Aug. 24. Lewis Whyld/AP
A vec notre correspondante à Londres, Muriel Delcroix Prononcé en direct devant les caméras de télévision récemment autorisées dans les tribunaux britanniques, le rejet de l'appel de Julian Assange a divisé la Cour suprême. Le jugement assez complexe, portait sur l'interprétation de la notion d'« autorité judiciaire ».
Assange abused my cat: WikiLeaks insider
LONDON - A gaggle of journalists recently gathered at a London press club, eagerly awaiting Julian Assange .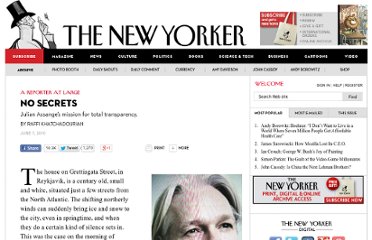 The house on Grettisgata Street, in Reykjavik, is a century old, small and white, situated just a few streets from the North Atlantic. The shifting northerly winds can suddenly bring ice and snow to the city, even in springtime, and when they do a certain kind of silence sets in.
Julian Assange. Photo: AFP
By DANIEL BATES