Site tools
10 Best URL Shorteners and why they are good. URL shortening services are used by millions of people on daily basis as they a serve very important purposes in areas like social networking and internet marketing and are extremely useful in Internet conversations on services like twitter when someone want to share a link.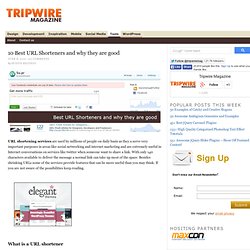 With only 140 characters available to deliver the message a normal link can take up most of the space. Besides shrinking URLs some of the services provide features that can be more useful than you may think. If you are not aware of the possibilities keep reading. Advertisement What is a URL shortener. Add SPDY support to your Apache server with mod_spdy. By Matthew Steele and Bryan McQuade, PageSpeed Insights Team At Google, we strive to make the whole web fast.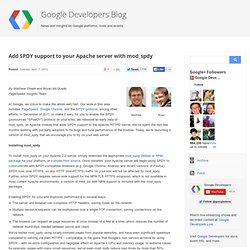 Our work in this area includes PageSpeed, Google Chrome, and the SPDY protocol, among other efforts. In December of 2011, to make it easy for you to enable the SPDY (pronounced "SPeeDY") protocol on your sites, we released an early beta of mod_spdy, an Apache module that adds SPDY support to the Apache HTTPD server. We've spent the last few months working with our early adopters to fix bugs and tune performance of the module. Free Web Stats Counter from Motigo Webstats - This site's statistics / Dashboard. HTML Cheatsheet &124; Webmonkey&&124; Wired.com - StumbleUpon. Bootstrap, from Twitter.
Zoundry Raven: Think - Write - Publish.
---