Webdesign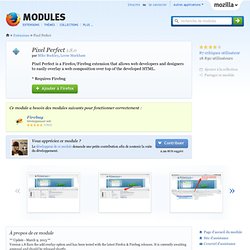 Pixel Perfect :: Modules pour Firefox
Version 1.8.0 This release fixes the add overlay issue. The Add Overlay option is now located under the main Pixel Perfect Menu dropdown (see screenshots). Version 2 is still in the works and will include a new UI and a complete overhaul of the code to work with the new Firebug module framework. Ce module n'est pas compatible avec votre version de Firefox à cause des éléments suivants :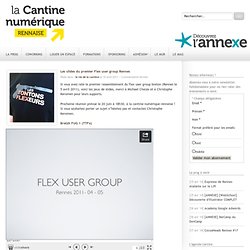 Les slides du premier Flex user group Rennes
Les slides du premier Flex user group Rennes Posté dans : la vie de la cantine le 10 avril 2011 » Commentaires fermés Si vous avez raté le premier rassemblement du flex user group breton (Rennes le 5 avril 2011), voici les jeux de slides, merci à Michael Chaize et à Christophe Keromen pour leurs supports. Prochaine réunion prévue le 20 juin à 18h30, à la cantine numérique rennaise ! Si vous souhaitez porter un sujet n'hésitez pas et contactez Christophe Keromen.
Advertisement Recently we've been receiving more requests for carefully selected, useful round-ups. We try to avoid round-ups on Smashing Magazine, but sometimes the format is useful and — if the resources are relevant — can be extremely helpful. Besides, we are glad to drive traffic to some obscure, yet useful resources and thus support the developers of these resources. In this round-up, you'll find some of the useful JavaScript and jQuery tools, libraries and plugins that we have stumbled upon recently.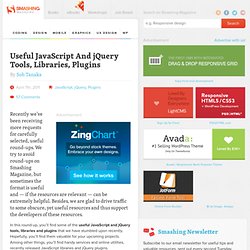 fermer [x] Cet article provient de l'édition papier du magazine. Seuls les abonnés ont un accès illimité à ces articles.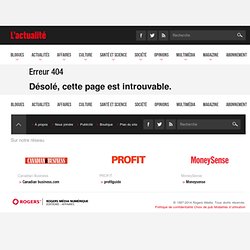 Lorem Pixum — Images de placement gratuites en Creative Commons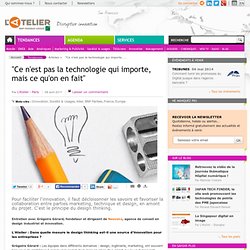 "Ce n'est pas la technologie qui importe, mais ce qu'on en fait"
Pour faciliter l'innovation, il faut décloisonner les savoirs et favoriser la collaboration entre parties marketing, technique et design, en amont du projet. C'est le principe du design thinking. Entretien avec Grégoire Gérard, fondateur et dirigeant de Neovenz, agence de conseil en design industriel et innovation.
Frameworks CSS — Fusion entre « Blueprint », « 960 Grid System » et « The Simpler Grid »
The portfolio of Bryan Katzel | Design, illustration & stuff to make you smile
Hello Photoshop Plus fans, in todays tutorial I'll be showing you how to create a cool coming soon web page design. The designs features a dark feel with a cool count down timer. Lets get started…
Sleek Coming Soon Page Design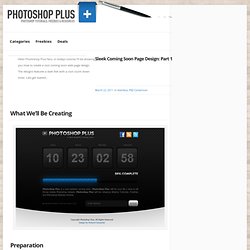 Best practices for JS and CSS organization
Showcase Of Kick-Ass And Creative Website Designs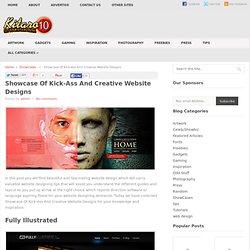 Home » ShowCases » Showcase Of Kick-Ass And Creative Website Designs In this post you will find beautiful and fascinating website design which will carry valuable website designing tips that will assist you understand the different guides and layout so you put up arrive at the right choice which reports direction software or language aspiring finest for your website designing demands. Today we have collected Showcase Of Kick-Ass And Creative Website Designs for your knowledge and inspiration. Fully Illustrated
1 an de home page Cdiscount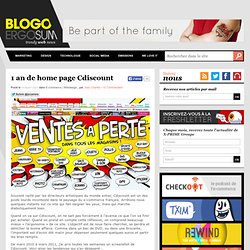 Souvent raillé par les directeurs artistiques du monde entier, Cdiscount est un des poids lourds incontesté dans le paysage du e-commerce français. Arrêtons-nous quelques instants sur ce site qui fait saigner les yeux, mais qui marche diaboliquement bien. Quand on va sur Cdiscount, on ne sait pas forcément à l'avance ce que l'on va finir par acheter. Quand on prend en compte cette réflexion, on comprend beaucoup mieux « l'ergonomie » de ce site. L'objectif est de nous faire chercher, se perdre et dénicher la bonne affaire. Comme dans un bac de DVD, ou dans une brocante, l'important est d'avoir été malin pour dépenser seulement quelques euros et partir les bras remplis.
Olybop.info » Olybop.info 20 Packs de ressources Web UI
Photoshop, bien que destiné à la manipulation de photos a toujours été l'outil préféré des web designers. Aujourd'hui la plupart utilisent l'utilise pour en tirer des maquettes ou des éléments graphiques d'une très grande qualité. Avec l'arrivée des CSS3, le donne risque de changer. En effet, si les CSS3 rencontrent déjà un grand succès, c'est parce qu'ils s'adressent en grande partie à ces mêmes designers, en proposant de nombreuses fonctions qui permettent maintenant de créer des éléments graphiques sans avoir besoin de recourir aux images.
CSS3/Photoshop : quel avenir pour le métier de web designer ?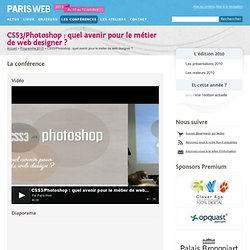 101 Best Free Icon Sets For Designers, Developers and Bloggers | The Finished Box
Feb 21 2011 A creative logo design plays a vital role in portraying the brand identity of any company. It is not only the name of the company, but also the brand's message that communicates with the customers. Therefore, you should keep in mind that it is also the logo design that makes your business memorable and distinguishes it from the rest! It is for that reason that designers put a large amount of effort and time in designing creative and unique logo designs for their clients. In this post, we present to you some very cleverly designed logos that we hope will inspire you to try out something different!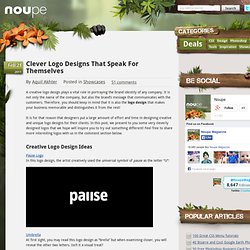 Olybop.info » Olybop.info [dossier] Pourquoi Fireworks est mieux que Photoshop pour faire du WEB
Bienvenue sur le site de Psill.net
Un graphiste peut-il concevoir plusieurs propositions graphiques d'un même sujet ? « Laurent Demontiers
Visualisez toutes vos typographies directement depuis votre navigateur ! | Graphisme & interactivité blog par Geoffrey Dorne
Conférence de David Rault : la typographie comme un outil de design. | Graphisme & interactivité blog par Geoffrey Dorne
La Revue du Design ? Blog Archive ? Le design comme ?une chose qui pense?
Social Network Icon Pack
20 listes pour Webdesigners