Web
Versionning
W3C Validators. Frameworks. Moteur de Recherche. Mobile Web. Solutions Logicielles. Editeurs. Google Devel. Flash. Design Issues for the World Wide Web. Architectural and philosophical points These statements of architectural principle explain the thinking behind the specifications.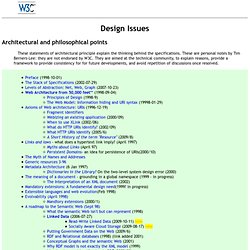 These are personal notes by Tim Berners-Lee: they are not endorsed by W3C. They are aimed at the technical community, to explain reasons, provide a framework to provide consistency for for future developments, and avoid repetition of discussions once resolved. Informal notes not in this series.
Semantic Web
Mailchimp. CMS. Languages. HTML5. Wishbox: Get User Feedback with Annotated Screenshots. Wishbox is a new way to get feedback.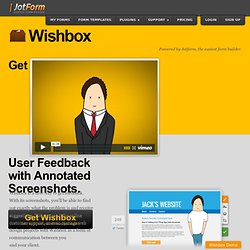 With its screenshots, you'll be able to find out exactly what the problem is and receive suggestions. You can use it for online customer support, or even manage web design projects with Wishbox as a form of communication between you and your client. Feedback Button A simple, customizable feedback button to engage your users without disturbing their visit. Screenshot. Tent — All your data in one place.
---