Web tools
I am interested in e-marketing and all the tools that can help a company (start-ups in particular) develop a good use of all online media. Most of the pages of this pearltree are gathered at the suggestion and under the guidance of my teachers of the MBA program I'm attending. Hope ou find something useful. Don't hesitate to share/add if you find something interesting. nagynata Mar 16
Wordle is a toy for generating "word clouds" from text that you provide. The clouds give greater prominence to words that appear more frequently in the source text. You can tweak your clouds with different fonts, layouts, and color schemes. The images you create with Wordle are yours to use however you like. You can print them out, or save them to the Wordle gallery to share with your friends.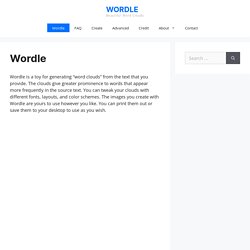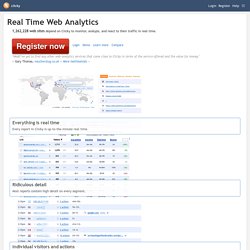 723,865 web sites depend on Clicky to monitor, analyze, and react to their traffic in real time. "Clicky blows all other analytics packages out of the water. Hands down the easiest and fastest way to keep a pulse on your website activity
With the completion of algorithmic transition to Bing, Yahoo! Search has merged Site Explorer into Bing Webmaster Tools . Webmasters should now be using the Bing Webmaster Tools to ensure that their websites continue to get high quality organic search traffic from Bing and Yahoo!. We'd also like to recommend Sitemaps a useful mechanism to inform search engines about pages on their sites.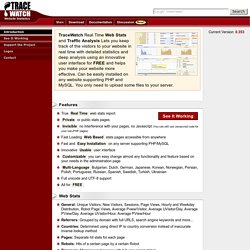 TraceWatch Web Stats - FREE Advanced Traffic Analysis
TraceWatch Real Time Web Stats and Traffic Analysis Lets you keep track of the visitors to your website in real time with detailed statistics and deep analysis using an innovative user interface for FREE and helps you make your website more effective. Can be easily installed on any website supporting PHP and MySQL. You only need to upload some files to your server. Features