CSS
Index of /csswg. Transforms. IT is a truth universally acknowledged, that a single man in possession of a good fortune must be in want of a wife.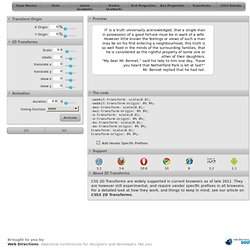 However little known the feelings or views of such a man may be on his first entering a neighbourhood, this truth is so well fixed in the minds of the surrounding families, that he is considered as the rightful property of some one or other of their daughters. "My dear Mr. Bennet,'' said his lady to him one day, "have you heard that Netherfield Park is let at last?'' Mr. Bennet replied that he had not. Repeat-x Repeat-y: awesome patterns from awesome people.
Create Your Own @font-face Kits. Rotating Feature Boxes. This is what we're going to build: The full effect of it (with transition animations) will work in newish WebKit and Opera browsers and Firefox 4 (in real beta as of today).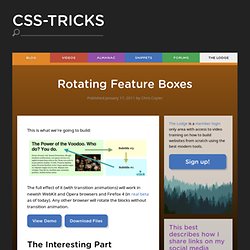 Any other browser will rotate the blocks without transition animation. View Demo Download Files The Interesting Part All the animation is CSS3 transitions. Gridulator: Make pixel grids, lickety-split. Ultimate CSS Gradient Generator - ColorZilla.com. Background: #1e5799; /* Old browsers */ background: -moz-linear-gradient(top, #1e5799 0%, #2989d8 50%, #207cca 51%, #7db9e8 100%); /* FF3.6+ */ background: -webkit-gradient(linear, left top, left bottom, color-stop(0%,#1e5799), color-stop(50%,#2989d8), color-stop(51%,#207cca), color-stop(100%,#7db9e8)); /* Chrome,Safari4+ */ background: -webkit-linear-gradient(top, #1e5799 0%,#2989d8 50%,#207cca 51%,#7db9e8 100%); /* Chrome10+,Safari5.1+ */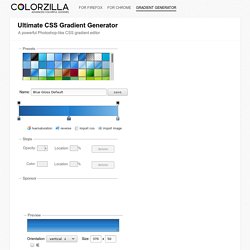 CSS3 and Clickable Events. Still going strong!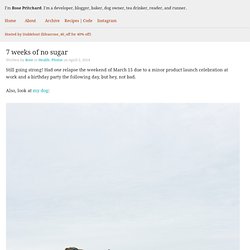 Had one relapse the weekend of March 15 due to a minor product launch celebration at work and a birthday party the following day, but hey, not bad. Also, look at my dog: 50 Refreshing CSS Tutorials, Techniques and Resources :Speckyboy Design Magazine. In this CSS (2 & 3) round-up article we have focused on highlighting as many varied techniques covering as many aspects of web, mobile and application development as possible.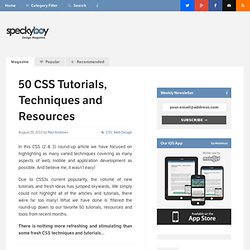 And believe me, it wasn't easy! Due to CSS3s current popularity, the volume of new tutorials and fresh ideas has jumped skywards. Demo: CSS drop-shadows without images. Modern CSS Layouts, Part 2: The Essential Techniques - Smashing. Advertisement In Modern CSS Layouts, Part 1: The Essential Characteristics1, you learned that modern, CSS-based web sites should be progressively enhanced, adaptive to diverse users, modular, efficient and typographically rich.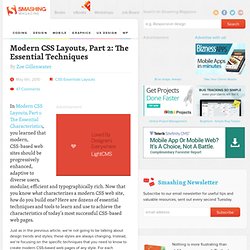 Now that you know what characterizes a modern CSS web site, how do you build one? Here are dozens of essential techniques and tools to learn and use to achieve the characteristics of today's most successful CSS-based web pages. Just as in the previous article, we're not going to be talking about design trends and styles; these styles are always changing. Instead, we're focusing on the specific techniques that you need to know to create modern CSS-based web pages of any style. ColorBlendy - Blend colors with different modes like multiply, overlay, dodge.
---