We are Legion
Médias&Internet - Lois / Traités. Anonymous: From the Lulz to Collective Action. Taken as a whole, Anonymous resists straightforward definition as it is a name currently called into being to coordinate a range of disconnected actions, from trolling to political protests.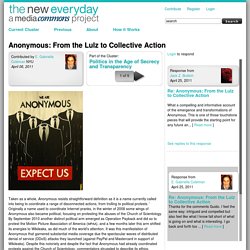 Originally a name used to coordinate Internet pranks, in the winter of 2008 some wings of Anonymous also became political, focusing on protesting the abuses of the Church of Scientology. By September 2010 another distinct political arm emerged as Operation Payback and did so to protest the Motion Picture Association of America (MPAA), and a few months later this arm shifted its energies to Wikileaks, as did much of the world's attention. Hacktivisme.
Les techniques secrètes pour contrôler les forums et l'opinion publique. Attention, c'est du lourd !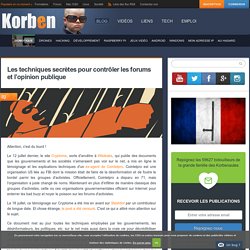 Le 12 juillet dernier, le site Cryptome, sorte d'ancêtre à Wikileaks, qui publie des documents que les gouvernements et les sociétés n'aimeraient pas voir sur le net, a mis en ligne le témoignage et les explications techniques d'un ex-agent de Cointelpro. Cointelpro est une organisation US liée au FBI dont la mission était de faire de la désinformation et de foutre le bordel parmi les groupes d'activistes. Officiellement, Cointelpro a disparu en 71, mais l'organisation a juste changé de noms. Maintenant en plus d'infiltrer de manière classique des groupes d'activistes, cette ou ces organisations gouvernementales officient sur Internet pour enterrer les bad buzz et noyer le poisson sur les forums d'activistes.
---