TheProducts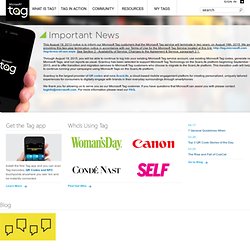 This August 19, 2013 notice is to inform our Microsoft Tag customers that the Microsoft Tag service will terminate in two years, on August 19th, 2015. We are providing this two-year termination notice in accordance with our Terms of Use for the Microsoft Tag Service located at this link:http://tag.microsoft.com/tag-terms-of-use.aspx. See Section 2 - Availability of Service; Changes to the Agreement & Service, paragraph 2.1. Through August 19, 2015, you will be able to continue to log into your existing Microsoft Tag service account, use existing Microsoft Tag codes, generate new Microsoft Tags, and run reports as usual. Scanbuy has been selected to support Microsoft Tag Technology on the ScanLife platform beginning September 18th, 2013, and to offer transition and migration services to Microsoft Tag customers who choose to migrate to the ScanLife platform. This transition path will help you to continue running your campaigns using Microsoft Tags on the ScanLife platform.
Outlook
Internet Explorer
SkyDrive
Messenger
Lync
What customers are saying "We now have many people who could not live without Lync. We've improved our communications and succeeded in reducing travel budgets by 10-15% percent and mobile phone budgets for our remote workers by over 50% percent. It has been a great success." —Sandy AbrahamsIT Director, Helly Hansen "We have also reduced our travel through the use of desktop sharing and conferencing.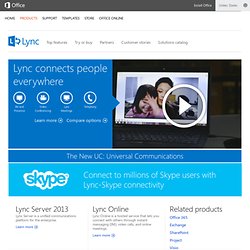 PixelSense
Visual Studio is a comprehensive collection of tools and services to help you create a wide variety of apps, both for the Microsoft platform and beyond. Visual Studio also connects all of your projects, teams, and stakeholders. Now your team can work with greater agility from virtually anywhere—irrespective of development tool, including Eclipse and Xcode.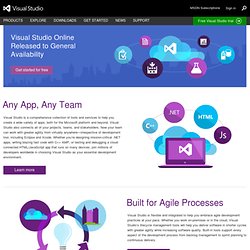 Visio
Mediaroom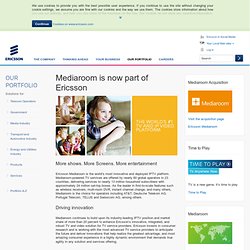 More shows. More Screens. More entertainment
Microsoft Security Essentials
Windows Azure Unlimited Possibilities Windows Azure is an open and flexible cloud platform that enables you to quickly build, deploy and manage applications across a global network of Microsoft-managed datacenters.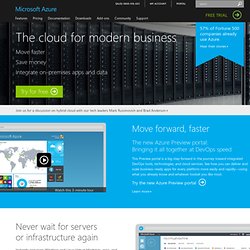 The purpose of this Q&A is for Zune users to learn where to find information and support for their Zune products and services, and to learn how to take advantage of the Xbox Music and Xbox Video stores. What's changing with Zune Marketplace? With the Fall 2013 release of the Xbox 360 update, Microsoft Points are being retired. As part of this update, Zune Marketplace no longer supports rental and purchase of content, or browsing movies and TV shows. Transactions on Xbox 360 are taking place using your local currency instead of Microsoft Points, offering you a new, convenient way to purchase exciting Xbox content.