Récupérer_Recycler Bricoler_Créer
Little green men
The girls have been playing a game of field hockey in the pouring rain this morning. Now they're in their pj's, after a nice warm shower. We're staying in the rest of this autumnal day. Making it cosy with candle light and home baked apple pie (thanks, Soumya).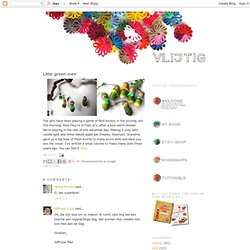 Potholder from an old T-shirt - Recyclart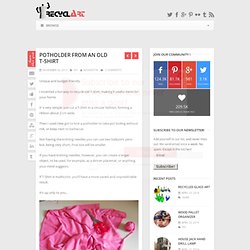 Unique and budget-friendly. I invented a fun way to recycle old T-Shirt, making it useful items for your home. It 's very simple: just cut a T-Shirt in a circular fashion, forming a ribbon about 2 cm wide. Then I used clew got to knit a potholder to take pot boiling without risk, or keep next to barbecue. Not having the knitting needles you can use two ballpoint pens but, being very short, final size will be smaller. If you have knitting needles, however, you can create a larger object, to be used, for example, as a dinner placemat, or anything your mind suggests.
Comment faire des économies grâce à une petite éolienne ? Pourquoi continuer à payer votre électricité si cher alors que le vent est une source sûre, gratuite et non polluante ? Les éoliennes ne sont pas condamnées à fleurir en bordures d'autoroutes, il en existe désormais de plus petites [...] Comment remplacer un interrupteur ? Lorsqu'un interrupteur est défaillant ou qu'il est cassé, il faut le remplacer. Vous pourriez aussi vouloir le changer pour la décoration de votre pièce, en adaptant d'autres systèmes comme les variateurs de lumière.
Électricité - les fiches pratiques de Commentfait-on.com
Assistive Technology
DIY Patio
Lamps and Lighting Contest Winners
DIY Lamps
Out and about
DIY Lighting
Homemade Halloween Decorations
Cat trees are an easy and fun thing to make, as you can utilize scrap wood and leftover materials to make something your feline friends will love. I live in a huge house with several cats, so I think I'll be making something like this soon. I'm especially digging the ones that make use of real branches for an organic look.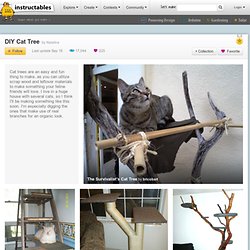 DIY Cat Tree
DIY Room Decor
Projects with Rubber
DIY Rug
DIY Chandelier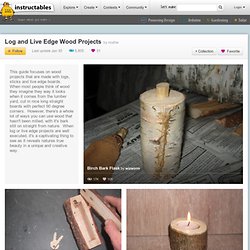 Log and Live Edge Wood Projects
This guide focuses on wood projects that are made with logs, sticks and live edge boards.
DIY- Portable Toolbox Grill- Improved!
My idea of a great family vacation doesn't include fancy hotel rooms or fine dining.  Hubby and I are literally happy campers sleeping under a ceiling of stars and a quiet campfire to light the night. Every Fall, we take a roadtrip south-of-the-border to sunny Baja California Sur.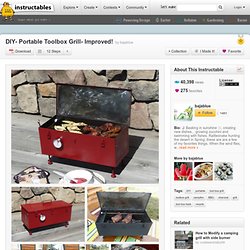 Weekly Make It Challenge: T-shirts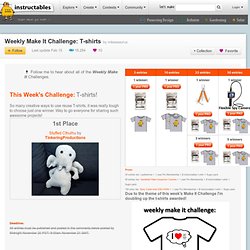 Follow me to hear about all of the Weekly Make It Challenges.
Copycat Challenge
Copycat Challenge
Copycat Challenge
Tertial Webcam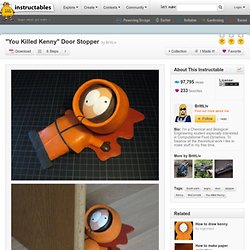 Ever since I bought my first bag of sugru (check out this link if you don't know what it is), I've used it for a lot of stuff (fixed my bike, improved a pen, made a custom handle to carry bottle crates or made my shoes more comfortable ...), but for this Instructable I wanted to make something bigger.
"You Killed Kenny" Door Stopper
Hack It! Contest Winners
The Executioner - A Surreal Piece
This piece was inspired by the mechanistic hidden world that "The Chief" sees in the book "One Flew Over the Cukoo's Nest" and has some influence from the creatures in "Pan's Labrynth". The Executioner is the first in a series of surreal characters I'm planning and may try to incorporate into one large diorama in the future. A sort of mechanized surreal underworld. The Executioner smashes the souls of the damned. Exactly who or what will damn them in this crazy little world I haven' figured out yet, but I'm sure it will come to me eventually.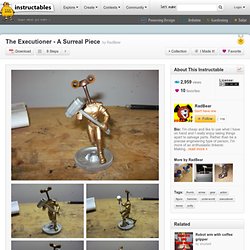 Projects with Super Glue
I know there is actually 17 but it sounds better to say 15 best altiods tin projects. Always start with making the tin look really cool. Of course, I had to include a survival kit. In case you're in need of a bit of salad. For those frustratingly short lived batteries.
15 best altiods tin projects
Hack It! Challenge Winners
Copycats
Build A Western Saloon Kid's Fort With Standard Fence Boards
There is a bank vault full of fort plans on the Internet. My posse and I took the elements of forts we liked and combined them into our own design. Our first inspiration was a "Frontier Fort Playhouse Built From Stockade Fencing" designed by John Lewis, and available free on the web. While small, Mr. Lewis's design is cost-conscious and looks easy to build. Unlike ours, his is made without framing or siding the walls one board at a time.
Materials1 Altoids sours tin 4x 1.5" sheet metal screws with wide heads (or 4x washers to match) 8x nuts to thread on screws 70mm metal computer fan guard (similar style to the one shown) 92mm metal computer fan guard (similar style to the one shown) * I scavenged my fan guards from an old computer power supply. They just happened to be the correct size
Altoids Sours BBQ Grill
Interesting
Noël dernier je n'ai offert que des cadeaux dématérialisés. Par exemple, j'ai offert une demi-journée de rangement à ma sœur : j'adore organiser alors qu'elle déteste ça. Elle était ravie, d'autant que c'était un moment pour nous retrouver et parler de tant de choses.
Emballage récup étonnant
LEGO School Back Bag
ΓΙΑ ΒΙΒΛΙΟΦΑΓΟΥΣ....
ΦΩΤΙΣΤΙΚΟ ΣΑΝ ΓΛΥΠΤΟ!
DIY: Ljusslinga med lampskärmar * Lamp shades on a string
20 Toys To Make From Trash | Big Spring Environmental
Wear from recycled T-shirt
Birdhouses
How to cover your floor with book pages » Recyclart
Child hut in a school | 1001 Pallets
How to easily Disassemble A Pallet | 1001 Pallets
DIY : pallet kid house project | 1001 Pallets
Pallet Island
Recyclage : un balai en bouteilles de plastique
Comment faire un balai avec une bouteille de soda ?
DIY: 31 idées de projet originales à faire soi-même - Dailycious Info
DIY: Easy way to cut glass bottles !
Recycling-art
Alternative planter
Mobile kitchens
A New World within an iPod Box
Natalie Sampson Designs - Paint roller wall lamp
Lamp 'Ole Kirk'
Recycled lightning by Lane Patterson
cocolico-creations
petites bricoles - la bricole du boulon
Association Débrouille Compagnie - l'art de la récup'
ARRrr... Astuces et bricolages
diy
- Liens web
caisses à vins détournées... - Le blog de tioteln62
- Meubles en récup
- 1001 façons de relooker un meuble
Child's Play Kitchen
Collections «
Fabriquer de la galalithe ou pierre de lait
Upcycled cans for camping mugs
Toilet paper rolls Chrysanthemum
Toc, toc, qui est là ?
Redimei
Just Bottle
Sew | Macaron Coin Purse
Des bijoux à base de poupées Barbie et Ken démembrés
Art by Pir8t Bottle Cap Pendants Glass Etching & More by Pir8t
jerry kott, designer artist maker
.: annabuilt.com: jewelry : sculpture : stained glass :.
Dream yards... with a challenge for you
Dinosaur can
recycleandplay.ch - Accueil
Esprit cabane, magazine des idées créatives et écologiques
Bricolage bio, esprit cabane, idees pour bricoler sain et ecolo
whitney's mason jar lights
- Réalisation de la guirlande lumineuse tulipe
- Lampes et guirlandes lumineuses
- Les photophores et bougeoirs en récup
Esprit récup
ashley's picture frame tray
Making Crafty Fridge Magnets
12 aimants diam 12 mm.
atelier v.
atelier v.
Rezovie.ch
Creatie.ch
Sacs-a-main-Eco.ca - Journee de la terre, Cadeaux écolos pour professeurs, enfants et autres fetes, anniversaires, Pour une contribution à l'environnement, un sac à main à la fois…!
Recycled Notebooks - Martha Stewart Crafts
How to Make Silver and Gold Tin stars from soda cans. **Tutorial added page 2** - OCCASIONS AND HOLIDAYS
Lane Patterson free shipping free freight Sculptor, Artist from Tucson Arizona. Functional Sculpture, Functional Art, Recycled Art, Recycled Functional Art, Recycled Green Lighting, Sculptural Lamps, Lamp Sculpture, Daniel B. Newman Art Dealer Green Valle
Décoration + tuto - Page 2 - La souris à plumes