Videos
My Skinny Jeans from brontheron
Bruce 2011
2CELLOS (Sulic & Hauser) - Welcome To The Jungle‬‏
Amazing...:)
Beatboxer THePETEBOX beatbox and guitar cover of Pixies - Where Is My Mind by Petebox
Violon Hip-Hop - une vidéo Music
a Beat Box History of Hip Hop
VIRAL VIDEO SELECTION Big Ups to EKLIPS This is a Commercial. An Amazing, Amazing Commercial. Viral Video is a periodic series we run celebrating music and moving images. Today we give you the most amazing live-recorded television spot ever. The piece features the talents of French DJ & Beat Box, Eklips.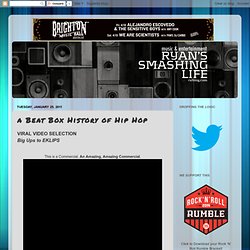 Dobrodošla nazaj / T-Mobile / nenavadno presenečenje na letališču | Video | GenSpot
Obvestilo uporabnikom! Zakon o elektronskih komunikacijah (Uradni list št. 109/2012; v nadaljevanju ZEKom-1), ki je začel veljati v začetku leta 2013 in bo s 15.6.2013 prinesel nova pravila glede uporabe piškotkov in podobnih tehnologij za shranjevanje informacij ali dostop do informacij, shranjenih na računalniku ali mobilni napravi uporabnika. Naše spletno mesto uporablja piškotke, zato na tej povezavi prosimo preberite, kaj in katere piškotke (cookies) uporabljamo. Sem prebral in se strinjam!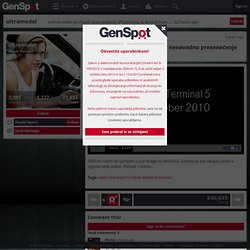 The Ventures-Wipeout-KILLER LIVE version - une vidéo Music
Listen to a Wall of rap Music
A Babe Musician Creates A Looping Song From Violens And Drums Then Puts Her Unusual Voice Into The Mix
Intense Flute Beatboxing Skills Video
Gnarls Barkley
OK Go - This Too Shall Pass - Rube Goldberg Machine version - Official
Music Video Awesomeness.