Videos
My Skinny Jeans from brontheron
Bruce 2011
Amazing...:)
Violon Hip-Hop - une vidéo Music
(CBS) - I am really geeking out over this one! This video of a Rube Goldberg musical device in a forest that is spectacularly large will both astound and give you a sense of serenity and bliss as you watch and listen. The music kicks in at about 35 seconds into the clip.
Rube Goldberg device in the forest will astound, give you serenity now - The Feed
12 year old kids form a totally sweet hair band
VIRAL VIDEO SELECTION Big Ups to EKLIPS This is a Commercial.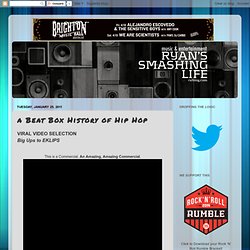 The Ventures-Wipeout-KILLER LIVE version - une vidéo Music
Listen to a Wall of rap Music
A Babe Musician Creates A Looping Song From Violens And Drums Then Puts Her Unusual Voice Into The Mix
Gnarls Barkley