Venture Capital/Startups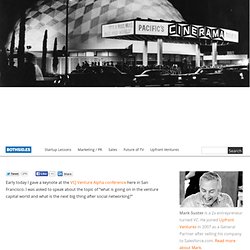 The State of Venture Capital and the Internet
Early today I gave a keynote at the VCJ Venture Alpha conference here in San Francisco. I was asked to speak about the topic of "what is going on in the venture capital world and what is the next big thing after social networking?" Future of VC Internet –
These Are The Lies You'll Tell While Trying To Make Your Startup Successful
Dan Oshinsky is the man behind Stry, a news organization dedicated to telling the stories that affect your life. The venture is a startup, and as with any good startup Oshinkey is trying to get his message out. Doing so involves telling some lies.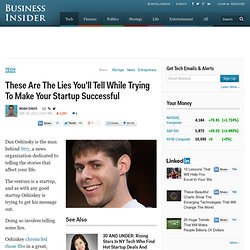 Editor's note: Guest contributor Eric Ries is a consultant and the author of The Lean Startup, which he will be launching at Disrupt SF on Tuesday. Follow him @ericries. I was recently asked to spend some time with an early stage startup that has a revolutionary new product. I asked them if they thought they were making their product better.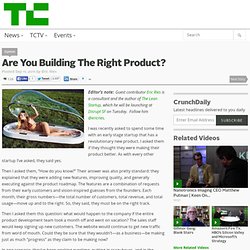 Are You a Media Company or a Technology Company? - Ben Elowitz - Voices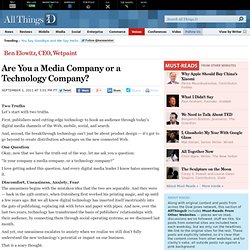 Two Truths Let's start with two truths. First, publishers need cutting-edge technology to hook an audience through today's digital media channels of the Web, mobile, social, and search. And, second, the breakthrough technology can't just be about product design — it's got to go beyond to create distribution advantages on the new connected Web. One Question Okay, now that we have the truth out of the way, let me ask you a question: "Is your company a media company, or a technology company?"
Why start-ups fail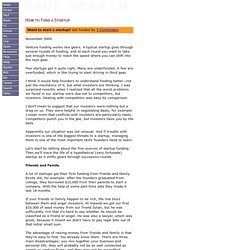 November 2005 Venture funding works like gears. A typical startup goes through several rounds of funding, and at each round you want to take just enough money to reach the speed where you can shift into the next gear. Few startups get it quite right.
Why Governments Don't Get Startups–Or, Why There's Only One Silicon Valley
Steve Blank9/1/11 Not understanding and agreeing what "entrepreneur" and "startup" mean can sink an entire country's entrepreneurial ecosystem. I'm getting ready to go overseas to teach, and I've spent the last week reviewing several countries' ambitious attempts to kick-start entrepreneurship.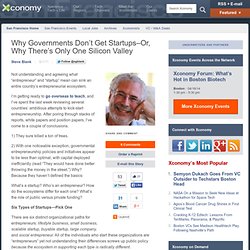 What Kills Startups? Blackbox Releases Report/App To Help Founders Avoid The Deadpool
It's not easy being green — or an entrepreneur. The inherent risk in becoming an entrepreneur or founding a startup is high. Sleepless nights, sweat equity, bribing new users to come to your product — it's all part of the nerve-racking, code-spinning, and teeth grinding process. That's why most of these swashbucklers are pirates by nature. But the truth of the matter is that few startups ever make it far enough to find the buried treasure or piggyback on Facebook all the way to glory; in fact, the cold, hard reality is that more than 90 percent of all startups fail.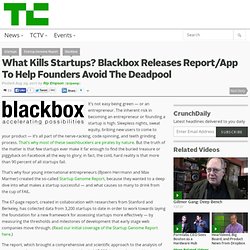 When being an "expert" is harmful
In a recent Capital Factory all-hands discussion, one of the founders started a question with a well-worn preamble: "I talked to a bunch of the mentors and they all told me the same thing about pricing, but I'm telling you, they're wrong. I know our industry, I know how our customers think, and in our industry …" What followed was well-reasoned and sensible. Since none of the mentors have specific expertise in the industry in question, it was impossible to argue. So rather than argue, I just asked: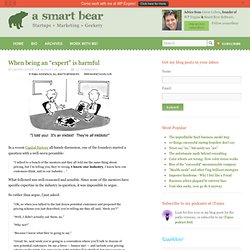 Avoid Monoculture. Travel. Read Widely. Let Experience be Your Compass.
I sometimes feel that the Silicon Valley culture and we as technologists more broadly can breed monoculture in our approach to entrepreneurship, problem solving, market analysis and technology solutions. Experiences way beyond any hack-a-thon, startup blog or your current company engagement can enrich your thinking and challenge you to think more broadly about the solutions you offer in the market. I remember once sitting on a panel with Esther Dyson who is one of the most travelled and broad-experienced technologist I know. It was an "enterprise 2.0" panel at the dawn of what people began calling "web 2.0." Esther was talking about problems and entrepreneurs as far away as Russia.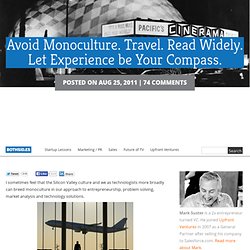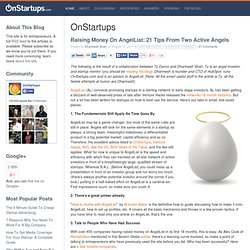 Raising Money On AngelList: 21 Tips From Two Active Angels The following is the result of a collaboration between Ty Danco and Dharmesh Shah. Ty is an angel investor and startup mentor (you should be reading his blog). Dharmesh is founder and CTO of HubSpot, runs OnStartups.com and is an advisor to AngelList.
Stock Market Drops. VCs Hold Partner Meetings. What Happens Next?
This is a guest post by Mark Suster, a 2x entrepreneur turned VC with GRP Partners where he focuses on early-stage technology companies. Read more about Suster on his startup blog and on Twitter at @msuster. Venture Capitalists typically have partners' meetings on Mondays. Why is that? Who knows. But probably because as a group we travel a lot.
Interactive Map: The United States of Venture Capital - Venture Capital Dispatch
This guest post is by David Cowan. Since 1992, Cowan has been a venture investor at Bessemer Venture Partners, where he funded Blue Nile, LinkedIn, Postini, VeriSign and over a dozen other startups that have since gone public. He blogs at Who Has Time For This? I just couldn't keep my big Tweeter shut. When I publicly dismissed the soundness of his widely hailed report on European VC, Jason Whitmire of Earlybird Venture Capital challenged me to openly discuss the facts in a dialogue exceeding 140 characters.
Earlybird Hatches The Term "European Comeback"
There is a lot of content created by the Venture Capital community that has helped countless entrepreneurs. In fact, one of my favorites is How Andreessen Horowitz Evaluates CEOs. I recently stumbled upon the article again and it reminded me of an article I've been meaning to write for my entrepreneurial friends. We've all heard the horror stories (fairly or unfairly) of how Venture Capitalists have screwed over the founders of companies. What we rarely hear about is the enormous value that some in the Venture Capital community create when investing in a startup.
The 30 Most Respected VCs, By The Numbers [INFOGRAPHIC]
Venture Deals: Be Smarter Than Your Lawyer and Venture Capitalist (9780470929827): Brad Feld, Jason Mendelson, Dick Costolo
Nivi · February 11th, 2013 AngelList "corporate policy" is that team members should ask forgiveness, not permission. We would rather have someone do something wrong than ask permission to do it.
One Book Every Entrepreneur and VC Should Own