Users team for pearltrees future
Pearlers who have ideas to share about pearltrees future can team up here noosquest Jun 24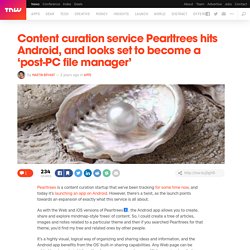 Pearltrees is a content curation startup that we've been tracking for some time now, and today it's launching an app on Android. However, there's a twist, as the launch points towards an expansion of exactly what this service is all about. As with the Web and iOS versions of Pearltrees, the Android app allows you to create, share and explore mindmap-style 'trees' of content. So, I could create a tree of articles, images and notes related to a particular theme and then if you searched Pearltrees for that theme, you'd find my tree and related ones by other people. It's a highly visual, logical way of organizing and sharing ideas and information, and the Android app benefits from the OS' built-in sharing capabilities. Any Web page can be added to a tree straight from the share menu in your browser.
Pearltrees, le cerveau du web ?
Web 2.0 Digitage 2012 | Flickr
I find Pearltrees to be one of the most exciting platforms of the moment, especially if you are collaborating with people who are in other countries. Also been interested in comparing automated curating (such as paper.li) with the manual curating which seems to be the heart of Pearltrees. Did an interesting interview with the tech evangelist of pearltrees at Leweb10.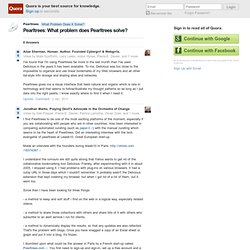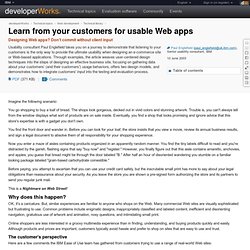 Imagine the following scenario: You go shopping to buy a loaf of bread. The shops look gorgeous, decked out in vivid colors and stunning artwork. Trouble is, you can't always tell from the window displays what sort of products are on sale inside. Eventually, you find a shop that looks promising and ignore advice that this store's expertise is with a gadget you don't own. You find the front door and wander in.
Learn from your customers for usable Web apps