Users for ideas...
Pearlers who have ideas to share about pearltrees future can team up here
Pearltrees 2 sucks! By s243a. Passage PEARLTREES V1 à V2 -Mai 2014. Pearltrees, le cerveau du web ? Espace3. Pearls galaxy...0.0.1. Users feedback team @loomio. Pearltrees v2 - Pealtrees Users feedback. Pealtrees Users feedback | Loomio. Pinboard or Pearls Universe ? - Pealtrees Users feedback. Pétition pour le retour du format de Pearltrees v1. Web 2.0 Digitage 2012 | Flickr. Synaptic Web Map. Pt 2.0 WTF?!!! Twitter quotes. My apologies dear fellow pearltree'ers but i'am. Révolution d'évolution. Pearltrees 2 ça craint de ouf ! Pearltrees: What problem does Pearltrees solve. What to Do? Pearltrees 2.0 et opinion sur ce big bang. Learn from your customers for usable Web apps.
Imagine the following scenario: You go shopping to buy a loaf of bread.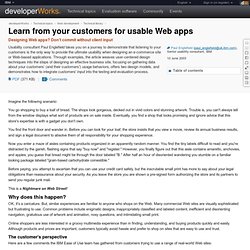 The shops look gorgeous, decked out in vivid colors and stunning artwork. Trouble is, you can't always tell from the window displays what sort of products are on sale inside. Eventually, you find a shop that looks promising and ignore advice that this store's expertise is with a gadget you don't own. PT version 1 et 2. Connected.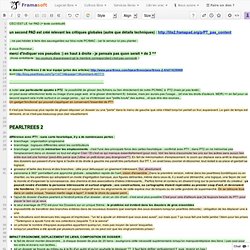 This pad seems to be opened in more than one browser window on this computer. Reconnect to use this window instead. Rotateview.gif (Image GIF, 1232 × 682 pixels) Participation Inequality: Encouraging More Users to Contribute. Tree/Graph View UIs (RDF Tools) My Critique (s243a) of Pearltree 2.0. Rendez-nous nos perles ! Pearltrees Initiative.
---
noosquest May 22 2014

Do you like the new pearltrees ?

garabaldafafarata Dec 6 2013

Hi, new ideas :-)

These days I'm thinking to suggest:

- sort of a task bar - or side bar - containing the most tapped/clicked link to our pearls (obviously customizable and different for each user)
- and a multi tab browser (that day I could really stop using chrome, safari, firefox & co. with a pearltree like that !!!)

:-) :-)

bye,
keep on pearling !

garabaldafafarata Nov 30 2013

I really hope somebody else join this team: Pearltrees has great potential and anyone's suggestion can help to grow up it more and more.

I'll try to find pearls suitable for the team.
I think debate is the best way in such a case, however.

Keep on pearling!

garabaldafafarata Nov 30 2013

Hi noosquest,
excuse me for my belated reply :-)
Took a look at your message yesterday but I have had no time for answering.
- just adding some pearls here and there during the day, you now... :-) -

Thanks for your tips about trees planning and architecture: it's an issue I pointed out to me since my subscription to pearltrees.
I use a link-strategy for now, connecting everyone of my root-pearls and ideas with any other related ones by use of the duplication function...
In any case you' ve got the point: hierarchy choses are my main doubtful point (e.g. "magazines" could go below "news", but could also be placed below "books" in a broad sense; same thing for "California" - "geography" or "places to visit", assuming they are both important categories for the considered user? -)

garabaldafafarata Nov 28 2013

Hi, nice initiative.
I would suggest 2 things:
a good search-bar in the pearler web-app
and the possibility to sort in alphabetical order the roots in the section "List of my pearltrees"

What do you think about it?
---