Wordpress
Adding an advanced calendar to WordPress. As WordPress morphs more and more into a CMS rather that just a blogging platform, there are a lot of instances where you might want to add calendar functionality to your WordPress-powered site, beyond the standard posts calendar widget.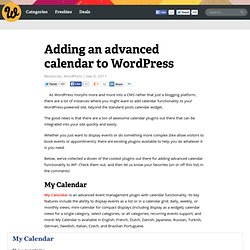 The good news is that there are a ton of awesome calendar plugins out there that can be integrated into your site quickly and easily. Whether you just want to display events or do something more complex (like allow visitors to book events or appointments), there are existing plugins available to help you do whatever it is you need. Below, we've collected a dozen of the coolest plugins out there for adding advanced calendar functionality to WP. Timeline WP | The First Timeline WordPress Theme. 10+ WordPress comment management plugins. We've covered advanced commenting systems for WordPress before, but what about those bloggers who want to use the stock WordPress commenting system?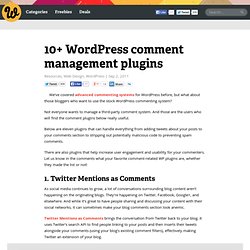 Not everyone wants to manage a third-party comment system. And those are the users who will find the comment plugins below really useful. Below are eleven plugins that can handle everything from adding tweets about your posts to your comments section to stripping out potentially malicious code to preventing spam comments. There are also plugins that help increase user engagement and usability for your commenters. Let us know in the comments what your favorite comment-related WP plugins are, whether they made the list or not! Processing JS WordPress Plugin | Keyvan Minoukadeh. I've just tested on WordPress 3.5.1 and it works as before.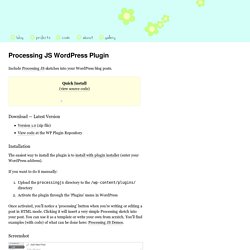 One difference is that the HTML tab has been renamed to TEXT, but this doesn't affect the plugin. You should still see the Processing button when you switch to the TEXT tab. Ben: I tried installing those plugins (didn't configure them, just activated them) and found no issue with the plugin. Easy Gallery Manager. Jigoshop - a WordPress eCommerce plugin that worksJigoshop A WordPress eCommerce plugin that works. PressWork. Vulnerabilità in timthumb.php: WordPress a rischio. Martedì 2 agosto 2011 - 10:07 di Matteo Campofiorito Per bucare un'installazione di WordPress basta poco, è necessario soltanto che nel tema che si utilizza o in uno dei temi presenti nella directory "wp-content/themes" sia presente il file timthumb.php, un innocuo script per il ridimensionamento delle immagini che tuttavia può essere utilizzato come veicolo di possibili infezioni.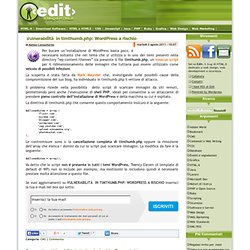 La scoperta è stata fatta da Mark Maunder che, investigando sulle possibili cause della compromissione del suo blog, ha individuato in timthumb.php il vettore di attacco. Il problema risiede nella possibilità dello script di scaricare immagini da siti remoti, permettendo però anche l'esecuzione di shell PHP, ideali per consentire a un attaccante di prendere pieno controllo dell'installazione di WordPress e della macchina su cui è ospitato. Plugins - jQuery Website Tour for WordPress. Have you ever wished there was an easy way to guide your visitors through different features of your website?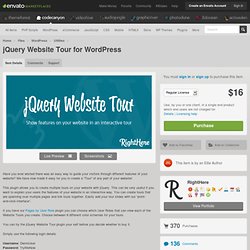 We have now made it easy for you to create a "Tour" of any part of your website! This plugin allows you to create multiple tours on your website with jQuery. This can be very useful if you want to explain your users the features of your website in an interactive way. You can create tours that are spanning over multiple pages and link tours together. Easily add your tour slides with our "point-and-click-interface". Plugins - Pages by User Role for WordPress - CodeCanyon | WeeUrl Shortener.
Try before you buy | Plugins.RightHere.com. Pages by User Role – Try before you buy This plugin lets you restrict access to a Page, Post or Custom Post Type depending on which Role the user has.
It removes the Page, Post or Custom Post Type from search results and blog roll. You can hide Page from the menu when the user is not logged in. You can also set a specific redirect URL for users that don't have the required User Role. CSS - Docklr CSS - Pure CSS3 OSX-like Dock Menu. An OSX inspired dock navigation menu, consists of only CSS .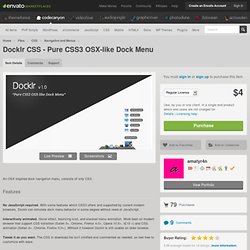 Features No JavaScript required. HTML5 - Drop n' Save - Drag & Drop Uploader. Visual Composer for WordPress Preview. Plugins - 360 Degrees Viewer - Wordpress Plugin. This viewer uses a list of images to simulate a 360 degrees object rotation or object animation.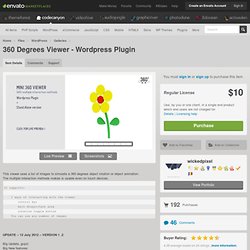 The multiple interaction methods makes is usable even on touch devices. It supports: 3 ways of interacting with the viewer control bar main drag&rotate area rotation toggle button You can use any number of images UPDATE – 13 July 2012 – VERSION 1 .2 Big Update, guys! Big New features: - responsize resize - new loading system (this improves A LOT bandwidth usage. 360 Degrees Viewer - Wordpress Plugin Preview. Plugins - DZS jQuery Flipbook - WordPress plugin. WordPress DZS Flipbook jQuery powered is the ultimate interactive media gallery for your presentation.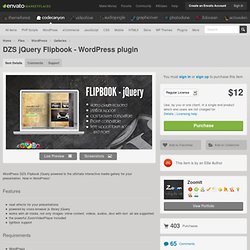 Now in WordPress! Features neat effects for your presentations powered by cross-browser js library jQuery works with all media, not only images- inline content, videos, audios, divs with text -all are supported the powerful ZoomVideoPlayer included lightbox support Requirements WordPress. DZS jQuery Flipbook - WordPress plugin Preview. WP-Cumulus. IMPORTANT NOTICEThis plug is no longer actively being developed.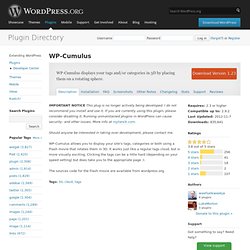 I do not recommend you install and use it. If you are currently using this plugin, please consider disabling it. Running unmaintained plugins in WordPress can cause security- and other issues. About. About Big tag here can be used as subheading. Don't forget to visit IconDock, Web Designer Wall, and Best Web Gallery. [brothercake] IconDock - The Art of Stock Icons. WordPress Demo. How About A Blog Post With Longer Title 19 Mar 2010 by adminin Blog Tags: Format, Text This is a long title sample. Normal text here with Bold Format and italic font style. am risus velit, rhoncus eget consectetur id, posuere at ligula. Themify : Awesome WordPress Themes. 24 WordPress Image-Based Plugins | DesignBeep.
Image is a must for our blogs especially this kind of blogs and we know that we can attract more visitors by using images in different ways.You can see different attractions in blogs using images like photo albums in sidebars or photo galleries in the main page even you can show your images of your blog in different ways like in lightboxes and as slide shows.I've collected 24 wordpress image based plugins which some known much but some are not well known. You may be interested in the following articles as well. 1.Free Stock Images Plugin.
---