ARCHIVE + ACTU
Font.cz. Find Fonts, Try Fonts, Buy Fonts. MyFonts Blog - LettError Type: Fonts and Typography. Swiss Legacy – Graphic Design and Typography. The FontFeed | Fonts, Typography, Lettering, Design. [yasudatakahiro.blog] Typographic Collaboration. History of Arabic Type Evolution from the 1930′s till present. « :::: Arabic Type Designer & Typographer :: Arabic Type :: Pascal Zoghbi :::: 1.1 The origin of the Arabic script goes back to the first alphabet created by the Phoenicians.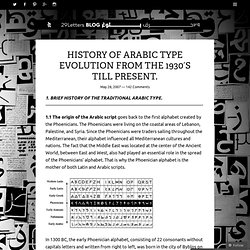 The Phoenicians were living on the coastal areas of Lebanon, Palestine, and Syria. Since the Phoenicians were traders sailing throughout the Mediterranean, their alphabet influenced all Mediterranean cultures and nations. The fact that the Middle East was located at the center of the Ancient World, between East and West, also had played an essential role in the spread of the Phoenicians' alphabet. Typographer.org. The Ministry of Type. Typographica. Type Reviews, Books, Commentary. Typography Served :: Gallery.
Typography. Decorative Alphabet.
---