ARCHIVE + ACTU
Font.cz
MyFonts Blog -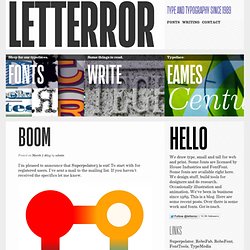 From the 2002 Archive: The Unified Tokenzone TokenZone Currency The joint central financial administrations of the Falkland Islands [1], the Kingdom Denmark [2], the republic of Mexico [6], the Moscow Subway [3], the New York Port Authority [4], the Chicago Transit Authority [8], the Metropolitan Transit Authority [5] and the Roundell Paperclip Company [7] are pleased to announce the introduction of a new semi-public trans-national and trans-corporate currency, the Token. Tokens will be accepted in the TokenZone for goods, services and transport.
LettError Type: Fonts and Typography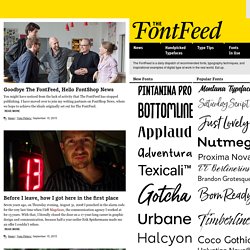 TYPO San Francisco Next Week Excitement is building in the Bay Area, both at FontShop's San Francisco office and the local (and not-so local) design community. For two inspiration-packed days, on Thursday April 10 and Friday April 11, some 30 international speakers will delight the audience at TYPO San Francisco "Rhythm" in the Yerba Buena Center for the Arts. The organisation predicts a sell-out, so get your tickets sooner rather than later. Read more
[yasudatakahiro.blog]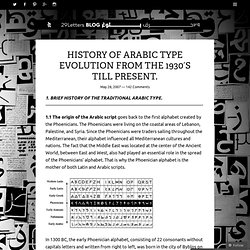 1.1 The origin of the Arabic script goes back to the first alphabet created by the Phoenicians. The Phoenicians were living on the coastal areas of Lebanon, Palestine, and Syria. Since the Phoenicians were traders sailing throughout the Mediterranean, their alphabet influenced all Mediterranean cultures and nations. The fact that the Middle East was located at the center of the Ancient World, between East and West, also had played an essential role in the spread of the Phoenicians' alphabet.
History of Arabic Type Evolution from the 1930′s till present. « :::: Arabic Type Designer & Typographer :: Arabic Type :: Pascal Zoghbi ::::
Typographer.org
Here's a glorious bit of design nostalgia for the New Year. It's hardly a new find on the web; designer Nick Job first started this archive of the British Rail identity manuals in 2011, but I've just been reminded of it. Somehow I've never written about it either, which is a bit of an oversight given the entirely-unofficial and tongue in cheek name of this site: the British Rail alphabet and signage guidelines were also used by the British Airports Authority and National Health Service, making them as much a government standard as Britain ever usually manages. The alphabet had two variants, one for dark-on-light type and one for light-on-dark.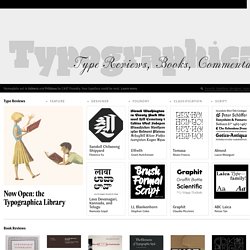 Colophon Typographica is a review of typefaces and type books, with occasional commentary on fonts and typographic design. Edited by Stephen Coles and designed by Chris Hamamoto. Founded in 2002 by Joshua Lurie-Terrell.
Typography - a set on Flickr
Decorative Alphabet | Flickr : partage de photos !