TW - Développer ses contacts
About Twibs - We're building the twitter business directory! - b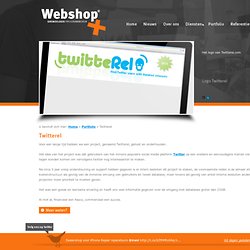 Voor een lange tijd hebben we een project, genaamd Twitterel, gehost en onderhouden. Het idee van het project was dat gebruikers van het inmens populaire social media platform Twitter op een snellere en eenvoudigere manier nieuwe twitteraars tegen konden komen om vervolgens twitter nog interessanter te maken. Na circa 3 jaar volop ondersteuning en support hebben gegeven is er intern besloten dit project te staken, de voornaamste reden is de almaar stijgende kostenstructuur als gevolg van de inmense omvang van gebruikers en tweet database, maar tevens als gevolg van enkel interne besluiten andere interne projecten meer prioriteit te moeten geven. Het was een goede en leerzame ervaring en heeft ons veel informatie gegeven over de omgang met databases groter dan 25GB.
TwitTags
Message from the Strobox team In 2009 we created a unique iPhone app to document your photography lighting setups. Our bigger vision was to one day create a community where photographers could share their knowledge, experience, and learn from those on the front lines. That dream came true in 2010 when we launched our Strobox website.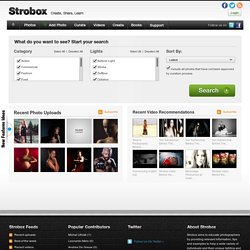 Long road trips create everlasting memories and leave occasional spills and plenty of crumbs on the seats or the car floor. Dirt, leaves, food crumbs, hair, gravel, ripped paper and roadside debris are a few items that find residence inside your car and settle down in the cracks, crannies or corners. Using an efficient car vacuum cleaner is the best way to keep your vehicles clean. You can clean your car in sections, concentrating on one part at a time. Clean the ceiling and the seats first. Thereafter, you can clean the windows, luggage space and the exterior.
New, Free Twitter Follower and Value Building Tool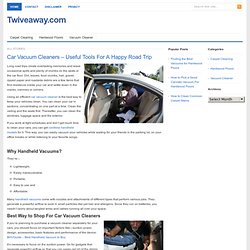 Twission - Social Hashtags for Twitter.