TW - Développer ses contacts
Est-ce que "untel" suit "cet autre untel" ? by castorp Nov 16
About Twibs - We're building the twitter business directory! - b
The team that developed Twinfluence and other social media analytics sites is now a part of Tucker/Hall. Our tools, experience, insights are now leveraged for our large corporate clients in the areas of crisis communications, government relations, and reputation/strategic communications. If your company has need for CEO-level advice and strategy regarding the right mix of mobile, web, social, and digital media, our experts are available to help. Please visit our Digital Strategies section for more details, or Contact Us to discuss how we can help your company or organization reach and measure its objectives. Some of our past featured technologies include: Twinfluence: One of the first Twitter Influence ranking sites, that used formal Social Network Analysis algorithms to measure a user's second order network.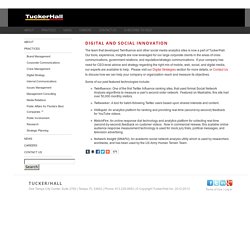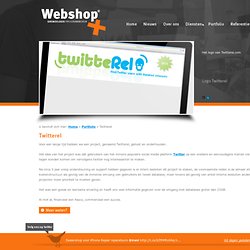 Voor een lange tijd hebben we een project, genaamd Twitterel, gehost en onderhouden. Het idee van het project was dat gebruikers van het inmens populaire social media platform Twitter op een snellere en eenvoudigere manier nieuwe twitteraars tegen konden komen om vervolgens twitter nog interessanter te maken. Na circa 3 jaar volop ondersteuning en support hebben gegeven is er intern besloten dit project te staken, de voornaamste reden is de almaar stijgende kostenstructuur als gevolg van de inmense omvang van gebruikers en tweet database, maar tevens als gevolg van enkel interne besluiten andere interne projecten meer prioriteit te moeten geven. Het was een goede en leerzame ervaring en heeft ons veel informatie gegeven over de omgang met databases groter dan 25GB.
Pour élargir son réseau de contacts sur Twitter en trouvant de nouvelles personnes sur la base de mots clés qui nous intéressent. Attention aux mots clé "internationaux". by castorp Oct 28
"Le meilleur de Twitter en français" : en d'autres termes un annuaire dédié à qui tweet en français. by castorp Nov 30
TwitTags
Un annuaire de comptes Twitter by castorp Nov 16
Followfinder, de Google Labs, permet, à partir d'un nom d'utilisateur de Twitter, de trouver d'autres comptes Twitter traitant des même sujets. Les réponses sont proposées en deux colonnes: des comptes traitant des mêmes sujets et des comptes étant suivis par les mêmes personnes. (via Brainsfeed) by castorp May 20
New, Free Twitter Follower and Value Building Tool
Outil pour attirer des followers de manière "loyale" (utilisation par marketing par ex.) by castorp Nov 16
Twission - Social Hashtags for Twitter.