TW - Développer ses contacts
DoesFollow - doesfollow.com - Find out who follows whom on Twitt. Twibs - Twitter Business Directory - 18,919 businesses and count. About Twibs - We're building the twitter business directory! - b. Top twitter users - Populair twitter users. Twinfluence - Twitter Influence Analyzer.
Twellow :: Twitter Directory, Twitter Search, & Twitter Yellow P. Find Twitter users with Related interests - Twitterel. Voor een lange tijd hebben we een project, genaamd Twitterel, gehost en onderhouden.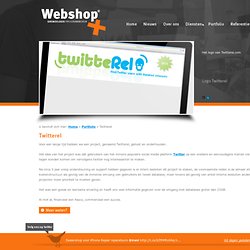 Het idee van het project was dat gebruikers van het inmens populaire social media platform Twitter op een snellere en eenvoudigere manier nieuwe twitteraars tegen konden komen om vervolgens twitter nog interessanter te maken. Na circa 3 jaar volop ondersteuning en support hebben gegeven is er intern besloten dit project te staken, de voornaamste reden is de almaar stijgende kostenstructuur als gevolg van de inmense omvang van gebruikers en tweet database, maar tevens als gevolg van enkel interne besluiten andere interne projecten meer prioriteit te moeten geven. Het was een goede en leerzame ervaring en heeft ons veel informatie gegeven over de omgang met databases groter dan 25GB. TwitThis - Twitter Promoter, Follower, and URL Shortening Servic. Qui twitte ? > Le meilleur de Twitter en français.
Twitts.fr - Twitter Français. TwitTags. Find Who Follows Whom on Twitter - the quickest way to see who s. Klout. New, Free Twitter Follower and Value Building Tool. Mentionmap - A Twitter Visualization. Twission - Social Hashtags for Twitter.
---