Twitter Hashtags Exposed
Hashtags - Twubs. The 2012 A-Z List Of Educational Twitter Hashtags. We got so many additions and updates to our 2011 list we thought it was time to bring you the most up-to-date list for 2012.
So, without further ado, here's the 2012 A-Z list of educational Twitter hashtags. We went through all the comments on the 2011 version , wrote down all the Twitter and Facebook updates, and compiled this list over the course of several months. What follows is our best effort to bring you the biggest and baddest list of hashtags. I'm sure we still missed some as new hashtags seemingly pop up every day. Hashtags. Top Twitter Hashtags for Teachers. Hashtags are a great way of searching for tweets in a specific category from the whole of the Twitterverse – search for #ukedchat and you will come up with a huge stream of tweets which have been tagged as interesting to anyone wanting to read about UK education.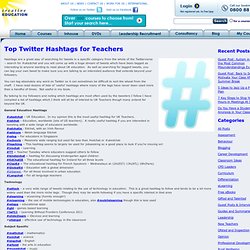 As well as searching for tagged tweets, you can tag your own tweet to make sure you are talking to an interested audience that extends beyond your followers. You can tag absolutely any word on Twitter so it can sometimes be difficult to sort the wheat from the chaff. I have read dozens of lists of 'useful' hashtags where many of the tags have never been used more than a handful of times. The A-Z Dictionary of Educational Twitter Hashtags.
Whether you're a new or seasoned Twitter user, you likely come across confusing hashtags that probably look like a bunch of nonsense.
First, What's A Hashtag? The # symbol, called a hashtag, is used to mark keyword or topic in a Tweet. Any Twitter user can categorize or follow topics with hashtags.Those hashtags (usually) mean something and are a great way to get a tweet to appear in search results or discussion monitoring. For example, the popular #edchat hashtag is used by thousands of users every Tuesday.
Educational Hash Tags. #fb4ed#FCE#FETC #FF#fft#filmclass#finnedchat#flatclass #flatclassroom#FLE#flipchat #flipclass#flteach #followalibrarian #followfriday#fooded#foodtechteachers #formativeassessment#forteachers #frimm#FYCchat #gaed#gafe#gamedeved#gamemooc#gamify#gamification#gapbis#gbl#GCSE#GCT#geniushour#geniustime#geochat#GeoEdChat#geographyteacher@geomchat #gifted #GlassEdExplorers#GlassExplorers#globalchem#globalclassroom#globaled#google #googlect#googleglass#G+eduhangout#googlesearch#GplusEd#grammar #grandparentlessons #graphic_organizers#gr8teacher#great-teaching #grtechedu #gt #gtaa #gtadmin #gtchat#gted#gtie #GTvoice#guidechat #health #healthed#highered #highschool #highscope #hiphoped#histedchat#history#historyteacher#historyteaching#homeschool#homeschoolers#homeschooling #hs #hsc#hsmath.
Ultimate Guide to Twitter Hashtags. What is a Twitter hashtag?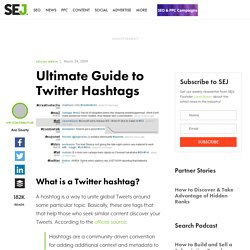 A hashtag is a way to unite global Tweets around some particular topic. Basically, these are tags that that help those who seek similar content discover your Tweets. According to the official source: Hashtags are a community-driven convention for adding additional context and metadata to your tweets. They're like tags on Flickr, only added inline to your post.
---