Favorite
ThatBohemianGirl. A Slip of a Girl. GEEKS. The Code of the Geeks v3.12. The Code of the Geeks v3.12 By: Robert A.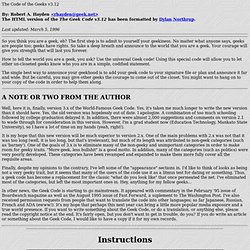 Hayden <rhayden@geek.net> The HTML version of the The Geek Code v3.12 has been formatted by Dylan Northrup. Last updated: March 5, 1996 So you think you are a geek, eh? The Mary Sue - A Guide To Girl Geek Culture. Geek. Joseph Reagle on the gender gap in geek culture. Is geek culture sexist?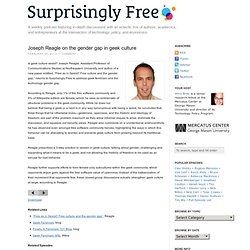 Joseph Reagle, Assistant Professor of Communications Studies at Northeastern University and author of a new paper entitled, "Free as in Sexist? Free culture and the gender gap," returns to Surprisingly Free to address geek feminism and the technology gender gap. According to Reagle, only 1% of the free software community and 9% of Wikipedia editors are female, which he sees as emblematic of structural problems in the geek community. While he does not believe that being a geek or a nerd is in any way synonymous with being a sexist, he concludes that three things that he otherwise loves—geekiness, openness, and the rhetoric and ideology of freedom–are part of the problem inasmuch as they allow informal cliques to arise, dominate the discussion, and squeeze out minority views. 50 citazioni fondamentali. Geekologie - Gadgets, Gizmos, and Awesome. Unreality - Your Online Portal for Movies, TV, Video Games and Unreal Stuff.
Nerd. Star Trek Homepage. Gothic, Victorian, Medieval & Vintage & other clothing. Deranged Designs Punk, Goth, DIY, Custom Handmade Clothing. Hipsters. Hipster Translator. Hipsters couldn't incite more blind hatred if they were all ginger-haired Al-Qaeda members.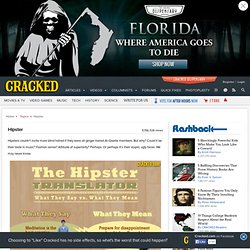 But why? Could it be their taste in music? Fashion sense? Attitude of superiority? The Hipster Alphabet. Unhappy Hipsters. The Hipsterfication Of America. Hide captionConcertgoers move in a spray of cooling mist as they dance amid the heat of the desert at the hipster Coachella Valley Music & Arts Festival in Indio, Calif., in April.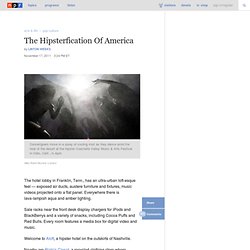 Mike Blake/Reuters /Landov Concertgoers move in a spray of cooling mist as they dance amid the heat of the desert at the hipster Coachella Valley Music & Arts Festival in Indio, Calif., in April. The hotel lobby in Franklin, Tenn., has an ultra-urban loft-esque feel — exposed air ducts, austere furniture and fixtures, music videos projected onto a flat panel. Everywhere there is lava-lampish aqua and amber lighting. Sale racks near the front desk display chargers for iPods and BlackBerrys and a variety of snacks, including Cocoa Puffs and Red Bulls. Hipster Bingo Cards: "When You See, You'll Know" Philadelphia-based graphic designer Paul Buller is selling these hilarious Hipster Bingo cards in his Etsy shop.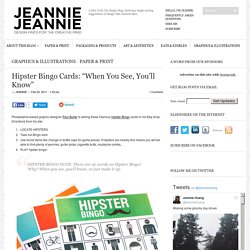 Directions from his site: LOCATE HIPSTERS.Take out Bingo card.Use found items like change or bottle caps for game pieces. If hipsters are nearby this means you will be able to find plenty of pennies, guitar picks, cigarette butts, mustache combs…PLAY hipster bingo! Mod/Hipster Clothing. Moda y cosas hipsters. Steampunk. The Steampunk Tribune. Brass Goggles:The lighter side of Steampunk. Posted by proteus on December 23rd,2013 Two things I love in one photo: [via Brian Kesinger's Tea Girls] Posted by proteus on October 17th,2013 A Steampunk Badminton tournament sounds like a fantastic idea.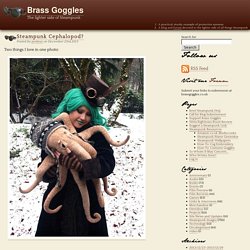 Posted by proteus on October 11th,2013. The Steampunk Workshop | Technology & Romance - Fashion, Style, & Science. Steampunk. SteamPunk Magazine. The 6 Rules Of Steampunk Fashion. 55 Steampunk Reads For The Holiday. The Steampunk Workshop. Steampunk Websites. Steampunk. Steampunk. On Thingpunk. The symbols of the divine initially show up at the trash stratum. — Philip K.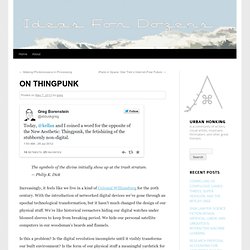 Dick Increasingly, it feels like we live in a kind of Colonial Williamburg for the 20th century. With the introduction of networked digital devices we've gone through an epochal technological transformation, but it hasn't much changed the design of our physical stuff. We're like historical reenacters hiding our digital watches under bloused sleeves to keep from breaking period. We hide our personal satellite computers in our woodsman's beards and flannels. Steampunk Tendencies. Clockwork Couture.
---