Favorite
ThatBohemianGirl
A Slip of a Girl
50 citazioni fondamentali
Gothic, Victorian, Medieval & Vintage & other clothing
Deranged Designs Punk, Goth, DIY, Custom Handmade Clothing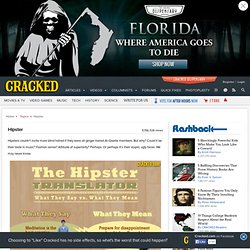 Hipsters couldn't incite more blind hatred if they were all ginger-haired Al-Qaeda members. But why? Could it be their taste in music? Fashion sense? Attitude of superiority?
Concertgoers move in a spray of cooling mist as they dance amid the heat of the desert at the hipster Coachella Valley Music & Arts Festival in Indio, Calif., in April. Mike Blake / Reuters /Landov The hotel lobby in Franklin, Tenn., has an ultra-urban loft-esque feel — exposed air ducts, austere furniture and fixtures, music videos projected onto a flat panel. Everywhere there is lava-lampish aqua and amber lighting. Sale racks near the front desk display chargers for iPods and BlackBerrys and a variety of snacks, including Cocoa Puffs and Red Bulls. Every room features a media box for digital video and music.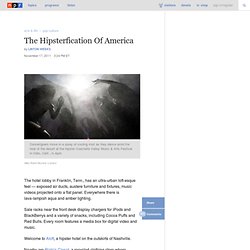 The Hipsterfication Of America
Philadelphia-based graphic designer Paul Buller is selling these hilarious Hipster Bingo cards in his Etsy shop.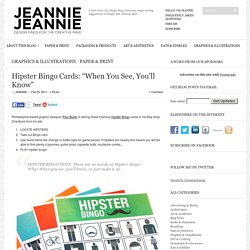 Hipster Bingo Cards: "When You See, You'll Know"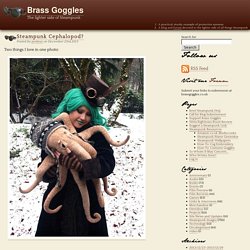 Posted by proteus on March 22nd,2013 The Minnesota STAR Awards , which recognize excellence in event planning and execution (kind of meta, no?), have chosen a Steampunk theme for this year's event. If anyone in the Minneapolis, MN area goes, please send us a report! Posted by proteus on February 28th,2013 Hand made from savaged Arbutus, Western Red Cedar, and Black Walnut, these articulated Steamy Icarus wings are a beautiful handmade addition to any dirigible captain's safety gear:
So you sit at home, surfing Steampunk sites all over the web, oooh and ahhing.... "I wish I could have that!" "I wish I could live there!"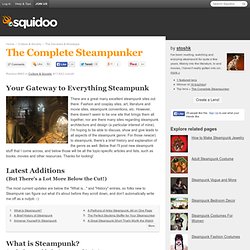 The Complete Steampunker
The 6 Rules Of Steampunk Fashion
55 Steampunk Reads For The Holiday
steamparrot
If Sherlock Holmes had been a hacker… In a parallel timeline, Victorian England has a steam-powered Internet and Jack the Ripper posts his crimes on Wiki-Punch.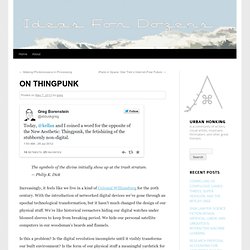 On Thingpunk
The symbols of the divine initially show up at the trash stratum. — Philip K. Dick
Steampunk Tendencies