Thomson
Global Institutional Profiles Project. Thomson Reuters, a global leader in providing information, will address concerns over current profile systems with the Global Institutional Profiles Project.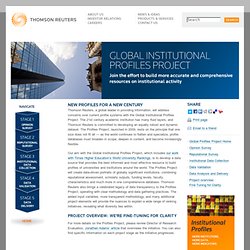 The 21st century academic institution has many fluid layers, and Thomson Reuters is committed to developing an equally robust and dynamic dataset. The Profiles Project, launched in 2009, rests on the principle that one size does not fit all — as the world continues to flatten and specialize, profile databases must broaden in scope, deepen in content, and become increasingly flexible.
[ISI Highly Cited Researchers Version 1.5] Welcome to Highly Cited Research from Thomson Reuters Once achieved, the Highly Cited designation is retained.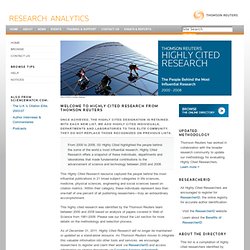 With each new list, we add Highly Cited individuals, departments and laboratories to this elite community. They do not replace those recognized on previous lists. From 2000 to 2008, ISI Highly Cited highlighted the people behind the some of the world.s most influential research. Science - Thomson Reuters. ScienceWatch.com. Sciverse | Open to accelerate science. HUB - Home. Home | SciVal.
---