Excel
The capabilities of Microsoft Excel are astounding, and it always seems there is something new to learn that will help you tweek your data in new and exciting ways. Because Excel can do so much, it helps to discover what others are doing with the program and get real, "hands-on" information about things you can do. That's where ExcelRibbon.Tips.Net comes into play. The tips and ideas you find here are designed specifically for users of Excel 2007, Excel 2010, and Excel 2013.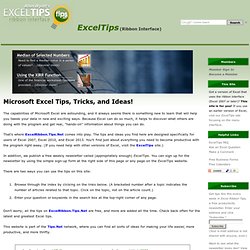 Jon Peltier's Web Site -- Excel Chart Index
Filled Histograms Using Excel XY-Area Charts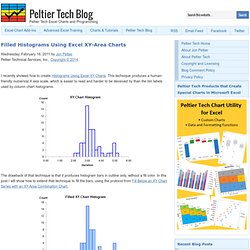 I recently showed how to create Histograms Using Excel XY Charts. This technique produces a human-friendly numerical X axis scale, which is easier to read and harder to be deceived by than the bin labels used by column chart histograms. The drawback of that technique is that it produces histogram bars in outline only, without a fill color. In this post I will show how to extend that technique to fill the bars, using the protocol from Fill Below an XY Chart Series with an XY-Area Combination Chart.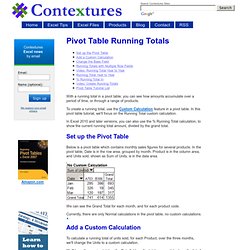 With a running total in a pivot table, you can see how amounts accumulate over a period of time, or through a range of products. To create a running total, use the Custom Calculation feature in a pivot table. In this pivot table tutorial, we'll focus on the Running Total custom calculation.
Excel Pivot Table Tutorial -- Running Totals