Sites/appli/logiciels
Watch and read thousands of fascinating timelines, or create your own. Complete with text, video and pictures to create a dynamic timeline mashup. Using myHistro, you can combine maps and timelines seamlessly into one great presentation, convert any public timeline into a personal pdf file, or export it into Google Earth format for offline storage. All completed timelines can be embedded into your blog and websites for maximum exposure.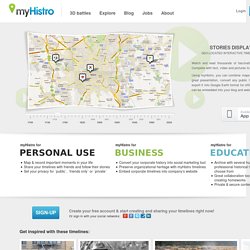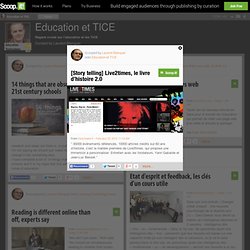 Why haven't education reform efforts amounted to much? Because they start with the wrong problem, says John Abbott, director of the 21st Century Learning Initiative. Overhauling the educational paradigm means replacing the metaphor — the concept of the world and its inhabitants as machine-like entities — that has shaped the education system, as well as many other aspects of our culture. Creating "Collaborative Learning Communities" "It is essential to view learning as a total community responsibility," he says, and to expect no short cuts. Children need to be integrated, fully contributing members of the broader community, so they can feel useful and valued.
[Story telling] Live2times, le livre d'histoire 2.0 | Education et TICE
Announcing Historio: A tool for rewriting history :: The Visual Communication Lab Blog
Historio
Connexion élève - Frises Chronologiques
L'Europe et le monde au 18e siècle timeline
LIFE Photo Timelines and Timeline Builder
What is Dipity? Dipity is a free digital timeline website. Our mission is to organize the web's content by date and time. Users can create, share, embed and collaborate on interactive, visually engaging timelines that integrate video, audio, images, text, links, social media, location and timestamps. Who is Dipity for? Dipity timelines are for anyone who uses the Internet.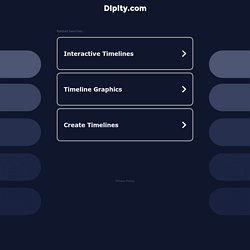 1958-1969, les années de Gaulle Timeline
5 Things You'll Love About Preceden 1 Preceden's user friendly design makes it easy to create timelines in minutes 2 You can organize your timelines into layers to keep similar events grouped together 3 You can keep your timelines private or share them with the click of a button 4 You can save your timeline as printable PDF files and embed your timeline on other websites 5 Teachers can share their Preceden account with their students for easy use in the classroom 10 Ways People Like You Are Using Preceden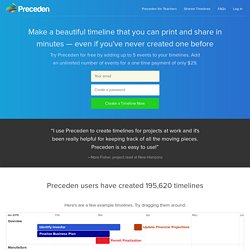 Why use Tiki-Toki? There are loads of timeline makers out there.What's so special about Tiki-Toki? Nothing to download Tiki-Toki works in your browser. Sign up for our freeaccount and you can start creating a timeline now Stunning 3d timelines No other online timeline makerallows you to view your timelines in 3d Include images and videos Tiki-Toki provides integration withYouTube and Vimeo for videos Share timelines with anyone Each timeline you create has its own unique urlthat you can send to friends or colleagues Colours and categories Tiki-Toki allows you to create different categoriesfor stories (events) and colour code them Group edit* Get your friends or colleaguesto contribute to your timelines Embed timelines on your site* Timelines created using Tiki-Toki can beembedded on your own website or blog *Active premium accounts only