Gifty things
DIY Natural Room Scents. Don't miss my follow-up post to this one withNATURAL ROOM SCENTS FOR DIY GIFTS & CENTERPIECESCLICK HERE This post was featured in the April 2013 issue of Woman's Day magazine.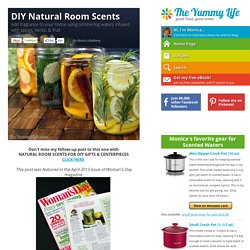 Here's the thing. I'm married to a man who hates artificial scents of any kind. That goes for air fresheners, candles, perfume, soaps and anything else that is scented. We buy unscented everything. How to Make a Fabric Bow | Tutorial. Hand Embroidered Cards. Look what I found in my desk drawer!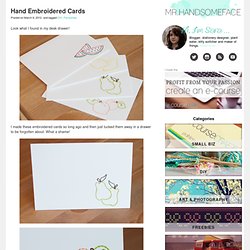 I made these embroidered cards so long ago and then just tucked them away in a drawer to be forgotten about. What a shame! Watermark Tee by Sweet Verbana. Hello U-Create readers!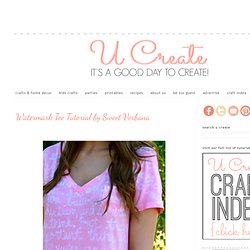 I am so excited to be guest posting here today. It just so happens to be my first guest post and I'm still a little shocked that it's here at Ucreate, one of my favorite blogs! A little bit about me.. Office Supplies Blog » packaging templates from japan. I'm not sure how I discovered this awesome collection of packaging templates but I'm glad I did!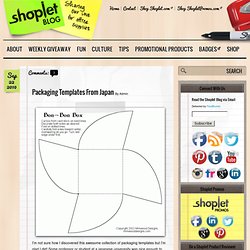 Some professor or student at a japanese univeresity was nice enough to share all their packaging templates with the world! These are a few of my favorites and you can see all of them on their website. Every situation is covered! DIY Party Animal Candles. Hi there, it's Jenny from Hank + Hunt with a fun and super easy diy today!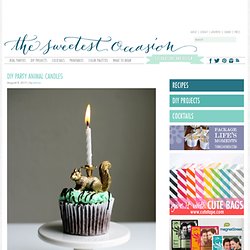 As soon as I thought of making these I got a huge kick out of naming them Party Animals. Hilarious, but if you hear groaning…it's coming from my house. Regardless of how cheesy the name is, these turn out awesome. Your kid's favorite animal holding that birthday candle minus those red eyes that are oh so typical for plastic creatures, awesome. Fish-in-a-Bag Soaps.
These adorable novelty soaps will get the kids to actually want to take a bath!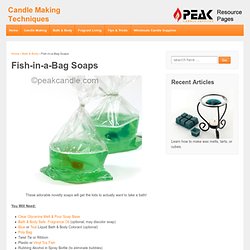 You Will Need: Instructions: 1. Cut your soap base into chunks and melt in the microwave in 30-second increments until completely melted. You will need approximately 1/2 lb of soap for this project. How to make gift bags from newspaper. When I bought something at a store recently, the clerk handed me my purchase in a bag made from a newspaper.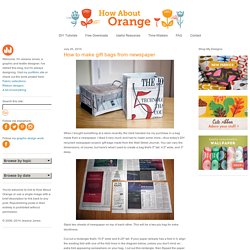 I liked it very much and had to make some more—thus today's DIY recycled newspaper project: gift bags made from the Wall Street Journal. You can vary the dimensions, of course, but here's what I used to create a bag that's 5" tall, 4.5" wide, and 3" deep. Stack two sheets of newspaper on top of each other. This will be a two-ply bag for extra sturdiness. Delightful country cookin': homemade air freshener. "Don't you get fresh with me, ya hear!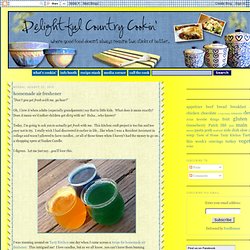 " Oh, I love it when adults (especially grandparents) say that to little kids. What does it mean exactly? Does it mean we'd rather children get dirty with us? Vitamin HB | My Favorite New Coffee Scrub!!! « huda beauty. Vitamin HB | My Favorite New Coffee Scrub!!!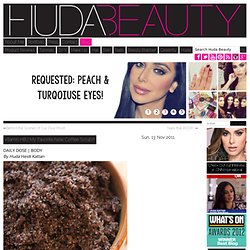 Sun, 13 Nov 2011 DAILY DOSE | BODYBy Huda Heidi Kattan I know I loooove coffee scrubs (remember my HudaBeauty party with the little coffee scrub giveaways), but this one kind of takes the cake when it comes to pure awesomeness! I just the love the way it cleans my skin and leaves it super healthy with a glow! And since it has coffee it helps promote circulation, which means smoother, healthier dimple-free skin!
---