The Duke!
Majicksound.
Tracy Chapman - Fast Car. Jimi Hendrix & B.B.King - Like a Rolling Stone [Live 1968] B.B. King - The Thrill Is Gone ft. Tracy Chapman. Joey Ramone-Rock and Roll Is The Answer. Joey Ramone - There's gotta be more to life. I couldn't sleep at all - Joey Ramone. Beastie Boys - Three mcs and one DJ - Intergalactic. The NSA Is Building the Country's Biggest Spy Center (Watch What You Say) | Threat Level. Photo: Name Withheld; Digital Manipulation: Jesse Lenz The spring air in the small, sand-dusted town has a soft haze to it, and clumps of green-gray sagebrush rustle in the breeze.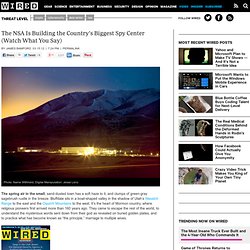 Bluffdale sits in a bowl-shaped valley in the shadow of Utah's Wasatch Range to the east and the Oquirrh Mountains to the west. It's the heart of Mormon country, where religious pioneers first arrived more than 160 years ago. Kutless - Push Me Away. Beastie Boys - Sabotage. Michael J. Fox on Letterman 2009.04.02 (HQ) [1 of 2] Michael J Fox interview on Late Show with David Letterman 1994.
The Smashing Pumpkins- We Only Come Out at Night. Rush- BU2B w/ Lyrics. Great Artist's Mews. Большому коту - большие художники. Duncan Sheik - Wishful Thinking. Everybody Taste: Molly Nilsson - "I Hope You Die" "I know you think I'm morbid when I say / I hope you die by my side / The two of us at the exact same time.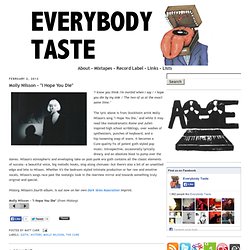 " The lyric above is from Stockholm artist Molly Nilsson's song "I Hope You Die," and while it may read like melodramatic Rome and Juliet-inspired high school scribblings, over washes of synthesizers, punches of keyboard, and a hip-loosening snap of snare, it becomes a Cure-quality fix of potent goth-styled pop music: introspective, occasionally lyrically dreary, and an absolute blast to pump over the stereo. Nilsson's atmospheric and enveloping take on post-punk era goth contains all the classic elements of success—a beautiful voice, big melodic hooks, sing-along choruses—but there's also a bit of an unsettled edge and bite to Nilsson. Whether it's the bedroom-styled intimate production or her raw and emotive vocals, Nilsson's songs race past the nostalgic look in the rearview mirror and towards something truly original and special.
Shout out louds - but then again no. Psychic tv - White Nights. Steve Vai - "Lotus Feet" Steve Vai - "I Know You're Here" Slash VS Michael Angelo Batio. John Petrucci - Wishful Thinking (Demonstration) Liam's Pictures from Old Books. Grolsch Film Works. News | Altsounds.com - Independent Music Journalism: For The People, By The People. Psyko Punkz - Psyko Foundation - Official Videoclip. Jovanotti - Serenata Rap. Aleks syntek---el camino. Aleks Sintek - Mis Impulsos sobre ti. Aleks Syntek - Por volverte a ver.
"La Lupita" Gavilan o Paloma Videoclip. Aleks Syntek - Bendito Tu Corazón. OBK - Historias de amor (20 OBK 2011) Moenia - Juegos De Amor. Moenia - No Dices Mas. Moenia Contigo Estare. MOENIA - EN TI. Molotov-voto latino. Molotov - Puto. Molotov - Apocalypshit. Molotov - El mundo. Molotov - Crazy Gringo. Aterciopelados - Baracunatana. Aterciopelados - El Estuche. Moenia - Estabas Ahi. Moenia - Manto Estelar. MOENIA - LLEGASTE A MI. Morbo - Ya pasará. Smashing Pumpkins- If There Is A God. Smashing Pumpkins - Soot and Stars. Blissed and Gone (audio only)
Smashing Pumpkins - By Starlight. Cupid De Locke-The Smashing Pumpkins. Smashing Pumpkins - Lily (My One And Only) Smashing Pumpkins - Farewell and Goodnight. En la Ciudad de la Furia - Soda Stereo y Andrea Echeverry. El Mareo - Bajofondo Tango Club ft Gustavo Cerati. Bojofondo Tango Club (Ft. Mala Rodriguez) - El Anden (HQ Audio) La Mala Rodriguez Freestyle. Engaña-Gustavo Cerati.
Gustavo Cerati: Raiz. Gustavo Cerati - Jugo De Luna. Andy Summers & Gustavo Cerati | Traeme la noche. Gustavo Cerati - Amor Amarillo (Audio) Gustavo Cerati - Fue (sinfónico) Your free mp3 ripped from YouTube! Duke Ellington: Take The "A" Train. Duke Ellington - Diminuendo in Blue.
---