The Development of Games
Hey everyone! I'm back after a bit of a hiatus to discus somewhat of a sensitive topic: Layoffs. As some of you may know, I was recently affected by a layoff myself back in June.
Games Industry Mentor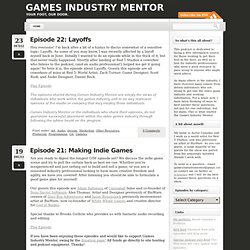 Home
As I work towards completing my own game, I've been thinking a lot about finishing projects in general. I've noticed that there are a lot of talented developers out there that have trouble finishing games. Truthfully, I've left a long trail of unfinished games in my wake… I think everyone has. Not every project is going to pan out, for whatever reason. But if you find yourself consistently backing out of game projects that have a lot of potential, it could be worth taking a step back and examining why this happens.
Make Games - Finishing a Game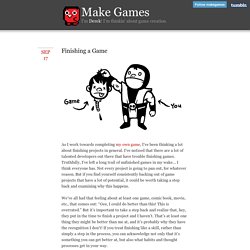 What Indie Developers Can Learn from Minecraft news - Frozen Synapse Game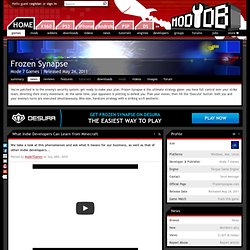 We take a look at this phenomenon and ask what it means for our business, as well as that of other indie developers... Like most indie devs, I'm a bit tired of hearing about Minecraft at the moment! I thought I would collate my thoughts on it in order to put the issue to bed. I'll be viewing everything through a commercial lens rather than focussing on the design, although in this case I think the two are almost symbiotic. We've all seen the outrageous sales stats and conversion rate which dwarf almost anything out there. You'd need to look to big MMO's like Runescape to find a comparable performance; here are some interesting benchmarks.