The Corruption of Democracy
Lobbying. Consolidation of Power. Corporate Personhood. Election Reform. Activist Organizations. Contact and Petition. Hedges and Lessig on Money and Politics (1/3) Chris Hedges interviews Lawrence Lessig about his plans to break the hold of big money over American elections - Transcript CHRIS HEDGES, JOURNALIST, SENIOR FELLOW AT THE NATION INSTITUTE: So let's begin with your work on campaign finance, and maybe you can explain a little bit about what you're doing.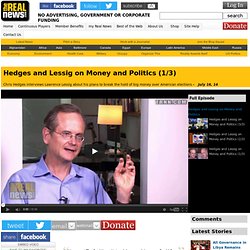 The Defining Issue: Not Government's Size, but Who It's For) The defining political issue of 2012 won't be the government's size.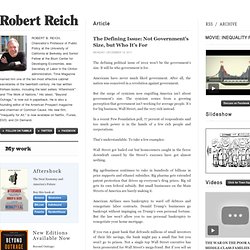 It will be who government is for. Americans have never much liked government. After all, the nation was conceived in a revolution against government. Amend 2012. The Corruption Of Our Entire Political Class Explained In One Paragraph. The Political Compass - US Presidential Election 2012. This is a US election that defies logic and brings the nation closer towards a one-party state masquerading as a two-party state.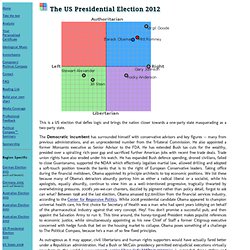 The Democratic incumbent has surrounded himself with conservative advisors and key figures — many from previous administrations, and an unprecedented number from the Trilateral Commission. He also appointed a former Monsanto executive as Senior Advisor to the FDA. He has extended Bush tax cuts for the wealthy, presided over a spiralling rich-poor gap and sacrificed further American jobs with recent free trade deals. Trade union rights have also eroded under his watch.
He has expanded Bush defence spending, droned civilians, failed to close Guantanamo, supported the NDAA which effectively legalises martial law, allowed drilling and adopted a soft-touch position towards the banks that is to the right of European Conservative leaders. End the Corporate Takeover of our Democracy. An INTENSE moment of TRUTH with MAINSTREAM Media.
The 99% Declaration. 40 charts that explain money in politics. Money suffuses our political system.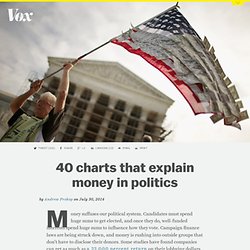 Candidates must spend huge sums to get elected, and once they do, well-funded interests spend huge sums to influence how they vote. Campaign finance laws are being struck down, and money is rushing into outside groups that don't have to disclose their donors. Some studies have found companies can get as much as a 22,000 percent return on their lobbying dollars, while a recent poll from the Global Strategy Group found that more than 90 percent of Americans wants to reduce the role of money in politics.
---