Report
Copernician View of Transmedia Production by Owen Brierley on Prezi
(www.flickr.com/photos/ camkage/3813697594/) Is it time to move your business to Hollywood? Yesterday, we attended the CLICK conference in New York City. The event had several interesting discussions but none more so than a panel on whether agencies were turning into product manufacturers.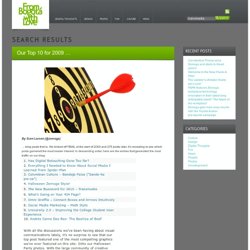 Transmedia | Interactive Design and User Experience Blog from Zemoga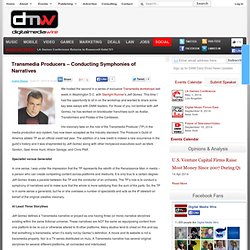 Transmedia Producers – Conducting Symphonies of Narratives
We hosted the second in a series of exclusive Transmedia workshops last week in Washington D.C. with Starlight Runner's Jeff Gomez. This time I had the opportunity to sit in on the workshop and wanted to share some key take-aways with DMW readers. For those of you not familiar with Jeff Gomez, he has worked on blockbuster franchises such as Avatar, Transformers and Pirates of the Caribbean. His visionary take on the role of the Transmedia Producer (TP) in the media production eco-system, has now been accepted as the industry standard: The Producer's Guild of America added TP as an official credit last year. The addition of a new credit is indeed a rare occurrence in the guild's history and it was shepherded by Jeff Gomez along with other Hollywood executives such as Mark Gordon, Gael Anne Hurd, Alison Savage, and Chris Pfaff. Specialist versus Generalist
A Glossary - Transmedia Resources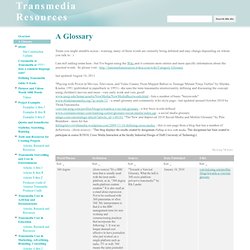 Terms you might stumble across - warning, many of these words are currently being debated and may change depending on whom you talk to : ) I am still adding terms here - but I've begun using the Wiki and it contains more entries and more specific information about the assorted words. So please visit - http://transmediaresources.wikia.com/wiki/Category:Glossary last updated August 16, 2011 "Playing with Power in Movies, Television, and Video Games: From Muppet Babies to Teenage Mutant Ninja Turtles" by Marsha Kinder, 1991 (published in paperback in 1993) - she uses the term transmedia intertextuality defining and discussing the concept using children's movies and more - very early work and very good!
What's transmedia storytelling? In transmedia storytelling, content becomes invasive and fully permeates the audience's lifestyle. A transmedia project develops storytelling across multiple forms of media in order to have different "entry points" in the story; entry-points with a unique and independent lifespan but with a definite role in the big narrative scheme. Each distinct element makes distinctive contributions to a fan's understanding of the story world; "entry-points" through which consumers can become immersed in a story world. The three video's below are from a recent discussion between Frank Rose, author of "The Art of Immersion" (and a contributing Editor at Wired) and Jeff Gomez, President and CEO of Starlight Runner Entertainment at Ad Age's "Creativity and Technology" (CaT) Conference in NYC June 9th, 2011.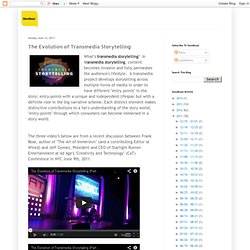 The Evolution of Transmedia Storytelling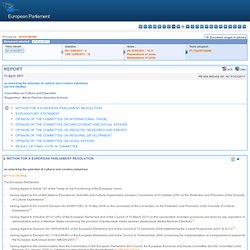 on unlocking the potential of cultural and creative industries The European Parliament, – having regard to Article 167 of the Treaty on the Functioning of the European Union, – having regard to the United Nations Educational, Scientific and Cultural Organisation (Unesco) Convention of 20 October 2005 on the Protection and Promotion of the Diversity of Cultural Expressions(1),
REPORT on unlocking the potential of cultural and creative industries - A7-0143/2011
20 May 2011 NIMk, Amsterdam 5 - 7 pm The maintenance and conservation of installation art presents a big challenge. This documentary, produced under the commission of the SBMK, will be presented for the first time and aims to provide a glimpse from behind the scenes regarding contemporary art preservation practices and to shed light on the conservation of media art and performance based art.
Installation Art : Who Cares? Dutch Film Premiere | NIMk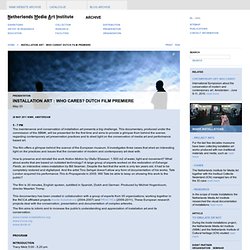 EBOOK: GETTING STARTED IN TRANSMEDIA STORYTELLING - ECHTZEITGEIST
What New Audiences Really Want
Storytelling & Sustainability
At SXSW I watched Christopher Poole (founder of the infamous 4chan) introduce his new project Canvas. This isn't as edgy as his previous meme factory. Canvas provides basic tools for users to post and alter pictures.
The Power of User Generated Content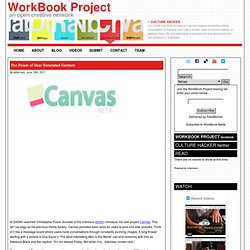 Iron Sky - Producing with the Audience‬‏
12 Trends from Cannes 2011