Oskar
The Algorithm For Creating Art. ME | Tech. "3 Dreams of Black" is an interactive film by Chris Milk and some friends at Google that showcases the creative potential of WebGL.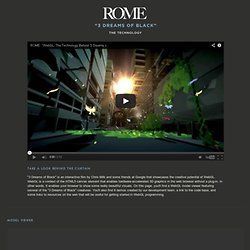 WebGL is a context of the HTML5 canvas element that enables hardware-accelerated 3D graphics in the web browser without a plug-in. In other words, it enables your browser to show some really beautiful visuals. On this page, you'll find a WebGL model viewer featuring several of the "3 Dreams of Black" creatures.
You'll also find 8 demos created by our development team, a link to the code base, and some links to resources on the web that will be useful for getting started in WebGL programming. Ready to get the entire code base? DShed | DShed: Imagination, inspiration & innovation from Watershed. Pic: Real Life Dead Pixel. Holography without Lasers: Hand-drawn Holograms [SCIENCE HOBBYIST] Several hologram plates.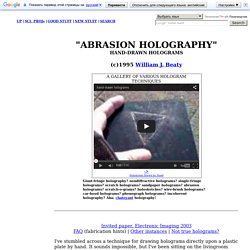 (Obviously you cannot see the 3D effect in this flat photograph.) Depending on the tilt of the plate with respect to the sun, you might accidentally discover the "pseudoscopic" image of the "V," and it may appear to float *above* the surface of the plastic. Twink: today and tomorrow - \_pencil_/ & :skipit: • Minimazine. Home - Camargus. Papercraft Self Portrait - Art Portfolio for Eric Testroete.
We Tell Stories - 'The 21 Steps' by Charles Cumming. Chromaroma. Photosynth. Photosynth is a software application from Microsoft Live Labs and the University of Washington that analyzes digital photographs and generates a three-dimensional model of the photos and a point cloud of a photographed object.[1] Pattern recognition components compare portions of images to create points, which are then compared to convert the image into a model.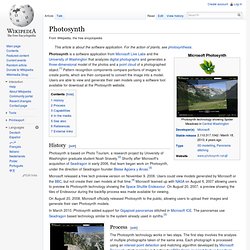 Users are able to view and generate their own models using a software tool available for download at the Photosynth website. History[edit] Photosynth is based on Photo Tourism, a research project by University of Washington graduate student Noah Snavely.[2] Shortly after Microsoft's acquisition of Seadragon in early 2006, that team began work on Photosynth, under the direction of Seadragon founder Blaise Agüera y Arcas.[3] Soderberg.tv - editor, director, artist Johan Söderberg. Realtime Réalite » un show transmedia immersif interactif en direct. Chaîne de SearchStories. Real-time interaction with augmented reality mascots. True Blood - Dig Deeper. New HBO True Blood Campaign. BBDO New York has created a new online campaign to promote the release of the True Blood series 3 DVD.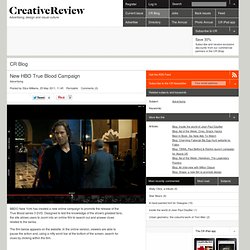 Designed to test the knowledge of the show's greatest fans, the site allows users to zoom into an online film to search out and answer clues related to the series. The film below appears on the website. Extraordinary Crafts | Have a Camper day. Shipping: Same day for orders placed before 12:00 CET (Mo-Fri) Free standard delivery: Free standard delivery to an address of your choice within 4-5 working days (Mon-Fri).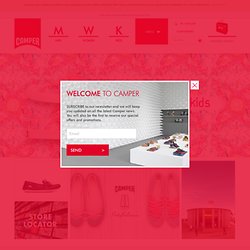 Youtube editor | artsciencefactory.fr. Play Grid16. Check your security settings Connection issues are typically caused by security settings on your network or computer.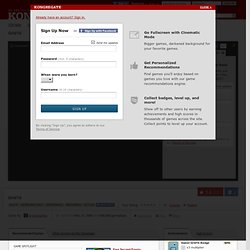 Check that your firewall or router has port 5222 open and allowing traffic. If you are on a school or office network, you may need to contact your network administrator to make the necessary changes. Is your version of Flash current? Some old versions of Flash don't work well with our new chat application. Adaptive Streaming with H264 Streaming Module. Back Adaptive streaming is similar to pseudo streaming, but instead of serving one large video file, the video is delivered in a series of short HTTP downloads (segments).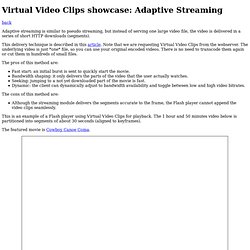 This delivery technique is described in this article. THE DIGITAL STORY OF THE NATIVITY. Invisible Cities. By Maria Popova What social media activity has to do with the literal lay of the land.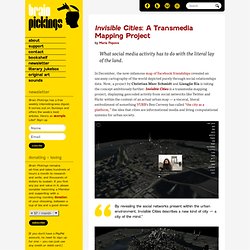 In December, the now-infamous map of Facebook friendships revealed an uncanny cartography of the world depicted purely through social relationships data. Anatomy of a Mashup: Definitive Daft Punk visualised. Alimation - Annecy Festival 2011. Interactive Youtube Music Machine. Bar Code Madness! Artist Scott Blake is known for making art from QR codes and bar codes.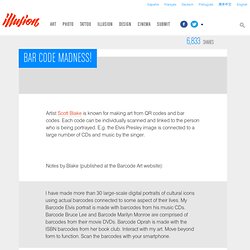 Each code can be individually scanned and linked to the person who is being portrayed. E.g. the Elvis Presley image is connected to a large number of CDs and music by the singer. Photosynth - Capture your world in 3D. Radiolab Presents Symmetry.
---