TEDxSF November
The wisdom of statistically manipulated crowds
The wisdom of a crowd is often in the eye of the beholder, but most of us understand that, at its most basic level, "crowd wisdom" refers to a fairly simple phenomenon: when you ask a whole bunch of random people a question that can be answered with a number (eg, what's the population of Swaziland?)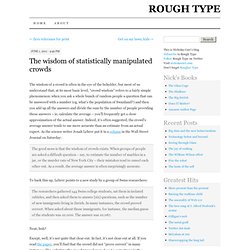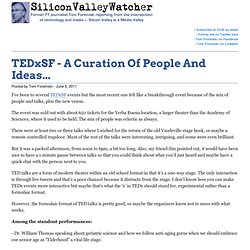 TEDxSF - A Curation Of People And Ideas...
Posted by Tom Foremski - June 5, 2011 I've been to several TEDxSF events but the most recent one felt like a breakthrough event because of the mix of people and talks, plus the new venue. The event was sold out with about 650 tickets for the Yerba Buena location, a larger theater than the Academy of Sciences, where it used to be held.
Posted by Tom Foremski - April 28, 2010 TEDxSF, one of the local TED conference communities, held an event Tuesday evening at the California Academy of Sciences, in the planetarium auditorium. About 350 people watched live presentations and many more were in a lounge watching the live stream of the event on monitors.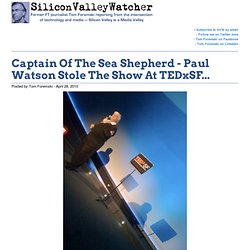 Captain Paul Watson Stars In TEDxSF
MarsVenus.com - Home of John Gray, Ph.D.
the hormone of love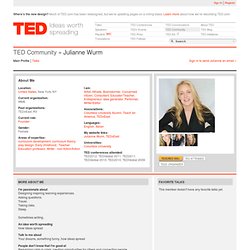 More About Me I'm passionate about Designing inspiring learning experiences. Asking questions. Travel. Taking risks.
Julieanne Wurm
Julianne Wurm's Blog
Responding to Risk with Resourcefulness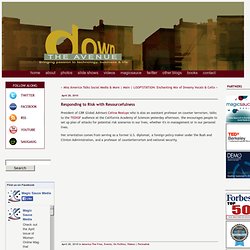 « Miss America Talks Social Media & More | Main | LOOP!STATION: Enchanting Mix of Dreamy Vocals & Cello » April 28, 2010
Welcome to CISA
Nathan Quarry
Nathan Parker Quarry (born March 19, 1972) is a retired American mixed martial arts fighter who is most notable for his appearance in The Ultimate Fighter, a reality show from the Ultimate Fighting Championship, as well as co-hosting the show MMA Uncensored Live. Early life[edit] Nate Quarry grew up as a member of the Jehovah's Witnesses, which he later characterized as a cult that controls its members 24 hours a day. Quarry grew up in a sheltered lifestyle and did not even participate in organized sports until age 24, when he first became exposed to mixed martial arts. After a period of self-discovery, Quarry rejected his Jehovah's Witness upbringing, which caused him to become alienated from his family and former friends.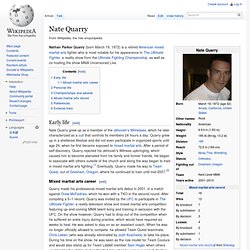 Nathan Quarry | Home
The Genius in All of Us
Jonathan Abrams
Loop!Station
Michael Warr as featured in PoetrySpeaks.com (SpokenWord)
Bhi Bhiman: Singer/Songwriter
Posted by Tom Foremski - November 18, 2009 I popped into the TEDxSF conference yesterday at the Academy of Sciences in Golden Gate Park and really enjoyed the presentations. I've never been to the big TED conference but I've seen many videos and this was just like it. Conference is probably not the right word to describe TEDxSF it is more like attending a series of theatrical performances. And each TED presentation seems to exist within a TED template: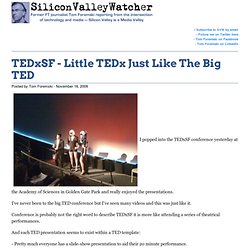 TEDxSF - Little TED Just Like The Big TED
tedxsf (tedxsf) on Twitter
TEDxSF