TeamWork
Badges
Guerilla Market. How Google's Marissa Mayer Prevents Burnout. UPDATE: Marissa Mayer was named chief executive officer of Yahoo Inc.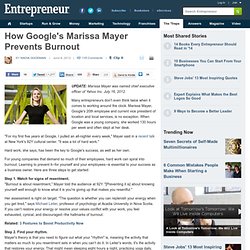 July 16, 2012. Many entrepreneurs don't even think twice when it comes to working around the clock. Marissa Mayer, Google's 20th employee and current vice president of location and local services, is no exception. When Google was a young company, she worked 130 hours per week and often slept at her desk. Sacré Kenny. Startups Are Hard. So Work More, Cry Less, And Quit All The Whining. I slept at work again last night; two and a half hours curled up in a quilt underneath my desk, from 11am to 1:30pm or so.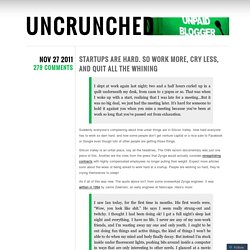 That was when I woke up with a start, realizing that I was late for a meeting…But it was no big deal, we just had the meeting later. It's hard for someone to hold it against you when you miss a meeting because you've been at work so long that you've passed out from exhaustion. Suddenly everyone's complaining about how unfair things are in Silicon Valley. What I Wish Someone Had Told Me 4 Years Ago. The year is 2007, and I had just left Microsoft to dive into the startup world.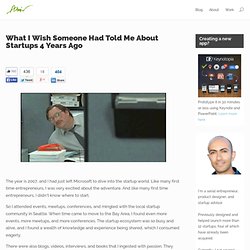 Like many first time entrepreneurs, I was very excited about the adventure. And like many first time entrepreneurs, I didn't know where to start. So I attended events, meetups, conferences, and mingled with the local startup community in Seattle.
Legal. Context. Dev Dev Dev. Useful Resources. Blog et articles Education. Manifesto. Business Model. Cool inspirations. Nathan Heller: Is College Moving Online? Gregory Nagy, a professor of classical Greek literature at Harvard, is a gentle academic of the sort who, asked about the future, will begin speaking of Homer and the battles of the distant past.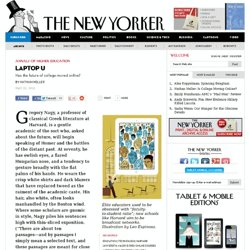 At seventy, he has owlish eyes, a flared Hungarian nose, and a tendency to gesture broadly with the flat palms of his hands. He wears the crisp white shirts and dark blazers that have replaced tweed as the raiment of the academic caste. His hair, also white, often looks manhandled by the Boston wind. Does The Online Education Revolution Mean The Death Of The Diploma? Education is changing, and it's changing fast.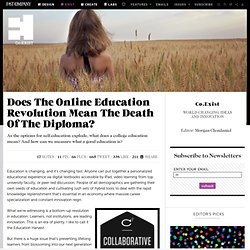 Anyone can put together a personalized educational experience via digital textbooks accessible by iPad, video learning from top university faculty, or peer-led discussion. People of all demographics are gathering their own seeds of education and cultivating lush sets of hybrid tools to deal with the rapid knowledge replenishment that's essential in an economy where massive career specialization and constant innovation reign. What we're witnessing is a bottom-up revolution in education: Learners, not institutions, are leading innovation.
This is an era of plenty. I like to call it the Education Harvest. Isaac Asimov on Bill Moyers World of Ideas pt 2.
---
alexdana Jul 12 2011

It's just the beginning old chap...
---