WhatIsContentCuration?
Content Curation: Learning from others and sharing their knowledge | Web Development Blog – Heidi Cool – Cleveland, Ohio. Over the past few months the subject of content curation has been coming up more often.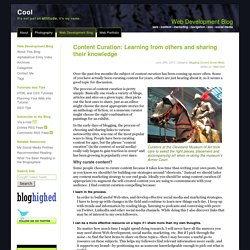 Some of you have actually been curating content for years, others are just hearing about it, so it seems a good topic for discussion. Curators at the Cleveland Museum of Art took care to select the right pieces, placement and accompanying art when re-doing the museum's Armor Court. The process of content curation is pretty simple. Overwhelmed? Welcome the Age of Curation | Epicenter  Forrester Research analyst Sarah Rotman Epps coined a phrase Friday for something many have been talking about since Apple launched the iPad about six weeks ago.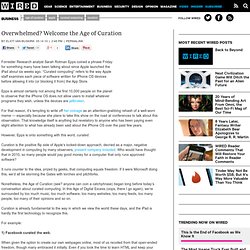 "Curated computing" refers to the way Apple staff examines each piece of software written for iPhone OS devices before allowing it into (or blocking it from) the App Store. Epps is almost certainly not among the first 10,000 people on the planet to observe that the iPhone OS does not allow users to install whatever programs they wish, unless the devices are jailbroken. For that reason, it's tempting to write off her coinage as an attention-grabbing rehash of a well-worn meme — especially because she plans to take this show on the road at conferences to talk about this observation.
My Quick Take on Content Curation – Movin' Ahead. Image via Wikipedia Smells like a trend, but it's something people have been doing for a long time, only the tools are changing, sparking all kinds of inspiration.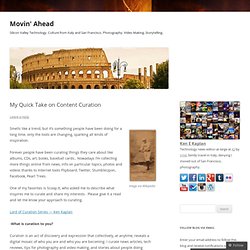 Forever people have been curating things they care about like albums, CDs, art, books, baseball cards.. Nowadays I'm collecting more things online from news, info on particular topics, photos and videos thanks to Internet tools Flipboard, Twitter, StumbleUpon, Facebook, Pearl Trees. One of my favorites is Scoop.It, who asked me to describe what inspires me to curate and share my interests. Content Creation. Curation is More Than Integration. The term "Curation" doesn't yet score a hit in the archive of Scott Adam's Dilbert cartoons, which means it's still living the short half-life between entering the pop management lexicon and becoming the object of ridicule.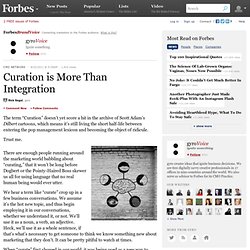 Trust me. There are enough people running around the marketing world babbling about "curating," that it won't be long before Dogbert or the Pointy-Haired Boss skewer us all for using language that no real human being would ever utter. We hear a term like "curate" crop up in a few business conversations. We assume it's the hot new topic, and thus begin employing it in our conversations, whether we understand it, or not. We'll use it as a noun, a verb, an adjective. The Seven Needs of Real-Time Curators. I keep hearing people throw around the word "curation" at various conferences, most recently at SXSW.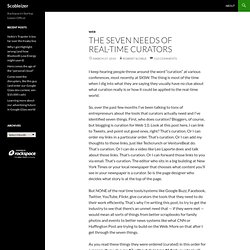 The thing is most of the time when I dig into what they are saying they usually have no clue about what curation really is or how it could be applied to the real-time world. So, over the past few months I've been talking to tons of entrepreneurs about the tools that curators actually need and I've identified seven things. The 5 Models Of Content Curation. March 31, 2011 | 36 Comments Curation has always been an underrated form of creation.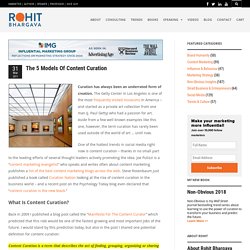 The Getty Center in Los Angeles is one of the most frequently visited museums in America – and started as a private art collection from one man (J. Paul Getty) who had a passion for art.
---