Teaching
Online learning. Jailbreaking the Degree. Editor's note: David Blake is the Founder of Degreed, the new degree for the new world.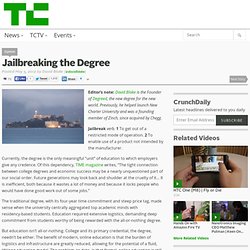 Previously, he helped launch New Charter University and was a founding member of Zinch, since acquired by Chegg. Jailbreak verb. 1 To get out of a restricted mode of operation. 2 To enable use of a product not intended by the manufacturer. Currently, the degree is the only meaningful "unit" of education to which employers give any credence. Of this dependency, TIME magazine writes, "The tight connection between college degrees and economic success may be a nearly unquestioned part of our social order. From the Desk of Dr. Jeff Borden: Cite 2012 | Pearson Academic Executives. "If I was going to design the perfect environment for a person not to learn, I would design a classroom," explained Dr.
John Medina, the cognitive scientist who knows the human brain as well as any person on the planet. This was just one of the challenging, powerful, and motivating statements that really showcased the week we had in Orlando, Florida last week for the 13 th annual Cite conference. By most accounts it was the best eLearning conference we have had in years, some saying it was the best ever! The Stanford Education Experiment Could Change Higher Learning Forever | Wired Science. Sebastian Thrun and Peter Norvig in the basement of Thrun's guesthouse, where they record class videos.Photo: Sam Comen Stanford doesn't want me.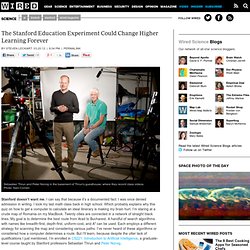 I can say that because it's a documented fact: I was once denied admission in writing. I took my last math class back in high school. Which probably explains why this quiz on how to get a computer to calculate an ideal itinerary is making my brain hurt. I'm staring at a crude map of Romania on my MacBook. Student Engagement: Resource Roundup. Increasing Student Participation | The Teaching Center. While increasing participation is an obvious goal in courses that include frequent discussions and small-group work, it is also important in a lecture course.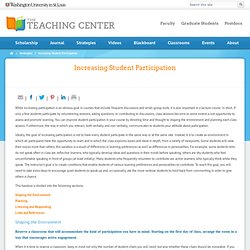 In short, if only a few students participate by volunteering answers, asking questions, or contributing to discussions, class sessions become to some extent a lost opportunity to assess and promote learning. You can improve student participation in your course by devoting time and thought to shaping the environment and planning each class session. Furthermore, the way in which you interact, both verbally and non-verbally, communicates to students your attitude about participation. Ideally, the goal of increasing participation is not to have every student participate in the same way or at the same rate.
Untitled. Introduction to Cooperative Learning | Cooperative Learning Institute And Interaction Book Company. An Overview Of Cooperative Learning David W Johnson and Roger T Johnson Without the cooperation of its members society cannot survive, and the society of man has survived because the cooperativeness of its members made survival possible….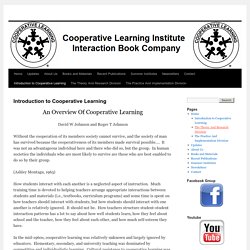 It was not an advantageous individual here and there who did so, but the group. In human societies the individuals who are most likely to survive are those who are best enabled to do so by their group. Howard Rheingold: The new power of collaboration. Free Professional Development Content from ASCD Now Available on the New iTunes U. Alexandria, VA (3/1/12)—ASCD, a global leader in providing programs, products, and services that empower educators to support the success of each learner, is pleased to announce it has made a variety of free professional development content available on the new iTunes U.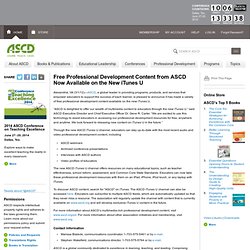 "ASCD is delighted to offer our wealth of multimedia content to educators through the new iTunes U," said ASCD Executive Director and Chief Executive Officer Dr. Gene R. New Teacher Academy: Delivery of Instruction. Welcome to week three of Edutopia's New Teacher Academy blog series!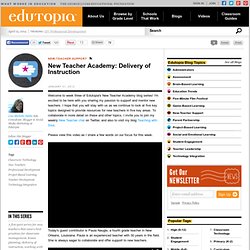 I'm excited to be here with you sharing my passion to support and mentor new teachers. I hope that you will stay with us as we continue to look at five key topics designed to provide resources for new teachers in five key areas. Exit Slips. The Exit Slip strategy is used to help students process new concepts, reflect on information learned, and express their thoughts about new information.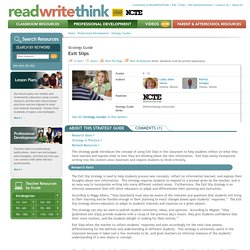 This strategy requires students to respond to a prompt given by the teacher, and is an easy way to incorporate writing into many different content areas. Furthermore, the Exit Slip strategy is an informal assessment that will allow educators to adapt and differentiate their planning and instruction. Fighting the Enemies of Personalized Learning. Setting the Standard for Standards-Based Grading. Post submitted by Whole Child Blogger Matt Swift At ASCD's Fall Conference in October, educator Mary McDonough used a variety of techniques while explaining the importance of formative assessment in standard-based grading.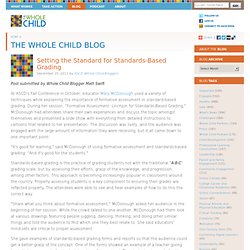 During her session, "Formative Assessment: Linchpin for Standards-Based Grading," McDonough had attendees share their own experiences and discuss the topic amongst themselves and presented a slide show with everything from detailed instructions to cartoons that related to her presentation. Teachers as Brain-Changers: Neuroscience and Learning. UserID: iCustID: IsLogged: false.
Big Thinkers: Judy Willis on the Science of Learning. Judy Willis: Hi, I'm Judy Willis and I am a neurologist. I've been a neurologist for 15 years and after the 15 years my patient practice really changed. I started getting so many referrals for kids whose teachers thought they had ADD, obsessive compulsive disorder, staring spells, seizures petit mal epilepsy, and the increase was huge and yet the kids had no greater incidence of it. And I saw the notes were coming from the school so I visited the schools. I'd look in the classrooms and I saw kids who indeed were playing with everything they could find, staring out the window, coloring on someone's chair or book. The problem was that the way they were being taught was lectured. Brain-Based Learning: Resource Roundup.
Edutopia's list of resources, articles, videos, and links for exploring the connection between education and neuroscience. (Updated: 12/2013) Building Brain Literacy in Elementary Students, By Judy Willis, M.D. (2013) Neurologist, teacher, author and Edutopia blogger Willis discusses the benefits of teaching elementary students how their brains work. Brains, Brains, Brains! Neuro Myths: Separating Fact and Fiction in Brain-Based Learning.
New research on educational neuroscience tells us how kids learn -- and how you should teach. Credit: iStockphoto You've surely heard the slogans: "Our educational games will give your brain a workout! " Or how about, "Give your students the cognitive muscles they need to build brain fitness. " And then there's the program that "builds, enhances, and restores natural neural pathways to assist natural learning. " No one doubts that the brain is central to education, so the myriad products out there claiming to be based on research in neuroscience can look tempting. Pinterest for Educators? After hearing about all the hoopla surrounding Pinterest, I decided to check it out and see if it had any value to me as an educator.
Up until this point I really didn't have a clue as to what it was all about except that it was a social media tool that functioned like an electronic bulletin board. After requesting an invite, I was all set to go a day later and began to create my first pin board. The tutorial video that you are directed to upon signing up was short, to the point, and made it incredibly simple to dive in and start creating. I dragged the "pin it" bookmarklet into Google Chrome and off I went. I quickly became fascinated with the idea of "pinning" together all of my professional interests.
Publishers: For Staff Developers. Just as there is an art to effective classroom instruction, there is a related but specialized art to building a good staff development program. Stenhouse books and videos are most effective when used as part of a sustained PD course of study. Whether you are an experienced staff developer, an administrator, or a beginning literacy coach, you? MindShift | How we will learn. IALLT | International Association for Language Learning Technology Where technology speaks your language. Home - American Council on the Teaching of Foreign Languages.
CosmoLearning | Your Free Online School: Courses, Video Lectures, Documentaries, Images, Books and more. 20111116_TeachersintheAgeofDigitalInstruction. K-12 Education & Learning Innovations with Proven Strategies that Work. Chore Wars :: Claim Experience Points for Housework. MorgueFile free photos for creatives by creatives. Your activity. Kerpoof Studio. SideVibe - active bookmark. 16 Infographic Resumes, A Visual Trend.
StudyBoost.com. The Thinking Classroom Home: The Learning Spiral. Podcast. Teaching Resources. About. Educational Technology. 100 Teaching Tools You Should Know About. Moviestorm for teaching and learning. InstaGrok | A new way to learn. Core Strategies for Innovation and Reform in Learning. EdTechTeacher | Professional Development for Creating 21st Century Student-Centered Learning Environments.
Tim Brown on creativity and play. A Case for Using Social Networking for Learning. The Many Benefits, for Kids, of Playing Video Games. Www.scss.tcd.ie/publications/tech-reports/reports.01/TCD-CS-2001-04.pdf. Glogster training videos on teachertrainingvideos.com by Russell Stannard. Centre for Research on Networked Learning and Knowledge Building: Scientific Background. ELT Experiences: "Digital Play" - Book Review. Language Teaching, Online Games & Gamification. Delta Teacher Development Series - Digital Play.
---