Student Resources
Nathan Kontny is the founder and creator of Draft. You may also know him from Inkling, and I hope you will check out his blog at NinjasandRobots.com. Nate Kontny wants us all to be better writers. As a former HS English teacher I can completely support his mission. Nate's latest venture is Draft, an online app that provides distraction free writing, and very cool features to support feedback and copy editing. As a teacher I always wanted to give feedback on my students work.
Using Draftin.com for Education | Education Is My Life
7 Questions to Ask Before You Start to Write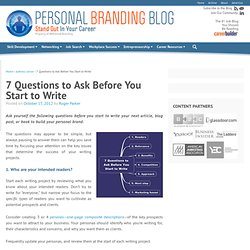 Ask yourself the following questions before you start to write your next article, blog post, or book to build your personal brand. The questions may appear to be simple, but always pausing to answer them can help you save time by focusing your attention on the key issues that determine the success of your writing projects. 1. Who are your intended readers? Start each writing project by reviewing what you know about your intended readers. Don't try to write for "everyone," but narrow your focus to the specific types of readers you want to cultivate as potential prospects and clients.
When You Don't Understand Your Assignment | First Year Comp
A colleague of mine directs a writing center offering tutorial help to students of a large university. One year, he surveyed his clientele to find out how soon before a paper was due they had sought the center's help. Did students most frequently come in two weeks before a paper was due? One week? Four days?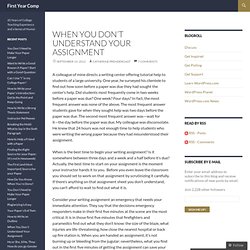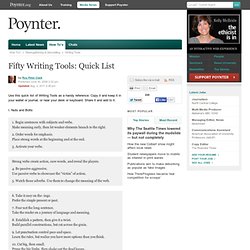 Use this quick list of Writing Tools as a handy reference. Copy it and keep it in your wallet or journal, or near your desk or keyboard. Share it and add to it. I. Nuts and Bolts 1.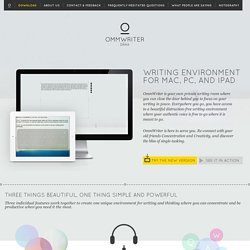 OmmWriter is a staple for those who want to take the distraction out of writing, and its app is particularly good for cutting away the clutter of word-processing programs on the iPad and the Mac. Staying focused and resisting distractions is a key to being successful in school. (...) tools like Dropbox and OmmWriter make studying a snap. OmmWriter [for iPad] is supposed to be simple and beautiful, and judged on those criteria, it's a winner. In this app, I'm inclined to keep at my writing tasks for longer periods of time, I'm less antsy, and I feel more creative than I do with more conventional apps. (...) I find myself less distracted by thoughts outside of the work at hand. Cult Readers Pick Chrome and OmmWriter As Best New Applications of 2009.
What the Flow? | First Year Comp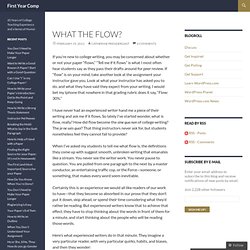 If you're new to college writing, you may be concerned about whether or not your paper "flows." "Tell me if it flows" is what I most often hear students say as they pass their drafts around for peer review. If "flow" is on your mind, take another look at the assignment your instructor gave you. Look at what your instructor has asked you to do, and what they have said they expect from your writing. I would bet my Iphone that nowhere in that grading rubric does it say, "Flow: 30%." I have never had an experienced writer hand me a piece of their writing and ask me if it flows.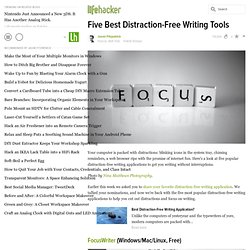 Your computer is packed with distractions: blinking icons in the system tray, chiming reminders, a web browser ripe with the promise of internet fun. Here's a look at five popular distraction-free writing applications to get you writing without interruptions. Photo by Nina Matthews Photography.
Brainstorming - Brainstorming Methods - How to Brainstorm
Brainstorming is a method students can use to generate ideas for writing a paper. In the process of brainstorming you should suspend any concerns about staying organized. The goal is to pour your thoughts onto paper without worrying about whether they make sense or how they fit together.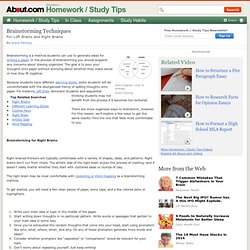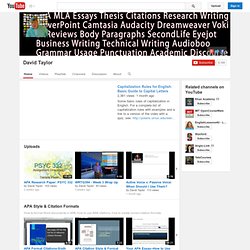 Chaîne de peakdavid
Welcome to YouTube! The location filter shows you popular videos from the selected country or region on lists like Most Viewed and in search results.To change your location filter, please use the links in the footer at the bottom of the page. Click "OK" to accept this setting, or click "Cancel" to set your location filter to "Worldwide". The location filter shows you popular videos from the selected country or region on lists like Most Viewed and in search results. To change your country filter, please use the links in the footer at the bottom of the page.
Definition: A course of reasoning aimed at demonstrating truth or falsehood. Argument is one of the traditional modes of discourse. Adjective: argumentative.
argument - definitions and examples of arguments - development of paragraphs and essays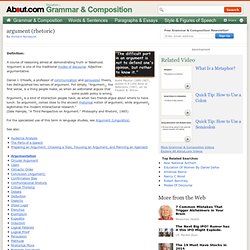 Planning Stage For an argument essay to be effective, it must contain certain elements. For this reason, you must take a few minutes to plan and prepare before you jump into writing an argument essay. Find a Good Topic To find good topic for an argument essay you should consider several issues that will have two conflicting points of view or very different conclusions.
Argumentative Essay - How to Write an Argument Essay
Eight Tools for effective explanation | explainer.net
Explainers often have lofty goals in their subject matter, but we know that different people have different styles of learning. Explainers utilize many tools to break down complicated subjects beyond just a block of text, and we've collected eight of the best. Some of them are visual, interactive, or entertaining, but all of them help users easily digest intricate topics. Infographics Infographics are visual representations of data.