Resources
Educational Games. NEURO SCIENCES Find out more about our nervous system in 18 animated stops.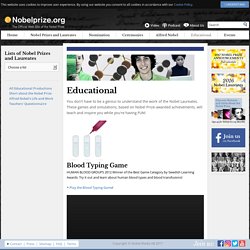 Have a look! Or watch the documentary The Mystery of Memory which provides a unique insight into the secrets of the brain's astounding ability to record and recall information, and includes interviews with some of today's most prominent scientists, such as Eric Kandel, 2000 Nobel Laureate in Physiology or Medicine. Birmingham Grid for Learning - Multiple Intelligences (Secondary)
Starfall's Learn to Read with phonics. Menu. Home. Commons. Learn how Everything Works!". Homepage. Engineering Interact - Interactive science & engineering for 9-11 year olds. Tutpup - play, compete, learn. Sheppard Software: Fun free online learning games and activities for kids.
Online British Sign Language Course - Learn Online. Welcome to skoool.co.uk. Resources from TopicBox.net - free teacher resources for every UK primary school teaching topic. Topmarks Education: teaching resources, interactive resources, worksheets, homework, exam and revision help. Schoolzone: worksheets, videos, lesson plans - everything a teacher needs. Early Years Experience - Educational resources and information for parents, carers and teachers of pre-school, nursery and Key Stage 1 children. Cheeky Monkey Resources.
Connexions - Sharing Knowledge and Building Communities.
---