Educational Games
ScootPad :: Practice. Learn. Succeed. Games. KS2 Bitesize: Games- Questionaut.
BrainNook: A new online game that helps kids develop Math and English skills while having fun! The Wizards Notebook - SchoolGamesOnline.biz. ZooWhiz | Maths, Reading, Word Skills, Punctuation, Grammar. K-12+, AP/IB, SAT Interactive vocabulary practice! GadgetWorks. World of Goo. Schools - Games. PreK to One. Test Prep Games - Fun Online Test Prep Games For Your Kids | JogNog: Everyone. Smarter. Grockit.
Jeopardy PowerPoint. PowerPoint Lessons. CSI: The Experience - Web Adventures. Games in Education - home. Beta) - games to support learning - welcome! :: ClassTools.net: Create interactive flash tools / games for education.
What2Learn. JeopardyLabs - Online Jeopardy Template. Brain Games: Play Free Puzzle Games Online, Free Puzzles. Play Free Online Brain Games Stretch Your Mental Muscle & Have Fun Doing It Practicing new skills and learning new facts is often presented as less than exciting, but education does not have to be this way.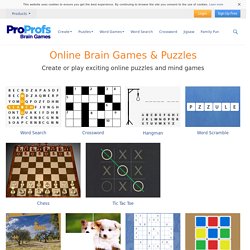 Good teachers have always known that puzzle games are some of the best ways to get old and young alike well on their way towards mastering a subject area. ProProfs is dedicated to the mission of combining education and entertainment, providing free online puzzles, brain games, and other fun resources to get people actively involved in the learning process. Free Puzzle Games For All.
---