Synthetic Biology
We see things a little different | Evolva Holding SA
WHAK!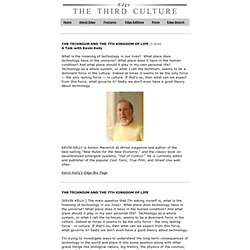 [KEVIN KELLY:] The main question that I'm asking myself is, what is the meaning of technology in our lives? What place does technology have in the universe? What place does it have in the human condition?
Ars Synthetica | Anthropology & Synthetic Biology
Synthetic Aesthetics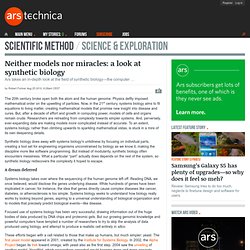 The 20th century broke open both the atom and the human genome. Physics deftly imposed mathematical order on the upwelling of particles. Now, in the 21 st century, systems biology aims to fit equations to living matter, creating mathematical models that promise new insight into disease and cures. But, after a decade of effort and growth in computing power, models of cells and organs remain crude. Researchers are retreating from complexity towards simpler systems.
Neither models nor miracles: a look at synthetic biology
Very nice approach indeed: "Synthetic biology does away with systems biology's untidiness by focusing on individual parts, creating a tool set for engineering organisms unconstrained by biology as we know it, making the discipline more like software programming." by nicolas Aug 26
News
BIOMOD | International Biomolecular Design Competition
World First Cell Race
Main Page
In our previous article, The 15 Coolest Cases of Biomimicry , we listed such great ideas as Velcro, Gecko Tape and Whalepower Wind Turbines to illustrate some of the most awe-inspiring applications of biomimicry: the developing engineering practice of designing sustainable human technologies inspired by nature. Here are 15 more examples coming out of the biomimetics workshops of academia and industry that illustrate the range of nature-inspired designs that may lead humanity into the future. 1. Harnessing the Sea On the energy front biomimicry is offering several intriguing designs for tapping the movement of waves and tides to produce electricity from mechanical energy.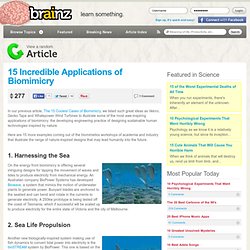 Current Interest - 15 Incredible Applications of Biomimicry
Current Interest - The 15 Coolest Cases of Biomimicry
Those who are inspired by a model other than Nature, a mistress above all masters, are laboring in vain. - Leonardo Da Vinci Biomimicry - The practice of developing sustainable human technologies inspired by nature. Sometimes called Biomimetics or Bionics, it's basically biologically inspired engineering. 1.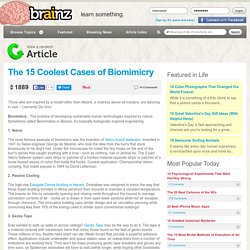 Congress Considers Synthetic Biology Risks, Benefits - ScienceIn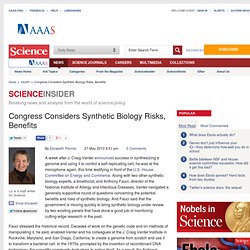 A week after J. Craig Venter announced success in synthesizing a genome and using it to control a self-replicating cell, he was at the microphone again, this time testifying in front of the U.S. House Committee on Energy and Commerce. Along with two other synthetic biology experts, a bioethicist, and Anthony Fauci, director of the National Institute of Allergy and Infectious Diseases, Venter navigated a generally supportive round of questions concerning the potential benefits and risks of synthetic biology.
18 April 2011 - Final evaluation report of the BBSRC/EPSRC Synthetic Biology Dialogue is published - News
Current Interest - How mirasol Displays Work: Micro-electro-mechanical Systems (MEMS) Drive IMOD Reflective Technology | mirasol® Displays
Systems & Synthetic Biology
Biology is Technology : Oscillator
synthesis
The server encountered an internal error or misconfiguration and was unable to complete your request. Please contact the server administrator, webmaster@leukippos.imakalya.com and inform them of the time the error occurred, and anything you might have done that may have caused the error. More information about this error may be available in the server error log. Additionally, a 500 Internal Server Error error was encountered while trying to use an ErrorDocument to handle the request.
Institute News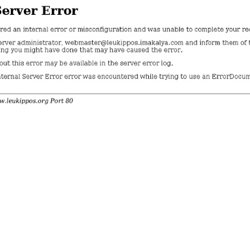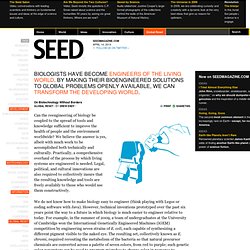 Can the reengineering of biology be coupled to the spread of tools and knowledge sufficient to improve the health of people and the environment worldwide? We believe the answer is yes, albeit with much work to be accomplished both technically and culturally. Practically, a comprehensive overhaul of the process by which living systems are engineered is needed.
On Biotechnology Without Borders
Synthetic Biology
Synthetic Biology index
SynBioWorld
La Paillasse
From OpenWetWare DIYbio FAQ v1.5 : "The biohacker's FAQ" This FAQ for DIYbio is actively maintained by it's editors, and by you! Edit your contributions directly or email updates to the DIYbio email list, diybio@googlegroups.com .
DIYbio/FAQ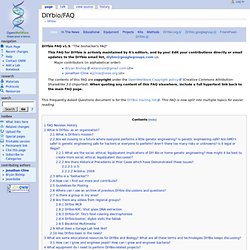 DIYbio/FAQ
"biopunk" , "sciencemadness", "biohacker", j'adore cette philosophie: la biologie de garage. On est en plein SF ! :) by nicolas Aug 17
Videos
Andrew Hessel - Introduction to Synthetic Biology
PDplus: Synthetic Biology - creating life in the lab
Craig Venter: On the verge of creating synthetic life
Synthetic Biology is the attempt to design and create new life forms - life the world has never seen before. Discover a living technology that will change the way we think about livings systems and machines in the future. "SYNBIOSAFE" gives a fundamental insight into this future technology and its real world applications.
Synbiosafe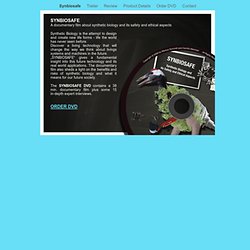 Chaîne de BioBricksFoundation
Welcome to YouTube! The location filter shows you popular videos from the selected country or region on lists like Most Viewed and in search results.To change your location filter, please use the links in the footer at the bottom of the page. Click "OK" to accept this setting, or click "Cancel" to set your location filter to "Worldwide". The location filter shows you popular videos from the selected country or region on lists like Most Viewed and in search results. To change your country filter, please use the links in the footer at the bottom of the page.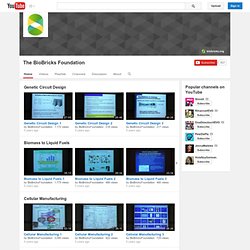 Synthetic Biology: Drew Endy
Synthetic biology is the design and construction of biological devices and systems for useful purposes. [ 1 ] It is an area of biological research and technology that combines science and engineering . It encompasses a variety of different approaches, methodologies, and disciplines with a focus on engineering biology. [ 2 ] Synthetic biologists approach the creation of new biological systems from different perspectives, focusing on finding how life works (the origin of life) or how to use it to benefit society. The former focus includes the approach of biology, inserting man-made DNA into a living cell ; and chemistry, working on gene synthesis as an extension of synthetic chemistry .
Home Page | MSc in Systems and Synthetic Biology
Interdisciplinarity as a new pedagogic approach towards a Master Degree The term "interdisciplinary research" suggests a synthetic, integrative approach where scientists from different backgrounds formulate and address jointly a common problem. Interdisciplinary training is increasingly valued in our world where flexibility, cooperative problem-solving and communication with different mindsets are essential. Key features of the AIV Master program Students of this program are dedicated to continue a scientific research career, and therefore the teaching is often organized in the form of seminars rather than formal class lectures.
Master AIV - Introduction
Spring 2013 Arizona State University University of Texas at Austin Wellesley College Loyola Marymount University
Courses
Synthetic Biology: SB101
The BioBricks Foundation was invited to run a workshop on "Synthetic Biology with BioBricks Parts" at CSB2008 . Reusable educational modules about synthetic biology can be found on this page. Skeletal draft outline of SB101 Intro - setting the stage for synthetic biology Overview - imagine sequencing and synthesis became free overnight. Where does that lead in terms of engineering? (Abstraction, Modularity, Standardization) History Definitions (part, device, chassis, biobrick, physical standard, functional standard, abstraction, engineering cycle) Standard Parts: Goals and Tools Data sheets (goal) Measurement (path toward goal) Jason's story about telegraph cable standardization Getting & Storing parts: Registries & Repositories Legal Standards (Freedom) Production and Use - iGEM (fabs... & codon devices, ginkgo?)
Synthetic Biology
Edge Master Class 2009
learn synthetic biology from the best possible teachers ! by dbikard Sep 1
Synthetic Biology Project
Synthetic biology, ethics and the hacker culture
Tools
GeneDesign is a web-based program for the design of synthetic genes. It consists of several modules that automate the tasks associated with the manipulation of synthetic sequences.

There are many ways to use GeneDesign. Probably the most common is to start with the protein sequence of an interesting gene and proceed through reverse translation to building block design. This path is explored in the Design a Gene section of the manual. by dbikard Apr 14
Synthetic Biology 3.0
SB5.0: the Fifth International Meeting on Synthetic Biology
Confdetail360
Confdetail241
DNAWorks at Helix Systems
Vector NTI® Software
Sci-Ed Software - Products
Gene Designer Software and Demos - DNA2.0
Bioinformatics Software for Sequence alignment, sequence analysis, BLAST, Mr Bayes, ClustalW
GenoCAD
TinkerCell
SBOL
Mobyle portal
A very nive global portal with multiple tools from mFold to multiple alignments etc. by dbikard Apr 14
Companies
DNA2.0
Ginkgo BioWorks
Cellectis
AMAbiotics
Omeecs
Intrexon
Amyris
LS9, Inc.