Sustainability
Food Systems
Aquaponics. Spider silk spun into violin strings. 4 March 2012Last updated at 19:59 ET By Jason Palmer Science and technology reporter, BBC News More than 300 spiders were used to generate the thousands of strands of silk making up each string A Japanese researcher has used thousands of strands of spider silk to spin a set of violin strings.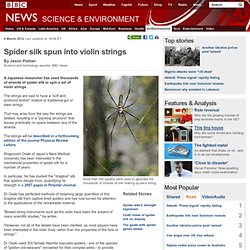 The strings are said to have a "soft and profound timbre" relative to traditional gut or steel strings. The Official Movie Website.
Resilient Communities
Earthship Biotecture Green Buildings. PLANETOPHYSICAL STATE OF THE EARTH AND LIFE. The US should invest in farmers' markets, report says. O'Hara estimates that these funds, along with farm to school programs, could help create as many as 13,500 new jobs.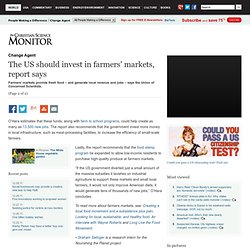 The report also recommends that the government invest more money in local infrastructure, such as meat-processing facilities, to increase the efficiency of small-scale farmers. Recent posts Subscribe Today to the Monitor Click Here for your FREE 30 DAYS ofThe Christian Science MonitorWeekly Digital Edition Lastly, the report recommends that the food stamp program be expanded to allow low-income residents to purchase high-quality produce at farmers markets. US debt problem visualized: Debt stacked in 100 dollar bills. Agriculture Defense Coalition. Communities which have Rejected Fluoridation Since 1990. Zero Carbon Office Building Unveiled.
---