Survivalism / Sustainability
#5: Cooking With a Solar Oven - Vegetable Soup. 27 Tactics You Can Use Today to Take Better Risks. 0 Flares Twitter 0 Facebook 0 0 Flares × Problem: We're pre-conditioned to avoid risk even though we deal with it on a regular basis.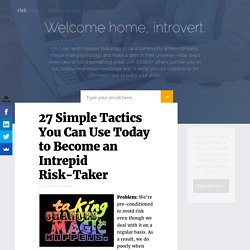 As a result, we do poorly when forced to make a risky decision because we're totally unprepared. Solution: If we engineer small risks in our lives on a daily basis, we can become better equipped to deal with bigger problems as they arise. I love taking risks. Smart ones, that is. How to survive. Mangroves: Nature's defence against Tsunamis.
Energy. Off the Grid. Bunny Farming. Maintenance/Repair. Data. Permaculture. Climate Change. Make it your Self.
Tools
---