Street art pop art design and pretty things
American Art Deco trains | Train Journeys of the World. The Streamliners!.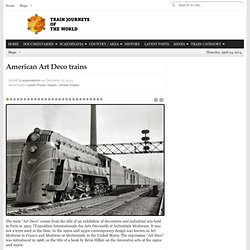 From the 19th-century, clunky-looking steam engines to the sleek, streamlined 20th-century look, emoting speed and progress in the machine age! Initially the streamline steel was put over the older steam engines, then later oil and diesel units were built. Designers Raymond Loewy and Henry Dreyfus were instrumental in some of the designs. L'allure Art Print by Vahram Muratyan. White Paint, Small-Space Remodel : Decorating : HGTV. 10 Smart Design Ideas for Small Spaces. Restoration Hardware DIY Desk. Hi guys!!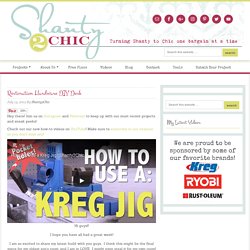 I hope you have all had a great week! I am so excited to share my latest build with you guys. I think this might be the final piece for my oldest son's room, and I am in LOVE. I might even steal it for my own room! I wanted a desk that didn't take up too much space, and that would also grow with him. 21 Great DIY Furniture Ideas for Your Home | Style Motivation.
Here are 21 amazing DIY furniture ideas and link to the tutorial under every photo.
These are big DIY projects, and they are challenge for the biggest DIY lovers. So if you need new furniture in your home and you are ready for big challenge, then you should definitely try some of these projects. Wood Dresser with Wheels Source Bookcase. 29 Amazing Stuff You Can Make from Old Pallets | Style Motivation. 23 Gorgeous Dressing Tables | Style Motivation. Every woman should have small space where she can enjoy in her beauty rituals and her makeup.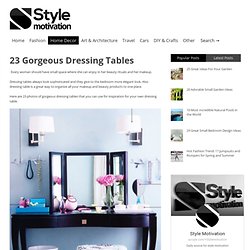 Dressing tables always look sophisticated and they give to the bedroom more elegant look. Also dressing table is a great way to organize all your makeup and beauty products to one place. 21 ways of turning pallets into unique pieces of furniture | Style Motivation. There are lots of ways you can use pallets and turn them unto something original, original and very useful.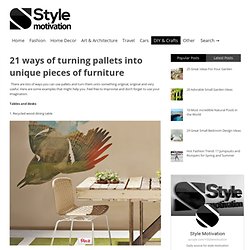 Here are some examples that might help you. Feel free to improvise and don't forget to use your imagination. 20 façons de porter son carré Hermès. Random Inspiration 72. All Categories - Most Popular Recently. 30 Creative Ways to Repurpose & Reuse Old Stuff. We all have stuff that no longer serves any purpose around the house, but we still have trouble getting rid of it.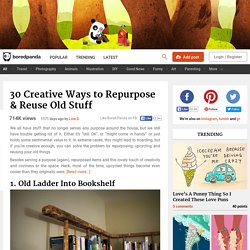 Either it's "still OK", or "might come in handy" or just holds some sentimental value to it. In extreme cases, this might lead to hoarding, but if you're creative enough, you can solve the problem by repurposing, upcycling and reusing your old things. Besides serving a purpose (again), repurposed items add this lovely touch of creativity and coziness to the space. Awesome Rooms. ANIMALISTIKA | MQ Fashion Blog. Die Zürcher Street-Art-Künstlerin TIKA verwandelt die STREET ART PASSAGE VIENNA in eine Arche Noah: In Zusammenarbeit mit dem Wiener Label "amateur" und dem Schweizer Label "aim" entwirft sie eine Mode- Kollektion, die je ein männliches und ein weibliches Tier repräsentiert.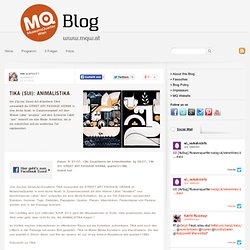 Datum: Fr 27.07., 19h; Ersatztermin bei Schlechtwetter: Sa 28.07., 19hOrt: STREET ART PASSAGE VIENNA, quartier21/MQEintritt frei! "Die Zürcher Street-Art-Künstlerin TIKA verwandelt die STREET ART PASSAGE VIENNA im MuseumsQuartier in eine Arche Noah: In Zusammenarbeit mit dem Wiener Label "Amateur" und demSchweizer Label "Aim" entwerfen sie eine Mode-Kollektion, die je ein Tier-Päärchen repräsentiert. Eisbären, Hummer, Tiger, Elefanten, Papageien, Quallen, Pfauen, Waschbären, Fledermäuse und Paviane werden sich in der Passage tummeln. Der Laufsteg wird zum rettenden Schiff: 2012 geht der Mayakalender zu Ende, viele prophezeien dass die Welt unter geht, aber nicht für die, die ANIMALISTIKA tragen. ROA New Mural In Vardø, Norway StreetArtNews. About | brandalism.
Sketchbook Secrets: 50 Beautiful Sketchbook Scans. The sketchbook is—to borrow a term from the new millenniums' popular discourse—an artist's BFF.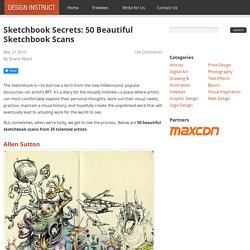 It's a diary for the visually inclined—a place where artists can most comfortably explore their personal thoughts, work out their visual needs, practice, maintain a visual history, and hopefully create the unpolished work that will eventually lead to amazing work for the world to see. But, sometimes, when we're lucky, we get to see the process. Below are 50 beautiful sketchbook scans from 35 talented artists. Allen Sutton. Bradwoodarddesign. Philosophy Posters | Maxistentialism. Philosophy Posters are a series of ten screen prints I funded with Kickstarter.
They're available now at PhilosophyPoster.com. HelloIt's nice to meet you. My name is Max. I'm a designer from Chicago, Il. Politics & Non-ProfitsI design and consult for clients like Barack Obama, the Hotel Rwanda Rusesabagina Foundation, and the Electronic Frontier Foundation. 3 | Infographic Posters Reduce Huge Philosophical Ideas To Shapes And Colors. GEX - The work of Genis Carreras. Photography | KALTBLUT MAGAZINE. CWArt; Design You Trust – Design Blog and Community. Design You Trust – Design Blog and Community. Inde. Picame - Daily dose of creativity. Rosie Straw'n'Berry (pinkystraw) on Pinterest. Carmichael Lynch. Styling / Hair and Makeup Tips &Tricks. Yale Press Log | Yale ARTbooks.
GUEST POST - thebeautydepartment.com - StumbleUpon. Design Crush & Popsicles! - StumbleUpon. Best ads: TV, Print, Outdoor, Interactive, Radio. DeMilked - Design Milking Magazine. 21 More Brilliant Minimalist Print Ads. Baubauhaus. STREET ART UTOPIA - We declare the world as our canvas.
---