Street Art
Graffiti Art Magazine. Pandacrew.com. Accueil. Play La Fouine est un gamer à l'ancienne.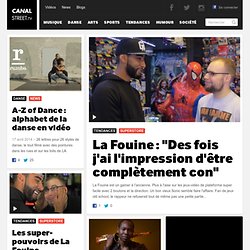 Plus à l'aise sur les jeux-vidéo de plateforme super facile avec 2 boutons et la direction. Un bon vieux Sonic semble faire l'affaire. Fan de jeux old school, le rappeur ne refuserait tout de même pas une petite partie... 10 A-Z of Dance : alphabet de la danse en vidéo 17 avril 2014 – 26 lettres pour 26 styles de danse, le tout filmé avec des pointures dans les rues et sur les toits de LA. 425 Publicité Play Les super-pouvoirs de La Fouine Avec le jeu "InFamous: Second Son", Playstation frappe fort. Dans la peau d'un personnage croisé entre Sangoku et Kurt Cobain, vous pourrez vous balader dans la ville de Seattle et... 20 Seun Kuti : "Le FMI oppresse la classe ouvrière" 15 avril 2014 – Rencontre et interview exclusive avec Seun Kuti, fils du célèbre Fela Kuti, chanteur et musicien qui vient tout juste de sortir son troisième album. 315 Play ILLEST KRUMP : Un battle complètement ouf !
Entre larmes et hystérie Let's Krump ! Street Art from Bristol | Graffiti art, stencil art, graffs, paste-ups, murals, sidewalk art. WWW.GERMAN-STREET-ART.COM. Street-art et Graffiti | FatCap.
Juxtapoz Magazine. Wooster Collective. WATM Magazine. STREET ART UTOPIA - We declare the world as our canvas. Brooklyn Street Art. Posted on April 7, 2014 "After photographing in the mosh pits for awhile I began to get familiar with patterns in the music.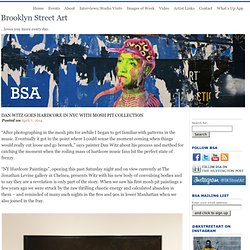 Eventually it got to the point where I could sense the moment coming when things would really cut loose and go berserk," says painter Dan Witz about his process and method for catching the moment when the roiling mass of hardcore music fans hit the perfect state of frenzy. "NY Hardcore Paintings", opening this past Saturday night and on view currently at The Jonathan Levine gallery in Chelsea, presents Witz with his new body of convulsing bodies and to say they are a revelation is only part of the story. INTERVIEWS. Unurth street art.
OaKoAk. Dirty 21's Blog. Puzzling Stickers - Wall Decals Pixel Art - Stickaz. Street Art London – fresh London street art, graffiti & culture. Graffiti Walls — Discover Urban Art Worldwide.
C
RED BULL STREET ART VIEW. Galeria de Arte Urbana - GAU (Lisboa) Design Mind Magazine. THE STREET ART BLOG. Espvisuals.blogspot. Your Ultimate Street Art News Site. Super Touch Art.
---