STREET ART
I don't know whether to be happy or sad that the latest Sparks/Juxtapoz/Upper Playground tour is done with. On one hand, it'll be nice to get back in to some sort of routine, without being torn by my roots and thrown in to some new city w/ a bunch of creepy artist dudes. On the other hand, what could be better that being ripped from one's routine to go hang out in new cities with creepy artists dudes… ok, ok… the creepy artists dudes happen to be my buddies, so it does make it a little easier. Plus, I have been fortunate to work with great new people, in each city.
upper playground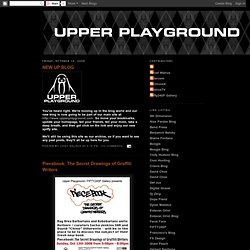 You thought we wouldnt notice...
Xavier Prou (Blek le Rat) at the gallery opening and book signing at the 941 Geary Gallery, San Francisco Blek le Rat, (pronounced: [blɛk lə ʁa]; born Xavier Prou,[1] 1952)[2] was one of the first graffiti artists in Paris, and has been described as the "Father of stencil graffiti".[3] Early life[edit] Xavier Prou was born in Boulogne-Billancourt in the western suburbs of Paris in 1951 or 1952. Early career and influence[edit]
Blek le Rat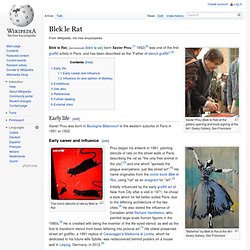 Blek le rat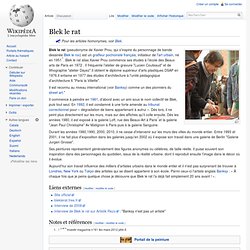 Un article de Wikipédia, l'encyclopédie libre. Pour les articles homonymes, voir Blek. Blek le rat (pseudonyme de Xavier Prou, qui s'inspire du personnage de bande dessinée Blek le roc) est un graffeur pochoiriste français, initiateur de l'art urbain, né en 1951[1]. Blek le rat alias Xavier Prou commence ses études à l'école des Beaux arts de Paris en 1972 .
World Graffiti Urban Art