ARG
Social Media Club France. Les arg / définition et historique. Forum Media 2010 Marseille. Augmented reality. NASA X38 display showing video map overlays including runways and obstacles during flight test in 2000.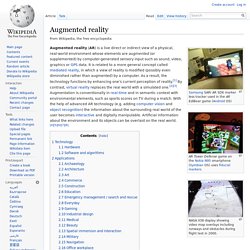 Augmented reality (AR) is a live direct or indirect view of a physical, real-world environment whose elements are augmented (or supplemented) by computer-generated sensory input such as sound, video, graphics or GPS data. It is related to a more general concept called mediated reality, in which a view of reality is modified (possibly even diminished rather than augmented) by a computer. As a result, the technology functions by enhancing one's current perception of reality.[1] By contrast, virtual reality replaces the real world with a simulated one.[2][3] Augmentation is conventionally in real-time and in semantic context with environmental elements, such as sports scores on TV during a match. Top 10 augmented reality demos that will revolutionize video gam. Augmented Reality (AR) has the potential to do something parents can't: free gamers from their couches and usher them into the real world, to play.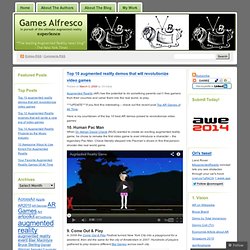 ***UPDATE***if you find this interesting – check out the recent post Top AR Games of All Time. Here is my countdown of the top 10 best AR demos poised to revolutionize video games: 10. Human Pac Man When Dr. Digital? Marketing? Blog!: Nesquik Augmented Reality Cereal Box. Soyons sérieux, jouons ! (3/5): Le jeu catalyseur de l'intellige. Par Rémi Sussan le 01/03/10 | 6 commentaires | 4,521 lectures | Impression C'est l'un des principes émis par Jordan Weisman sur la création des Augmented Reality Games (ARG): le jeu doit être coopératif et collectif.
Les énigmes proposées par les jeux à réalité alternés sont si nombreuses et si complexes qu'un individu seul ne peut espérer les résoudre. C'est un groupe qui doit trouver la solution, et pas un petit : plus on est de fous, plus on rit, et plusieurs milliers de participants ne sont pas de trop. Jane McGonigal, conceptrice de jeux et chercheuse, est probablement celle qui a le plus intensément travaillé sur cette capacité des ARG a générer de l'intelligence collective et sur les applications "sérieuses" qui peuvent en découler.
---